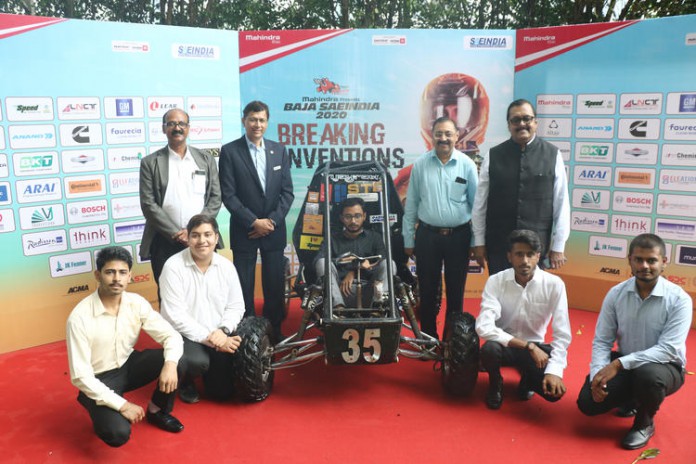 256 colleges from 282 entries qualify to the finale Mahindra BAJA 
Indore, September 19, 2019: SAEINDIA, a professional Society of Automotive Engineers under the Title sponsorship of Mahindra & Mahindra Ltd, today announced the commencement of the 13th edition of the much awaited BAJA series. The finale will be held at the NATRIP, Pithampur near Indore from 23rd to 26th January 2020 and at Chitkara University, Chandigarh from 6th to 8th March 2020. Nearly 282 entries from 24 states were received for BAJA SAEINDIA 2020 from colleges across India, out of which 200 teams were shortlisted for conventional BAJA and 56 teams were shortlisted for e-BAJA in the virtual round. Dr K C Vora, Sr Deputy Director of ARAI is the Chairman of the Organizing Committee, with S Balraj as Convener for Pithampur and Shoaib Sadiq as Convener for Chandigarh. Eminent personalities from the automotive and engineering industry will serve in the panel for the latest edition of BAJA SAENDIA.

Important Announcement – EasyShiksha has now started Online Internship Program "Ab India Sikhega Ghar Se"

8 colleges from Indore are among the 16 entries from Madhya Pradesh, that have qualified to the finale. For the last few editions of BAJA series, the maximum number of entries from Madhya Pradesh has been from the city of Indore. Colleges from Indore have won more awards in the finale since the last few years, including the Pride of Indore Award.
BAJA SAEINDIA tasks the students to conceptualize, design, build, test & validate a single-seater four wheeled All-Terrain Vehicle (ATV) to take part in series of events spread across a course of 4 days. The event will include Technical Inspection, Static Evaluation such as Design, Cost & Sales Presentation and Dynamic Events such as Acceleration, Sledge Pull, Manoeuvrability. Suspension & Traction followed by an Endurance Event of 4 hours.
Top Software Engineering Courses
A remarkable feature unique to BAJA SAEINDIA is the adoption of a new theme every year. This year, the theme for BAJA 2020 is 'Breaking Conventions', which celebrates BAJA, which, is all about challenging conventions, say it eBAJA or an all-girls team. The future of mobility looks unconventional today and the entire industry is facing uncertainty, BAJA would like to leverage this opportunity and make these budding engineer's future ready who could break the wall of conventional thinking & ideas and come up as glorified innovators, who would be lead the future of Mobility.
BAJA SAEINDIA also initiated the eBAJA series in 2015, to leverage the onset of Electric Mobility in India. The conventional BAJA vehicles run on 10 HP Briggs & Stratton gasoline engine, common for all 200 mBAJA teams, whereas eBAJA vehicles will run on electric motor with 6 kW peak electric power, supported by a rechargeable lithium-ion battery pack. Here, the students are free to source the motor, controller & battery and design their own Battery Management System (BMS). Since last year, we have encouraged more students from Electrical & Electronic engineering field to participate in the event, considering the requirement of Human Resource for Electric Vehicles. To promote electric mobility and to develop human resource for working in this area, SAEINDIA has declared a financial support of Rs.50,000 to all the new eBAJA teams. SAEINDIA also supports diversity like teams from all states, more women engineers and more engineering students from the non-mechanical background.
For the BAJA finale, entries from engineering colleges from across the country were screened at the Virtual Round held at Chitkara University, Chandigarh in July 2019, where they presented their Designs for the BAJA Buggy vehicle that they wished to design for the final event.
Empower your team. Lead the industry
Get a subscription to a library of online courses and digital learning tools for your organization with EasyShiksha
Request Now
The teams were judged & qualified based on various parameters in the virtual BAJA like knowledge of the rulebook, the concept of the buggy, the project plan, the design methodology, CAE Analysis, the Design Failure Mode & Effect Analysis (DFMEA) and Design Validation Plan (DVP), college workshop facilities and team formation, along with comprehensive online test tests related to Automotive Fundamentals and Baja Rule Book. The entries presented at the virtual BAJA were virtual mock-ups that would be created with exact specifications by the participants. The teams in the final round would showcase their skills, knowledge, creativity and passion for automobiles while having manufactured their own buggy race car.
The finale will be held at the NATRAX facility of NATRIP at Pithampur near Indore, from 23rd to 26th January 2020, followed by HR meet on 27th& 28th January 2020. The 2nd part of 13th edition of BAJA SAEINDIA 2020 is scheduled at Chitkara University, Chandigarh from 6th to 8th March 2020, followed by HR meet on 9th March 2020.
| | |
| --- | --- |
| Virtual BAJA  | Chitkara University, Chandigarh, 12th – 13th July 2019 |
| BAJA 1 (mBAJA & eBAJA) | NATRiP Pithampur  – 23rd – 26th Jan 2020 |
| BAJA 2 (mBAJA) | Punjab – 6th – 8th March 2020    |
Dr. Bala K. Bharadvaj, President SAEINDIA said, "Student Competitions like Baja SAEINDIA enables students to have hands-on learning. It will help them to develop practical knowledge which in turn supportinnovation in developing new products for society. I am indeed happy to note that our Baja SAEINDIA is helping Indian Engineering students for over 12 years in Engineering Experiential Learning."  
Speaking on the occasion, Mr Balraj S – Convener BAJA SAEINDIA 2020, Pithampur said, "BAJA SAE India is a unique event, as it not only provides aspiring engineers with a platform to highlight their design and engineering potential through hands on experience, but also gives them the opportunity to develop marketing and entrepreneurial skills. Through this event, BAJA SAEINDIA is transforming lives of many passionate students who are ambitious & talented."
In India, the BAJA SAEINDIA (Society of Automotive Engineers) began its journey in the year 2007 and was launched under the leadership of Dr. Pawan Goenka (during his tenure as SAEINDIA President) and the convenorship of Dr. K.C. Vora. As SAEINDIA ventured on to the unchartered territory of holding a mega-event of this scale, NATRiP came forward to lend a helping hand through an earmarked zone at its upcoming proving grounds- NATRAX, situated at Pithampur, Indore. Similarly, IIT Ropar came forward to organize first two legs of BAJA SAEINDIA in 2018& 2019, at Roopnagar. This year, the 3rdleg of BAJA SAEINDIA will be organised in Chitkara University, Chandigarh.
SAEINDIA is gearing up to celebrate its silver Jubilee in 2020 with a plan to conduct Baja at three locations from 2021.
About BAJA SAEINDIA
BAJA SAEINDIA is an educational pursuit for the engineering college students, an out-of-classroom-education system, where engineering students can participate as a team, giving them pragmatic exposure to real-world challenges as faced in the industry. Originally started in the USA by the SAE International as Mini BAJA SAE, today it is being organized in several countries. In India, it is being organized as BAJA SAEINDIA. An international student level competition in which teams from universities all over the country, conceptualize, design, analyze, fabricate, validate and run an all-terrain vehicle. This is evaluated during a series of Static, Dynamic and Endurance events like the design, cost evaluation, sales presentation, acceleration, manoeuvrability, sledge pull, suspension & traction and main endurance. 
Over the years, BAJA has grown in numbers and has become a bigger event nationally, signifying its increasing popularity. It serves as a platform for young engineering talent to showcase their skills and acquire a real-life experience, while overcoming obstacles and challenges- something that is critical for their long-term success.
Mahindra is playing a prominent role in slating the event since its inception under the able leadership of Dr. Pawan Goenka. Since the last 9 years, Mahindra is the title sponsor and proudly continues to remain the same this year too, and others like ARAI, Altair, Anand Automotive, Ansys, AVL, Bharat Petroleum, BKT, Bosch, Briggs & Stratton, Chitkara University, Continental, Cummins, Eleation, Faurecia, GM, IAC, iCAT, ITW Chemin, L&T, Math Works, Medanta Hospital, MSC Software,MY FM, NATRiP, OYO Rooms, Padmini Engineering, Trim India, Radisson Hotels, TFM, Think Creative Solutions Ltd and V J Production are also proudly continuing their support towards the event. It is also supported by SIAM, ACMA, ASDC and AICTE.
About eBAJA
eBAJA is an event initiated by the Steering Committee & Organizing Committee of BAJA SAEINDIA, which engages around 1400 engineering students every year. To leverage the onset of electric mobility in India, SAEINDIA had started this event under the convenorship of Mr. Subodh Morye of Mahindra & Mahindra Ltd. in 2015. This is a platform. where engineering students get an opportunity to build an electric vehicle on the same dynamics of BAJA rulebook and experience the wonder that this vehicle does with electric power. During a session with, His Excellency Late Dr. APJ Abdul Kalam, former President of India, he suggested utilizing this platform for national prosperity. Overwhelmed by his thoughts, the organizing committee decided to include a new sub-event to its 8th season – named eBAJA. The conventional BAJA is all about petrol driven ATVs, while the eBAJA vehicles run on an electric motor powered by a rechargeableLithium-ion battery pack.
For information related to technology, visit HawksCode and EasyShiksha
ALSO READ: Aster-dm-healthcare-to-run-and-operate-its-4th-hospital
Get Course: Introduction-to-Virtual-Reality