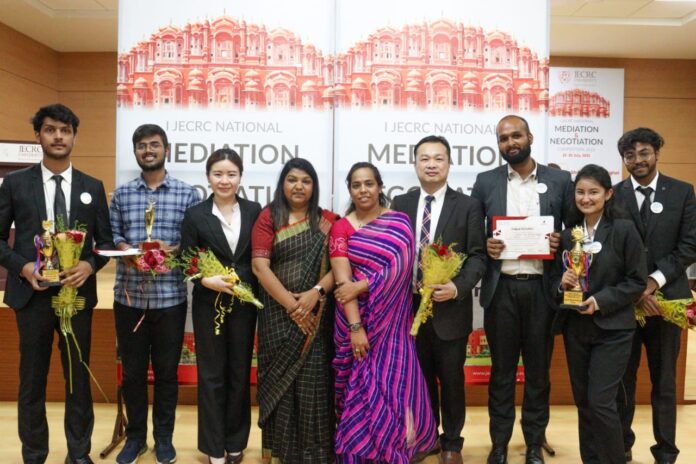 The Mediation and Negotiation Competition, which was going on at JECRC University from July 23 to 25, concluded today. Mediation and Negotiation have been made on this strategy to ensure that the number of pending court cases does not increase and the solution can be found outside the court itself.
JECRC organized this Mediation and Negotiation Competition for the first time in entire North India in which 17 teams of Law from all over the country participated. Out of which only 2 teams could reach the finale. The titles of this competition were Best Negotiation Team, Best Mediation Team, Runner Up Negotiation Team, Runner Up Mediation Team, and Best Mediation Plan. The winning teams were awarded with cash prizes by the Law Department of JECRC. The Best Negotiation Team (RMLNU, Lucknow), Best Mediation Team (NLU, Bhopal), Runner Up Negotiation Team (NLU, Jodhpur), Runner Up Mediation Team (MMU, Ambala), and Best Mediation Plane (RMLNU, Lucknow). Accreditation courses from the Knowledge Partner Mediator Academy, London were awarded to the mediation winning team and 17 teams were given free courses. A program like Gala Night was also organized in the Mediation and Negotiation Competition so that the mind of the participants was refreshed and they could perform in the best way.

READ MORE – https://news.easyshiksha.com/goa-institute-of-management-rolls-out-goal-pgdm-for-working-executives-introduces-a-new-option-for-working-professionals-who-want-to-complete-their-management/
 
SL Aggarwal (Registrar), Victor Gambhir (Processor), and Arpit Agarwal (Chair Person) of JECRC University were also present in the program of Mediation and Negotiation Competition.
As Judge, Girija Krishna Verma (International Certified Mediator and Arbitrator), Heather Yee (Head of Secretariat, Asian Institute of Alternative Dispute Resolution), Ish Jain (International and Mediator at Delhi International Arbitration Centre), Mr. Sameer Shah (Head Trust Legal, Ahmedabad) ), Mr. Tariq Khan (Registrar, IAMC, Hyderabad), Ms. Ekakshara Mahajan (Managing Partner, Mandhar Associates, Chandigarh) and Dato Ricky Tan (FCIAR B, FMIARB) were present. The judges interacted with the participants and advised them to practice a positive attitude, confidence, active listening, and theory. The same convenor Namita Jain told that 17 teams had come from all over the country and all performed very well. Along with this, their skills also improved, and on behalf of our Law Department, we will continue to conduct programs like Mediation and Negotiation.

Visit https://easyshiksha.com/online_courses/ for skill development.