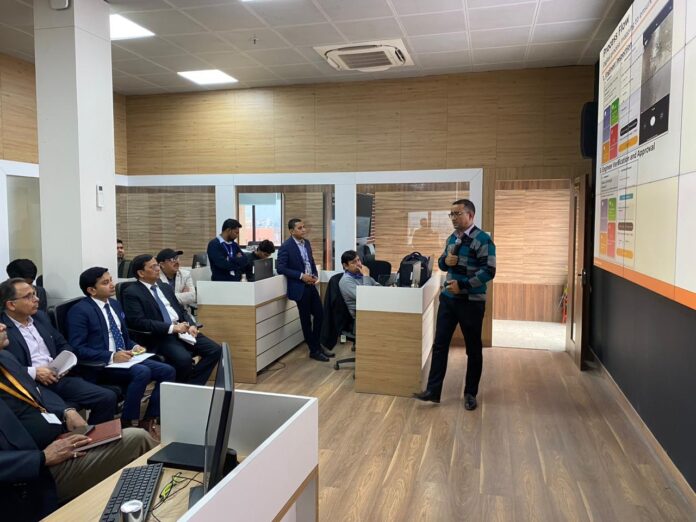 Patna 25th January 2023: Road Construction Department Control and Command Centre and Rodic consultants were delighted to welcome the Microsoft team delegates Mr. PK Jain, Mr. Amit Das, Mr. Anand. Rodic consultants operating as a Project Management Unit at RCD Control and Command Centre is in charge to administer and supervise 13,000 kilometres of road in a real time with the help of web and mobile application which was designed, constructed and deployed by them. The delegates were briefed about the concept of Performance-based Road Maintenance contract (OPRMC-Bihar) by RCD and Rodic officials' team and how this unrivalled concept also comprises the standard operating procedures and makes it divergent from traditional road maintenance and also not overlooking the benefits it provides to citizens and department too.
Microsoft delegates were amped up after getting to know about the robust mechanism that is put in place to monitor and facilitate overall decision making via real-time digital monitoring. Rodic Consultants also put forward their approach and plan of action for achieving digitally enabled proactive maintenance. Rodic's aim is to transform Bihar's OPRMC into a people- and technology-driven road maintenance ecosystem. The delegates were briefly elucidated with the RCD's Road Maintenance application on how the engineers of the department will discover the defects on the road and how the mobile app will help in reporting with geotagged photos and videos of the particular place. The communication flow of single source truth data from engineers to contractor, executive engineer, and command and control centre was also illustrated.
Also Read: Maharaja Agrasen Business School conducted its first employability seminar on the topic 'Emptalks Live- How to get workplace ready
The RCD control and command centre demonstrated how they are using the web-based application to monitor and view the defects reported from Bihar's 44 divisions. Business intelligence dashboards which were derived from data, i.e. (analytics and advisory) was also illustrated by the key experts of Rodic Consultants. This intelligence dashboards are highly equipped which will report and tackle all the key data insights like Division performance, Engineer performance, Contractors closing on defects, State wide defect analysis, Inspection trend analysis, and time trend on defect closing whether within or beyond response time. The overall benefits of the Road construction department solution such as increased visibility to all stakeholders, enabling transparency in the department ecosystem, improved engineer efficiency and faster decision making were also the key highlights of the demonstration. The entire solution, which provides real-time data, as well as the analytical reports generated, astounded delegates. They also praised the technical expertise of the Rodic consultants as well as the dedication of staff at the Control and Command centre, noting the level of commitment they demonstrated. The visit was a huge success, and the Microsoft team was overjoyed with their experience.
This year Educate yourself and develop your skills with EasyShiksha