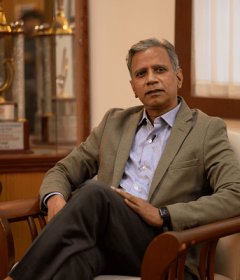 India, 12 September 2022: MITWPU School of Electrical Engineering at MIT World Peace University, Kothrud signed a Memorandum of Understanding (MoU) with Maharashtra State Electricity Distribution Company Limited (MSEDCL) for various industry and academia activities of mutual interest, pertaining to the domains of Power Sector (viz. Electric Vehicles, Renewable Energy, Smart Grids, Electrical Safety, SCADA, Energy Conservation, Substation visits, Automation and Real time projects based on industry problems).
This multidisciplinary MoU will benefit students and faculty by getting knowledge and understanding latest trends in Power sector. This collaboration aims to prepare them for the future. This MoU will improve employees' technical skills and bridge the skill gap related to Power industry. As a part of MoU, MIT-WPU faculty will also give training to MSEDCL staff as and when required.
The MoU signing ceremony was held at MIT World Peace University on 8th September 2022. The MoU was signed by Dr. Prasad Khandekar, Dean Faculty of Engineering and Technology, Dr. Bharat Chaudhari, Head School of Electrical Engineering and Dean Academics, MIT-WPU, Mr. Satish Rajdeep, Superintendent Engineer, MSEDCL, Ganeshkhind Urban Circle, Mr. Avinash Kaldhone, Executive Engineer, Kothrud Division, Dr. Santosh Patani, Dy. Executive Engineer & training Coordinator, MSEDCL, Pune, Dr. Netra Lokhande, Prof. Anjali Purohit, Prof. Supriya Paygude and others were present during the signing event.
ALSO READ: Aakash BYJU'S students become Highest NEET scorers three years in a row
Dr. Prasad Khandekar, Dean Faculty of Engineering and Technology and others said, "This mutually beneficial initiative will lead to a rich exchange of knowledge and will allow students and faculty to align with the latest industry practices and carry collaborative research. This collaboration will help us develop a talent pool that would have an edge, be equipped with advanced knowledge, and a narrow the skills gap. This New Generation University has its academic focus on research, innovation and entrepreneurship and the robust tie-ups with the industry are required for bridging industry institute gaps."
About MIT World Peace University
MIT Group of Institutions was established in the year 1983 by Dr. Vishwanath. D. Karad, Founder President, MIT Group of Institutions. Since then, the MIT Group of Institutions has grown exponentially and has made a strong impact in the field of education throughout India. Today, the MIT Group provides education in the fields of Engineering, Medicine, Pharmacy, Marine Engineering, Insurance, Distance Education, Telecom Management, Lighting, Design, Food & Technology, Retail Management, and Masters in Business Administration, School of Governance, School of Education and Hospitality Management.
MIT-WPU's multidisciplinary approach towards providing a premium quality educational experience to students is what makes it one of the best private universities in the country. They implement wellresearched methods, which bring about a perfect balance of an academic framework reinforced through experiential learning. 
Visit EasyShiksha for skill development courses