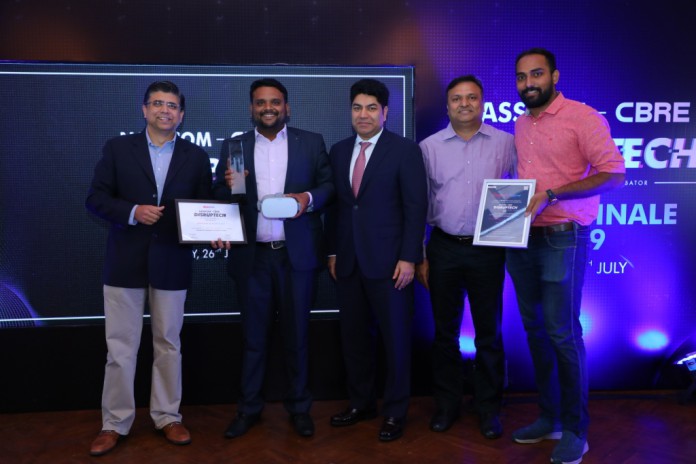 Touchwizard Technologies, XLSYS Technologies and WEGoT Utility Solutions were declared winners post three stages of evaluation by industry leaders from across sectors

The challenge was designed to identify, mentor and develop the best-in-line RE Technologies for India
New Delhi, 29th July 2019: The National Association of Software and Services Companies (NASSCOM) and CBRE South Asia Pvt. Ltd., India's leading real estate consulting firm, today announced the top 3 winners of India's 'BIGGEST PROPTECH CHALLENGE' – DISRUPTECH. The challenge was announced in collaboration with the NASSCOM in May 2019 with an aim to expand the footprint of technology in the real estate sector. Designed to identify, mentor and support start-ups, the 'PROPTECH CHALLENGE' seeks to transform the Indian real estate sector by developing the best technology solutions for industry.
Envisioned by CBRE India, entries for DISRUPTECH were divided into four categories: Real Estate FinTech; Sustainability; Agility & Efficiency and Made for India (solutions tailored specifically for the Indian market). DISRUPTECH 2019 witnessed participation from established and emerging start-ups from across India. The highest number of nominations came from South with a whopping 44%, followed by North at 25%.
Speaking on the initiative Srikanth Srinivasan, Head Membership, NASSCOM said "We see this initiative as a step forward towards building a sustainable ecosystem for PropTech start-ups in the country. India's PropTech sector, although in its nascent stage, has several factors which are destined to make the country the numero-uno PropTech destinations in the world. It is expected that by 2030, India will be the third largest real estate market in the world. The shift in progressive real estate developers, investors and start-ups from placing technology at the periphery to the core is already beginning to happen. The future, however, will entail an amalgamation of human skills along with adoption of advanced technology in the real estate that will serve as an unbeatable combination for the growth of PropTech in the country. We look forward to continue working towards the benefits of PropTech start-ups and hope to witness this space evolve as more and more companies realise the potential of technology to transform their business"
Anshuman Magazine, Chairman and CEO, India, South East Asia, Middle East and Africa, CBRE, said, "We wanted to create a platform in India that advocates PropTech and slowly but steadily walk towards creating a truly global experience for consumers in the Realty
sector. DisrupTech underscores CBRE's vision of a tech ready real estate sector which is future ready. We are excited to see an overwhelming response for DisrupTech 2019 and it's imperative to mention that it wasn't easy for our jury to shortlist the winners, given the quality of nominations. CBRE congratulates the three winners of Disruptech and thank all participants, NASSCOM and our esteemed juries".
"In fact, the Union budget 2019-20 brings immense good news for the Indian start-ups. With a host of incentives announced for the start-up ecosystem, the budget gives the much-needed boost to the entrepreneurial spirit." Mr. Magazine added.
DisrupTech witnessed participation from companies across the country and the TOP thirteen entries selected to present to the juries were XLSYS Technologies Pvt Ltd, WEGoT Utility Solutions Pvt Ltd, Pemimpin Technology, Trustmore Technologies (P) Limited, Buildsupply, Arth Design Build India Pvt Ltd, Touchwizard Technologies Pvt. Ltd, Property Crow Services Pvt Ltd, Agnishudhi, Indriyn Data Analytics Pvt Ltd, Smarter Dharma Sustainable Solutions Pvt Ltd, YardSquare Property Management Private Limited and Magneto Cleantech.
The three winners Touchwizard Technologies Pvt Ltd (PropVR), XLSYS Technologies Pvt Ltd (QwikSpec) and WEGoT Utility Solutions Pvt Ltd (VenAqua) of DisrupTech were felicitated at the ceremony attended by juries, academia, industry leaders and CBRE.
Commenting on the challenge, the winner, Srinath Kandala, Director & CEO, Touchwizard Technologies Pvt. Ltd. said, "It is thrilling to secure first position at India's biggest Real Estate PropTech challenge. We have worked hard on our idea and are positive that CBRE and NASSCOM will give it wings. Not only did the challenge give us a platform to present and showcase our idea to renowned industry experts, it has also won us a chance to connect with the wider community of like-minded people."
Speaking at the occasion, winners of the second prize, Ajith Alexander, Co-founder, XLSYS Technologies Pvt. Ltd., said "We are excited to win this chance to be mentored by NASSCOM and CBRE who are leaders in their respective domains. We look forward to learning more and making our idea industry-ready while working closely with both these organisations during our association."
"We are a team of enthusiastic learners who want to bring about a difference to the real estate sector by introducing technology-led solutions. Led by NASSCOM and CBRE, DisrupTech is futuristic and promising and just the right launch pad for us. It is indeed a big day." Said Abilash Haridass, Co- Founder & Chief of Growth & Strategy, WEGoT Utility Solutions Pvt. Ltd., winning third position in the challenge.
The three winners will get the opportunity to be mentored by CBRE along with other opportunities during the time frame.
Real estate being a multifaceted industry, technology and innovation is the key to transform the current scenario of the real estate sector. Technological development in the sector will uplift the way CBRE envisions, develops and deploys real estate. As next step in Disruptech, these technologies from the winning start-ups will be given the support needed to strengthen the Indian RE landscape with innovation driven solutions.