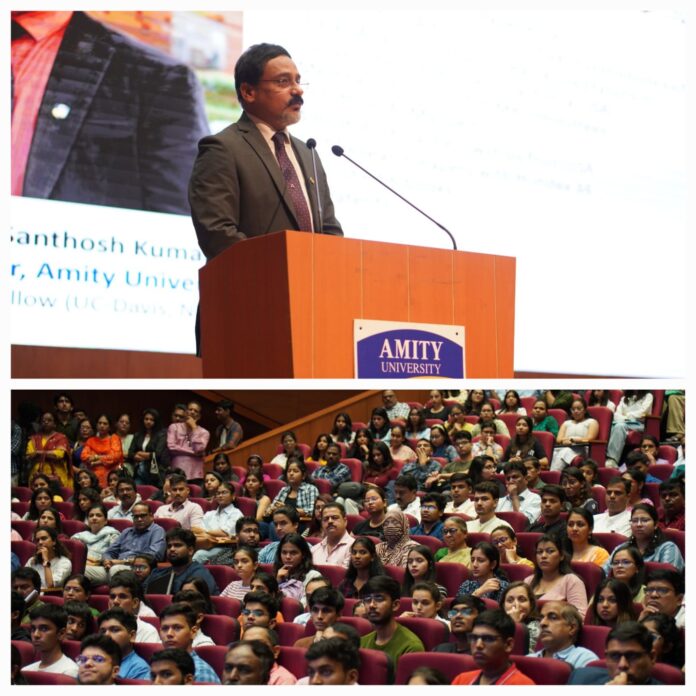 Amity University, Mumbai held its Orientation Program on August 28, 2023, right in campus auditorium. Over 2000 students partook in this informative event. The freshly enrolled students were acquainted with the university's policies, programs, and facilities. The purpose of this one-day orientation session was to familiarise students with their chosen courses of study, academic guidelines, and teaching methods.
Prof. (Dr.) A.W. Santhosh Kumar, the Vice Chancellor of Amity University, Mumbai, interacted with the students during the event. He explained the special features of Amity Universe. He conveyed the felicitations and blessings of the Founder President, Dr. Ashok Chauhan and the President and Chancellor of Amity University Mumbai, Dr. Aseem Chauhan. 
ALSO READ: Internshala launches Free Job Credits for Startups Initiative
He remarked, "Today marks the beginning of a new chapter in your life, the transition from school to university. Parents and students, choosing Amity is undoubtedly one of the best decisions you'll make in your lives. Amity Universe comprises 17 institutions in India, including 12 universities, and another 11 abroad. Amity represents a new dimension of education, research and innovation."
On the institution itself, he noted that Amity University Mumbai is accredited by ten different national and international accrediting bodies and has a curriculum that focuses on internships. Supported by esteemed faculty members who provide hands-on education and promote research-based learning, coupled with innovation that spawns new start-ups, Amity University Mumbai serves as a breeding ground for new ideas that often lead to entrepreneurship among students. He also highlighted Amity's culture of compassion, caring, discipline and human values.

The dean of academic affairs, dean of student welfare and deputy director of examinations were among the other representatives of AUM, who was present at the event.
This year educate yourself and develop your career with EasyShiksha