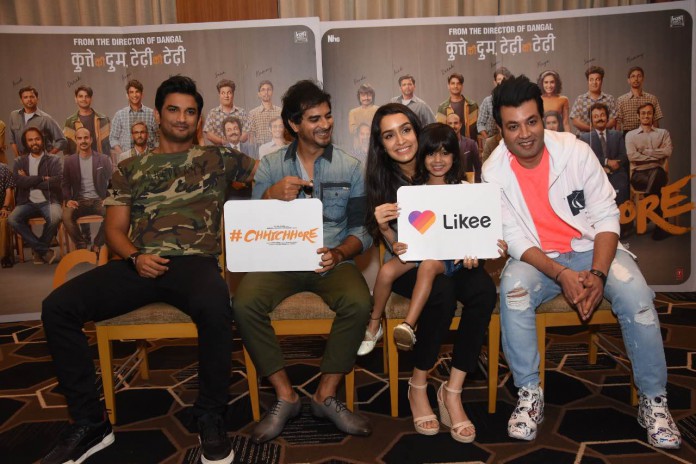 The insatiable consumption of social media for connecting with online users has also made it a platform where the internet users get their "breaking news", "latest updates", or any information that is "trending." If a movie is releasing in a few months, the probability is that the users may have already heard about it on social media from the actors or directors of the movie much before any official movie promotions are done. Traditionally, moviemakers would try to create a pre-launch buzz with the release of a few trailers and songs to excite the audience. But with the advent of social media, the moviemakers can build up craze for their movies ahead of any trailer or song release. Now, with the new social media tools movie makers have the power not only to inform about a new movie or its actors but they also have a chance to engage uniquely with the internet users. Let us deep dive into various aspects of how moviemakers can leverage the new age social media platforms, such as Likee, and tools to promote their movies. 

Important Announcement – EasyShiksha has now started Online Internship Program "Ab India Sikhega Ghar Se"

Top Virtual Reality Courses
More Courses With Certification
Engage with movie actors Likee never before: Irrespective of the times we live in, for a movie enthusiast, the moment of meeting a celebrity personally will never lose its charm. In a country like India where movie actors are treated as gods, meeting a celebrity is like a dream come true for many. Moviemakers can tap into this sentiment, and plan pre-movie release campaigns on new-age platforms that are more popular among the youth. New-age social platforms such as Likee are widely used by tens of millions of Indians and comparatively, it provides much larger reach among the right set of audience. These platforms are especially popular in tier 1 to tier 3 cities where the youth likes to experiment with new features and create innovative videos. Hence the new-age social platforms enable moviemakers to expand their reach. Recently, Fox Star Studios collaborated with Likee to promote its upcoming movie Chhichhore. By participating in an exciting promotional initiative, several users on the platform will get a chance to meet the famous Bollywood stars – Sushant Singh Rajput and Shraddha Kapoor. To grab this opportunity, the young movie enthusiasts are participating in large number and are creating their dynamic videos using background movie dialogues. As a result, the movie has already become part of their lives. This opportunity is enabling Fox Star Studios to stimulate the user's imagination and develop a unique bond between the movie and its stars along with the target audience. 
Another potential tool to enable engagement between movie actors and the target audience is live video streaming. The interviews of actors before a movie release will soon become a passé. The possibility of movie stars' live interaction with the target audience on live video streaming platforms like Bigo Live will be one of the biggest opportunities for moviemakers to promote their movies. This will allow internet users to feel more involved as they can interact with their favourite stars! 
Filter it out!
Another very important tool that has the potential to build up the craze for new movies among the youth are AR based filters on video platforms such as Likee. Leveraging the power of AR and AI, new age social media platforms provide innovative tools for its users to create dynamic videos. The AR filters also play an important role in strengthening the likability of the new look of the movie character ahead of the movie launch. While the traditional social media platforms like Facebook, Instagram and others were used to release the "movie look" of celebrities, new-age platforms enable its users to try that look virtually with the help of AR-based filters. 
Traditionally, a movie star's look such as hairstyle, or clothing style, bags, jewelry would become a fashion among youth after the movie is released, however, the new trend of "movie look release" on social platforms enable the users to try the fashionable star look way ahead of the movie release. As a result, the characters of the movie receive instant affection and love from the target audience much before they display their acting skills. By embracing the movie character's look, virtually or physically, the fans tend to show their support for the movie and its actors.
To give an example, Bollywood's first-ever space movie Mission Mangal collaborated with Likee to enable the users to see themselves as astronauts in the space using the astronaut suit filter. The creators not only used the filter to position themselves as astronauts but also merged it with pre-installed famous dialogues of Mission Mangal in the background to create entertaining videos. 
Top Software Engineering Courses
#Challenge as an opportunity: Hashtag challenges are not a new concept. We are all aware of #ALSchallange, #KikiChallenge, #FitnessChallenge, and others. These challenges have played an important role in igniting action-oriented sentiments among internet users. Tapping into the opportunity, the moviemakers are also using #challenges to engage with their target audience and promote their movies or support the cause on which their movies are based on. On Likee, the #challenges coupled with AR-based filters make a powerful tool to engage with the youth who are always eager to experiment with new things and have the will to perform something better in a given challenge.
To conclude, we can say that if Bollywood movies play an important role in inspiring the youth then platforms such as Likee and Snapchat are enabling youth to apply that inspiration and bring out their star-like qualities with help from innovative video tools. Hence, creating new dynamics for moviemakers on how movie and movie stars can be promoted. Leveraging the new age social media platforms and tools, the movie makers can weave the sentiments of the internet users with their movie stories to make their movies larger than what they are.
By Mr. Puneet Sharma, Brand Strategist and Social Media Strategist
Top Networking Online Courses
More Courses With Certification
Empower your team. Lead the industry
Get a subscription to a library of online courses and digital learning tools for your organization with EasyShiksha
Request Now
ALSO READ: basicfirst-announces-recharger-program-targeting-50000-women-edupreneurs
Get Course:online_courses/Become-Business-Analyst