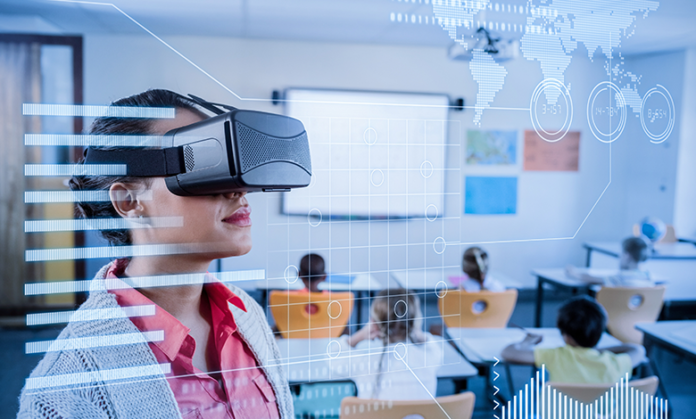 The educational landscape has changed drastically as the use of Technological tools have spiraled, leading to an upsurge in digitalization of teaching and learning over the past two years. Every stage, from pre-primary, primary to higher education has undergone a dramatic shift towards the digital mode of teaching and learning. Students' preferences have changed; so have the teachers' profiles. Teachers need to look for new innovative ways to use the digital tools not only for curriculum transaction but also for assessing the usefulness of the tools for more engaging and immersive learning. With students getting an easy access to a plethora of information and with their dropping attention spans, teachers need to prepare short byte sized absorbing information which the tech savvy students can grab easily and are able to process and assimilate for an enduring understanding. Some of the emerging technologies and trends that have revolutionized the education world are:

 Immersive learning technology (ER – AR & VR): This approach integrates technology with traditional approach and creates an "immersive" experience for learners, catering to all the four Cs of the 21 st century skills. In a sense they are perceived as game changers in teaching students future-ready skills.
 Adaptive Learning: Uses data-driven approach for providing personalized learning. It ensures effective and customized learning path to engage each student in learning, thereby addressing their individual needs and giving them bespoke feedback.
 Artificial Intelligence systems: help students learn better and faster when paired with high-quality learning materials and instruction. They can alert teachers to help students get back on track in case of any deviation or learning challenge.
 Machine learning: Assists in giving each student an individualized educational experience thereby assisting and guiding them for their own learning. Students learn to make their own inferences gradually through their learning experiences and thus develop a passion for learning.
 Use of 5G Technologies in Education: This innovation promises a quick and easy downloads of relevant files and resources along with more powerful networks.
 Automation: One of the best way to support in teaching and learning is by providing students a better opportunity of receiving lectures automatically at specific times and teachers too can digitally schedule their own lectures.
 Competency-Based Education: Through this special technology, students get an access to activities that are designed for their level of learning ability. All in all, competency-based education provides a means for students so that they are able to advance their learning experience based on their ability to master a skill.
 Learning Analytics: Teachers can learn about the learning behaviors and trajectories of students and are able to differentiate and plan their lessonsaccordingly.
 Assisted technology: For students with disabilities that is devised to break down the barriers and make them at par with the other students in teaching and learning process.
 Gamification: Integrating digital and online games into curriculum for scaffolding concepts and stimulating real world experiences
Important Announcement – EasyShiksha has now started Online Internship Program "Ab India Sikhega Ghar Se"
Technology is one of the main constituents for shaping the educational ecosystem today. With the advent of Web 3.0, Neuroweb, Lucid learning, interoperability in education and new-age assessments & instructional systems, the future of education is going to be dynamic and bold. However, we cannot discern how well we will thrive in it as our skills are getting outdated with the rapid pace at which the technology is advancing. Keeping oneself updated and developing new competencies on an ongoing basis is the need of the hour. Staying up to date with the changing trends in emerging technology is exacting and incorporating it into our present teaching and learning mode is challenging and demanding too.
One good way to keep abreast of the latest development in the education sector is to forge a cohort of future-ready educators that should aim at equipping all concerned with new-age competencies. This cohesive group will empower educators with professional knowledge, attitude and skills for making them "Future ready".
Also read Film Actress Bhagyashree felicitated Leaders of Rajasthan
Visit the link to know more at EasyShiksha.