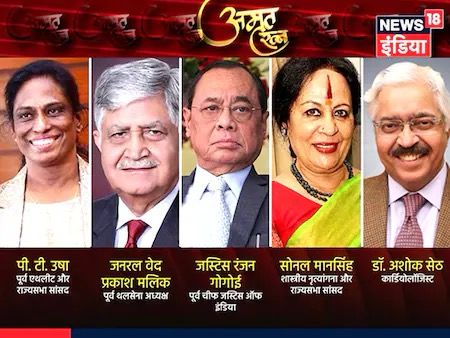 New Delhi | October 5:  News18 India, India's No. 1 Hindi News Channel, has announced the second edition of its prestigious 'Amrit Ratna'. Scheduled for the 10th of October, 2023, this year's edition will be a tribute to individuals who have raised India's standing globally through their passion, exceptional talent and path-breaking achievements.
The recipients of the Amrit Ratna 2023 will be selected by distinguished jury comprising of:
• Justice Ranjan Gogoi – Former Chief Justice of India and Rajya Sabha Member.
• General Ved Prakash Malik – Former Chief of Army Staff and decorated military leader.
• Sonal Mansingh – Renowned classical dancer and Rajya Sabha Member, honoured with Padma Bhushan and Padma Vibhushan.
• P.T. Usha – Former athlete and Rajya Sabha Member, celebrated for her outstanding achievements in sports.
• Dr. Ashok Seth – Eminent cardiologist and recipient of numerous prestigious awards.

These accomplished individuals will carefully evaluate the nominees for the Amrit Ratna, ensuring that the recipients truly represent what the honour stands for – outstanding contributions that have left a lasting impact and contributed to building the India story. 
The recipients of the Amrit Ratna last year included notable individuals such as N.R. Narayana Murthy, Pt. Hariprasad Chaurasia, Adar Poonawalla, Rajinikanth and P.T. Usha, among others. These individuals truly exemplified the spirit of the honour and served as an inspiration to the entire nation.
The CEO of Hindi News, News18 Network, Karan Abhishek Singh commenting on the initiative said, "As India's No. 1 Hindi News channel, we feel proud to celebrate individuals who through their achievements have contributed immensely to enhancing India's standing and stature globally. We believe that initiatives such as these by a leading news channel such as ours go a long way in building the India story."
Kishore Ajwani, the Managing Editor of News18 India said, "As a team we are particularly passionate about Amrit Ratna. We strongly believe that promoting the achievements of India and Indians is a part of our remit as India's No. 1 Hindi News channel. We are very excited about our stellar line-up in 2023 and are confident that it will serve as a tremendous inspiration for our viewers."
Stay tuned for more updates on the Amrit Ratna 2023 as we prepare to celebrate remarkable Indians who have made the country proud.
This year educate yourself and develop your career with EasyShiksha