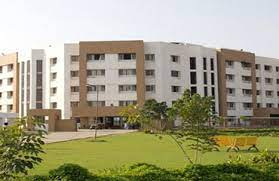 The programs will be offered at the School of Technology Management and Engineering (STME) campus at Chandigarh Campus
Four-year program in Computer Engineering and Computer Science and Engineering (Data Science).
AICTE approved two programs designed for the fastest-growing career options for undergraduate students
Chandigarh, July 26: SVKM's NMIMS School of Technology Management and Engineering (STME) has announced the introduction of two new-age programs in Computer Engineering; and Computer Science and Engineering (Data Science) at its Chandigarh campus. The programs are designed to keep students abreast with the fast-changing industrial operations deep-rooted in technology.
The comprehensive four-year B Tech program in Computer Engineering has a unique curriculum to help students gain expertise in modern engineering practices and disruptive technologies. The curriculum follows international standards that include a balance of mathematics, basic sciences, humanities, and computer engineering.
The B Tech in Computer Science and Engineering (Data Science), also a four-year undergraduate program, constitutes a good blend of Engineering, Mathematics, Analytics Management, and general education related to modern skillsets of Data Science.
Approved by the All-India Council for Technical Education (AICTE), the two B Tech programs are specifically designed to create career and entrepreneurial opportunities for the youth in Punjab, Haryana, and surrounding areas.
The programs also offer industry internships, and industry-based project works to facilitate students in the form of job offers or further studies and research.
Speaking on the launch of the new programs, Dr. Sharad Mhaiskar, Pro-vice-chancellor, SVKM's NMIMS, says, "With an increasing number of top tech companies finding roots in Punjab and Haryana, requirement for youth with future-ready technical skill is seeing a major uptrend. As per reports, there was a nearly 50 percent increase in the number of data science jobs in the country in the past year, and this is likely to grow in the future with 11.5 million more openings by 2026. NMIMS, which has made a name for delivering holistic education and create a sustainable society, has recognised the urgent need to bring in programs to meet this demand and prepare aspiring engineers in Punjab and Haryana for expanding career opportunities."
Dr. Alka Mahajan, Dean, Mukesh Patel School of Technology Management & Engineering, added, "Computer technology and digitization are present in every aspect of society today, which in turn has resulted in a tremendous increase in digital data around the world. The need of the hour is to develop widely skilled data and computer scientists alongside managerial skills with a global perspective. The Computer Engineering and Computer Science and Engineering (Data Science) programs include a comprehensive and contemporary curriculum to equip youngsters with these very skills. We believe, with the right mix of academia and infrastructure, as that will be provided by STME, Punjab and Haryana can be the hub for new-age engineers sought by global companies."
Candidates interested in applying for the program must have passed the 12th standard or equivalent examinations from a recognized board to qualify ,
READ MORE – https://news.easyshiksha.com/harappa-school-of-leadership-invites-applications-for-its-accelerated-management-program/
ABOUT NMIMS:
Established in 1981, NMIMS is today recognized as a globally reputed university with strong industry linkages. It offers multiple disciplines across eight campuses that consist of 17 specialized schools, more than 17,000 full-time students, and 800+ full-time faculty members, ten faculty members with Fulbright Scholarship and Humboldt International Scholarship for post-doctoral researchers. The Shri Vile Parle Kelavani Mandal (SVKM) laid the foundation stone of this esteemed university with the aim to cater to the rising demand for management institutes in the country. It is known for its consistent academic quality and research-focused approach to holistic education. SVKM's NMIMS has been granted Category-I University status by Graded Autonomy Regulation 2018 by MHRD/UGC, and NMIMS Mumbai Campus is NAAC accredited with A+ (CGPA of 3.59.)
ABOUT CHANDIGARH CAMPUS: The institution was operational for the first time commencing Academic Year 2021-22. While the First Semester was conducted online for all programs, the second semester commenced with "On-Campus" pedagogy. The campus started with two exclusive undergraduate disciplines of Commerce and Law and has recently added two Engineering Programs. The School of Commerce provides the BBA & B Com programs. The School of Law provides the BA LLB & BBA LLB programs. In consonance with the university's rich traditions, students have been provided clubs and societies to participate in co-curricular activities. Four Clubs were constituted (Cultural Club, CSIR Club, Literary Club, and Sports & Adventure Club)
Visit https://easyshiksha.com/online_courses/ for new learning skills.