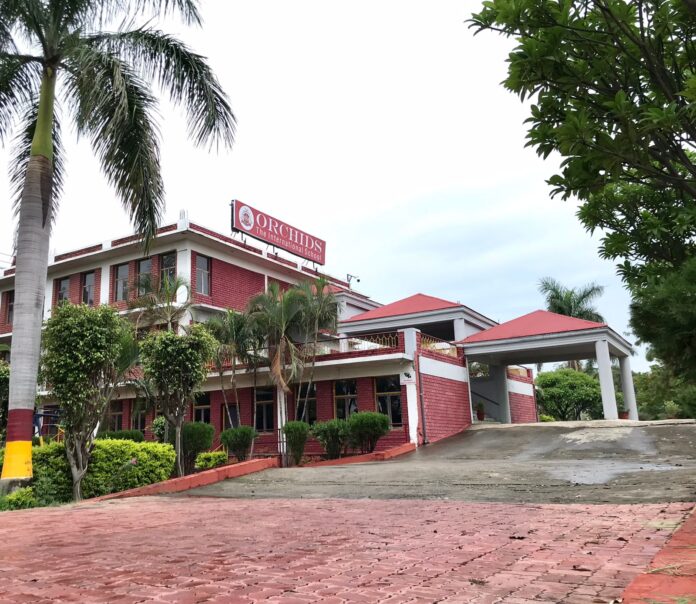 The ORCHIDS group aims to expand into 150+ branches across India in the next four years
Indore, 19th July 2022: ORCHIDS – The International School(OIS), the leading K12 school chain in India, has opened its newest branch on AB Road, Indore. This is the first fully functional CBSE school in the vicinity with amenities at par with standards of international schools in the metro cities. The branch is already operational with 400+ students and has been registered under RTE act.      
Speaking at the school launch, Mr. Niranjan Murugan, Vice President, Field Marketing at the Orchids- The International School said, "Orchids is determined to bring quality education to every corner of the country. Students from metropolitan cities should get equal opportunities and modern amenities to explore their full potential. We are excited to establish our presence in the heart of India -Indore with our first branch and we have 3 more schools in the pipeline for this year. We are here to offer holistic learning experience of International schooling to our students."
The school has been built on a sprawling area of around 3 acres, OIS-Indore is designed to accommodate over 1,000 students providing plenty of green space with best-in-class amenities for the students that include technology-enabled classrooms, fully equipped child-friendly and safe kids' play areas, an infirmary, music room and art studio etc. The management has ensured that the campus will provide best in class sports facilities to students who are sports enthusiasts with a swimming pool, football ground, skating rink and basketball court.
The school is situated around farms and on the highway which ensures greenery and a peaceful environment for studying and learning amidst open air and green pastures for physical activities. Though the school is in the middle of ample greenery, it also has emergency facilities such as a hospital, fire station, and police headquarters in close proximity to ensure the safety and security of all the students.
Our digital curriculum planner "Let's Eduvate" is highly appreciated by parents across all our schools.
Let's Eduvate is a one-stop solution providing a research-based comprehensive curriculum, training for teachers, learning measurement plan, that supports structure assessment and parent communication.
It is a comprehensive system to engage students constructively by making the teaching-learning process highly interactive and enjoyable for them and to ensure learning that is personalized to the pace and the style of each child, because every child learns differently.
Currently, Orchids-The International School has over 60+ branches in 10+ cities across India. The school chain is at a rapid expansion mode and aims at reaching 150+ branches in the next four years. 
Also Read: Revival of Affordable Private Schools in India
About Orchids – The International School:
Orchids-The International School is one of the leading international K12 school chains in India, it had started its journey in 2002 with its first branch in Hyderabad. In less than two decades it has grown into 60 branches spread over 10+ major cities- Mumbai, Bengaluru, Pune, Hyderabad, Gurgaon, Chennai, Kolkata Nagpur, Nasik, Aurangabad. Modern physical infrastructure, ensuring personalized attention by following 1:12 teacher-student ratio, and carefully curated curriculum provide uniformity in all Orchids schools. Orchids follow CBSE and ICSE curriculum infused with international teaching methodologies to provide a strong emphasis on personality development along with academic excellence. Currently, it has over 50,000+ students and 3,000+ teaching and non-teaching staff. Orchids' core anthem is "Shaping minds, Touching lives".
For more information, log in to  www.orchidsinternationalschool.com
Visit EasyShiksha for skill development.