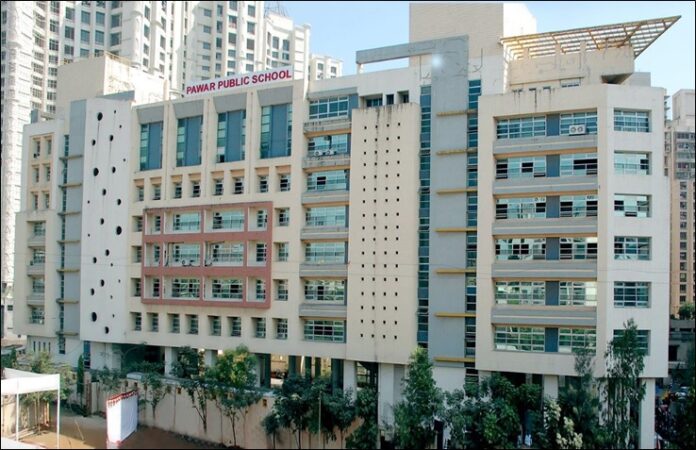 The Pawar Public School, Mumbai has a motto of Inception to make a difference!
Pawar Public School, Bhandup (PPSB), managed by the Pawar Public Charitable Trust has been set up with the vision of providing the best educational facilities to its students. The foundation stone for the school was laid on 10th April 2005 to provide quality education which would be a blend of the modern scientific temper and deep-rooted cultural ethos.
Pawar Public School Bhandup PPSB believes that every child is special and has certain inherent qualities and capabilities which needs to be explored and nurtured in a congenial and caring atmosphere conducive to learning.
The dream is that the school would be an epitome of idealism where students would be imparted the best education possible and where students would be free of bigotry, hatred and violence. To realise this the school has a team of trained and experienced facilitators with a state of art infrastructure and educational practices. The facilitators here view themselves as "reflective educators" who are constantly seeking to enhance the teaching-learning processes through action, research and reflection.

Important Announcement – EasyShiksha has now started Online Internship Program "Ab India Sikhega Ghar Se"

The school believes to make a mark in Contribution to Education and thus believes that true education is a lifelong quest for knowledge and that school should be a learning centre where conflicting interests are minimalized, where individuals work together in the pursuit of truth, hence offer them the opportunities to explore their talents and rise to their full potential.
In the Pre-Primary Section, the School follows the Experiential Learning Programmes where learning is structured around themes and concepts. In the Primary Section, the focus is on awakening the sensory perceptions inherent in the child and thereby create in them an urge to pursue their quest for knowledge. At the Secondary level teaching is application-oriented and students are encouraged to start referring to extensive resource material available both in the school library and online.
The school academic year plan buzzes with varied activities, workshops, seminars for the students and the teaching staff to keep them updated and upgraded to be able to blossom into a worthy citizen who upholds the core values not only of the self but of humanity at large.
Inclusive Education and Emotional wellbeing – the crux of PPSB
A well-planned system that incorporates and celebrates the 'diversity of students to cater to the diverse social, emotional and academic needs of its students, PPSB has housed a Special Care Cell since 2007. The department has three full-time counsellors who are proactive and engage in a range of group and individual activities with the motto, Every Child Deserves the Best. The objective here is to cater to special needs students, incorporating ethical and effective practices; and to reach out to each student to help them realize their full potential.
The core value fostered is student wellbeing, integrity and confidentiality. Going by these core values the department counsellors have always strived to critically review their work each year to improvise the existing way of work for better strategies that would help the students at large.
"When life throws lemons, make lemonade", is exactly what PPSB has made out of this pandemic situation. The year 2020-21 has been different for everyone across the globe. As expected even the Special Care Cell has been overhauling its strategies to reach out to the students and parents. The school has conducted various sessions for students on one basis as well, to smoothly sail through these taxing times.
By having students from diverse backgrounds, PPSB is uniquely positioned to integrate both individual and cultural diversity in the school, so that the students share their uniqueness and are convinced that only 'Together We Can Make a Difference!'
Top Software Engineering Courses
Innovation in Education:
PPSB focuses on an enhanced teaching-learning process for every student. Thus the core focus of the school is to promote learning through understanding of concepts. With the intent to facilitate all-around development and growth of the students, various innovations in classroom teaching is a part and parcel of the school curriculum.
Ambassador for Environment
The dream is to establish a school where ideal citizens would graduate, with the best practices in education and values instilled in them. PPSB vows to educate its students to adopt eco-friendly practices thereby inculcating behaviours and habits which will make them eco-conscious citizens. Various activities are conducted throughout the year wherein students ardently involve in contributing to a more sustainable approach towards the concern about the Environment. It is said that a child learns better by example. PPSB has ensured an infrastructure with large airy corridors, large windows – creating well-lit spaces, installed solar panels on rooftops to meet the energy requirements of the school, has set up Vermicomposting and also collaborated with various NGOs to carry out various activities that will warrant the active role of the school in following eco-friendly practices.
India is a land of a multitude of cultures and that means a multitude of festivities which results in colossal wastage. To curb these, students are sensitized and made aware of the environmental hazard caused by these wastes. Students are encouraged and asked to spread messages to buy eco-friendly colours during Holi, emphasise on best out of waste while using lanterns during Diwali/Christmas, and use clay idols during Ganesh Utsav. The best practice is not limited to the school premises.
Through the Community outreach programmes, the school believes in 'A child is not an isolated being'. PPSB believes that students should understand their roles and duties as dynamic members within their communities. The numerous activities that the school has imbibed in its Curriculum is with the purpose to inspire and educate young minds to be conscious and active citizens. Because of achieving its objective various engaging and inspiring activities are carried out by the school.
Pawar Public School, Bhandup has been set up with the vision of providing the best educational facilities to its students. The students are provided with an interdisciplinary education, by exposing them to extra-curricular and vocational courses. Through these activities, the school offers a plenitude of avenues other than teaching that help develop their skills, creativity and thought process; in short, the school contributes to "the content of their character."
Celebrations are an excellent and jolly way to teach the students what 'we believe in. With this regard, Special days are celebrated in PPSB for students, right from Pre-primary to Secondary sections with an objective to link classroom learning to outdoor which instils in them the understanding of 'values' in life. It is said that "small celebrations build the habit to celebrate and in turn inculcate virtues and values that help our children develop the way they see and experience their worlds". Celebrations of special days in schools pave a learning path in a fun way at the same time making students aware of the world they live in.  
For information related to technology, visit HawksCode and EasyShiksha
Empower your team. Lead the industry
Get a subscription to a library of online courses and digital learning tools for your organization with EasyShiksha
Request Now
ALSO READ: Xavier Collegiate School, Kolkata · EasyShiksha
Get Course: Online-Sociology-Courses