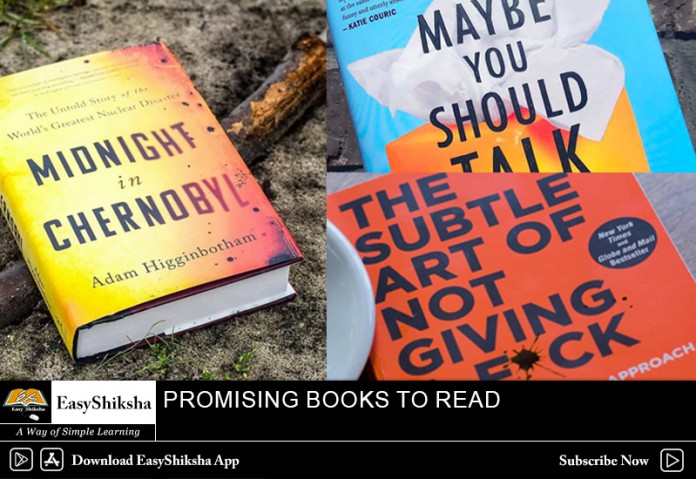 "One must always be careful of books," said Tessa, "and what is inside them, for words have the power to change us."
― Cassandra Clare, Clockwork Angel
Said truly, books have an entire world established by the means of words and they have the power to change the one who reads even an inch of them. Books, if are great can leave you weary, multifaceted by experiences and several characters lived while all the reading.
 Bertrand Russell said that "There are two motives for reading a book; one, that you enjoy it; the other, that you can boast about it." Featuring below ten promising books which you can enjoy reading and also boast about –
1. The Subtle Art of Not Giving A f*ck
A Counterintuitive Approach to Living a Good Life By Mark Manson
This best-seller book has 3 million copies sold out till now.
At its core, The Subtle Art of Not Giving a F*ck is a book about finding what's truly important to you and letting go of everything else. In this generation-defining self-help guide, a superstar blogger cuts through the crap to show us how to stop trying to be "positive" all the time so that we can truly become better, happier people.
2. Maybe You Should Talk to Someone:

Important Announcement – EasyShiksha has now started Online Internship Program "Ab India Sikhega Ghar Se"

Top Virtual Reality Courses
More Courses With Certification
A therapist, her therapist, and our lives revealed By Lori Gottlieb
From a New York Times best-selling author, psychotherapist, and national advice columnist, a hilarious, thought-provoking, and surprising new book. This is a daring, delightful, and transformative book. Lori Gottlieb takes us inside the most intimate of encounters as both clinician and patient and leaves us with a surprisingly fresh understanding of ourselves, one another, and the human condition. Maybe You Should Talk to Someone is funny, hopeful, wise, and engrossing—all at the same time.
3. Midnight In Chernobyl:
The Untold Story of the World's Greatest Nuclear Disaster By Adam Higginbotham
Midnight in Chernobyl is a New York Times Best Seller and a top-notch historical narrative: a tense, fast-paced, engrossing, and revelatory product of more than a decade of research by the author in investigating the 1986 explosion and it's aftermath.
4. The Most Fun We Ever Had By Claire Lombardo
New York Times Best- Seller, brilliantly written and the most anticipated summer 2019 reading. A dazzling, multigenerational novel in which the four adult daughters of a Chicago couple–still madly in love after forty years–recklessly ignite old rivalries until a long-buried secret threatens to shatter the lives they've built.
5. The Fault In Our Stars By John Green
Top Software Engineering Courses
The Fault in Our Stars debuted at #1 on the New York Times bestseller list and was chosen as TIME Magazine's #1 Fiction Book of 2012.
The title of this book is inspired from the Shakespeare's seminal play, Julius Caesar Act 1, Scene 2 in which Cassius says to Brutus: "The fault, dear Brutus, is not in our stars, But in ourselves, that we are underlings."  The movie adaptation of The Fault in Our Stars was released in Summer 2014.
6. Shiva Trilogy :
The Immortals of Meluha ,The Secret of the Nagas and The Oath Of The Vayuputras By Amish Tripathi
Shiva Trilogy is India's fastest selling book series ever make thrilling use of religious symbolism and profound philosophies. The story of the Shiva trilogy is based on a concept that all Gods were once human beings; it was their deeds in the human life that made them Gods. This work of Amish Tripathi is pure excellence.
7. The Perks Of Being A Wallflower By Stephen Chbosky
The Perks of Being a Wallflower is a coming-of-age epistolary Best- Selling novel detailing Charlie's (main character) unconventional style of thinking as he navigates between the worlds of adolescence and adulthood, and attempts to deal with poignant questions spurred by his interactions with both his friends and family. This book is a classic coming-of-age story; written in a unique style and conveying memorable lessons. It's better and more meaningful each time you read it!
8. The Palace of Illusions By Chitra Banerjee Divakaruni
Chitra Banerjee Divakaruni, an Indian best Selling novelist, has penned an extremely emotional and gripping mythological-cum-historical-fiction novel, The Palace of Illusions that narrates the great epic Indian mythological tale, Mahabharata from the point of view of the most brilliant and fearless female character, Draupadi, who weaves her thoroughly soul touching yet enduring life story starting from the day she was born to the day she left her palace and kingdom to follow behind the footsteps of her husbands to heaven.
9. A Song of Ice and Fire:
A Game of Thrones, A Clash of Kings, A Storm of Swords, A Feast For Crows, A Dance With Dragons By George R. R. Martin
A Song of Ice and Fire is a best-seller, set in a quasi-medieval world where magic is returning and winter is coming. It's a series with such a complexity, many-layered characters, contradicted emotions & breathtaking events. 
The books took their hype when HBO came with much talked about T.V. series The Game Of Thrones. It broke all the records of fandom. Though the T.V. series has ended but the forthcoming books are still to release namely, The Winds of Winter, A Dream of Spring.
10. Where The Forest Meets The Stars By Glendy Vanderah
An Amazon Charts, Wall Street Journal, and Washington Post bestseller. In this gorgeously stunning debut, a mysterious child teaches two strangers how to love and trust again. "Where the Forest Meets the Stars" is a love story of the most unique proportions.
About The Author
Nikita Bhadoria: Nikita is working with HawksCode Softwares Pvt. Ltd. She has been passionate about writing and been in the field since her schooling days covering a variety of topics like Patriotism, Friendships, Mother's Presence, Movie Characters, Love, Life, Seasons, etc. Writing is on future cards for her and wishes to write stories that inspire people.
Top Networking Online Courses
More Courses With Certification
Empower your team. Lead the industry
Get a subscription to a library of online courses and digital learning tools for your organization with EasyShiksha
Request Now
ALSO READ: personalities-which-make-us-look-life-from-different-angles
Get Course: Introduction-to-Power-BI