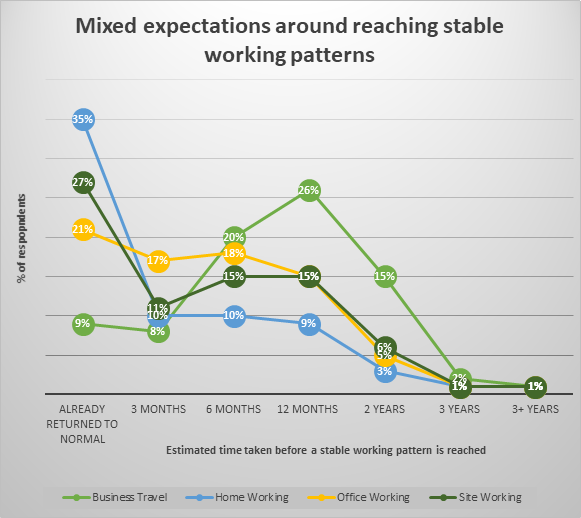 7th April 2022, Mumbai –The risk management community (RMC) expects stabilizing of travel and working patterns by the end of 2022, according to The International SOS Risk Outlook 2022. The report highlights that the time taken to reach this "new normal"[1] – where stable patterns and routines in the workplace return – varies significantly across activity type. Specifically, the data shows that both home and site working are likely to have reached a measure of stability by now, whilst office working is expected to take longer. Business travel is expected to face the longest period of disruption, with 15% of respondents expecting a "new normal" could take up to two years to be established.
[1] A "new normal" is defined as either how an activity was pre-pandemic, or how it will be for the foreseeable future.
This insight comes from a survey of nearly 1,000 risk professionals across 75 countries[2], coupled with insight from the Workforce Resilience Council and International SOS proprietary data. Risk Outlook 2022 also highlights that hybrid working is here to stay, representing a long-term change to the working model for many.

Expectations for travel differ globally
The time it is expected to take for business travel to stabilise differs significantly around the world. 40% of European respondents are optimistic that new routines will be established in the next six months, whilst respondents in the Americas and Asia are anticipating it will take longer. 49% of respondents in Asia anticipated that stability could take between 12 months and 3 years to be reached. These differing expectations might reflect the relative disparity of coronavirus mitigation measures and vaccination levels around the world as well as different travel and entry requirements. According to the Risk Outlook respondents, only 54% of respondents were willing to travel internationally for work. This compares to 73% willing to travel domestically. This figure is also above the figure for those prepared to travel abroad on holiday, which only 47% said they were willing to do.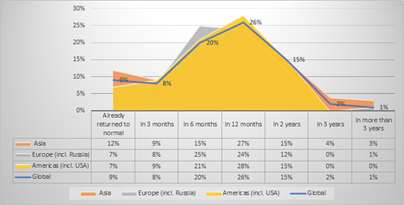 James Bird, Security Director – Intelligence and Assistance, International SOS, said "There is job for organisations to build back confidence. Employers are still working out what can be done remotely and what requires that face-to-face interaction. While business travel is picking up again, it is not as straightforward as it was. Rapidly changing travel restrictions and testing requirements mean that crossing borders can be complicated. For organisations managing travel programmes it's vital that they are proactive in understanding the risks – logistical, security and health – and provide the necessary support to employees. A vital element is having access to accurate and up-to-date insight which can help travel function smoothly. This insight needs to account for new and emerging risks, such as new COVID variants or security concerns and disruptions."
Important Announcement – EasyShiksha has now started Online Internship Program "Ab India Sikhega Ghar Se"
New working patterns – two days working from home
The Risk Outlook report suggests that 77% of organisations have adopted a hybrid working approach. The most common split was for employees to work two days a week at home and the other three in the office or on-site. Only 15% of respondents said that they would be working five days per week at their office or on-site, a change from pre-pandemic patterns. Regardless of how many days employees are working in the office, it is vital for organisations to make sure they feel safe and supported when they do. Respondents highlighted several key areas that they will be focusing on to support employees as they return to workplace activities:
TOP THREE SUPPORT METHODS TO SUPPORT A SAFE RETURN TO NORMAL
· Access to emotional support services
· Ability to communicate with the workforce during critical events
· Access to location-specific health information
Also read Film Actress Bhagyashree felicitated Leaders of Rajasthan
James Bird continued "When we asked businesses how they would be supporting employees with a safe return to workplace operations, it became clear that investing in crisis communications was a top priority. However, the type of information that organisations wanted to communicate differed across sectors. For organisations responsible for a lot of business travellers, location-specific health and security information is considered vital for supporting employees. Office workers, however, are commonly being supported with emotional support services. Given mental health is expected to be a primary productivity disruptor this year, this mental health support is essential for avoiding a cycle of productivity issues."
[1] A "new normal" is defined as either how an activity was pre-pandemic, or how it will be for the foreseeable future.
[2] The annual risk outlook study exposes gaps in the protection of employee health and security such as risk perception, mental health, productivity impacts and operational challenges. The survey* is complemented with interpretations and predictions from the Workforce Resilience Council, as well as extensive proprietary data and analysis from International SOS. The Workforce Resilience Council is is made up of representative experts of all health, security, and safety fields. The participants in this year's Council are from a mix of think tanks, associations, advisory boards, NGOs, and IGOs, relevant to the risks of working at home or abroad.
Click HERE to surf more at EasyShiksha.