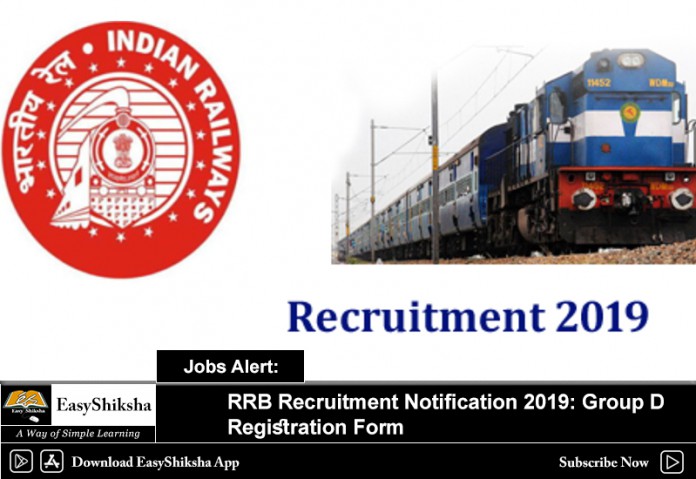 RRB (Railway Recruitment Board) will start accepting the application for more than 1 lac post of Group D examination from today that is Tuesday, March 12, 2019, from 5:00 PM. The indicative advertisement for recruitment on RRB Group D or Level 1 posts was published by Indian Railway in Employment News on February 23, 2019. In the indicative advertisement, the national carrier had said that the recruitment registration for Level 1 posts will be through Railway Recruitment Cell (RRC) websites.
Important Dates:
Online Application Started: 12.03.2019 17.00 AM
Last Date of Online Application: 12.04.2019
Application fees up to 23.59 hrs Last date and time of deposit
Net banking, credit card, debit card, UPI: 23.04.2019 23.59 Hrs
SBI Invoice: 18.04.2019,
Final submission till 1 PM: 26.04.2019 by 23.59 hours
CBT test: September-October
Indian Railway recently concluded the first stage of the selection process for more than 62,000 Group D or Level 1 posts. The first stage of RRB Group D recruitment, which was CBT, was conducted by Railway Recruitment Boards (RRBs). The ensuing process of Document Verification and Physical Standard Test (PST) will be conducted by Railway Recruitment Cells (RRCs).
Regional RRB websites
1) Ahmedabad – www.rrbahmedabad.gov.in
2) Ajmer – www.rrbajmer.gov.in
3) Allahabad – www.rrbald.gov.in
4) Bangalore – www.rrbbnc.gov.in
5) Bhopal – www.rrbbpl.nic.in
6) Bhuwneshwar – www.rrbbbs.gov.in
7) Bilaspur – www.rrbbilaspur.gov.in
8) Chandigarh – www.rrbcdg.gov.in