Mumbai, 28th June 2023: Smaaash Fun Gateway Arena Private Limited, a leading provider of immersive entertainment, has collaborated with Khushiyaan Foundation, a prominent NGO dedicated to the welfare of underprivileged children. As part of this association, Smaaash has hosted one of its kind event today, allowing 36 children between the age group of 7yrs-17yrs associated with Khushiyaan Foundation to enjoy the thrilling facilities and games at the facility.
Smaaash offers an extensive range of cutting-edge virtual reality experiences, interactive games, and engaging attractions, creating a unique and unforgettable environment for visitors of all ages. With this collaboration, Smaaash aims to bring smiles and moments of joy to the children, providing them an opportunity to explore the world of entertainment in an exciting and safe environment.
ALSO READ: Decoding Vaginal Discharge: 5 things every woman should know about
Mr. Avanish Agarwal, Consulting CMO, Smaaash Fun Gateway Arena Private Limited, said: "I am immensely proud to share the heartwarming experience of hosting underprivileged kids from the inspiring NGO, Khushiyaan Foundation. Our aim was to create a meaningful impact in their lives, fostering hope, joy, and opportunity. It was a truly priceless feeling to witness their smiles and pure enthusiasm at our premises. We believe corporate social responsibility goes beyond the bottom line. It's about investing in the well-being of our community and empowering those who need it most. By opening our doors to these remarkable children, we provided a memorable day filled with laughter, learning, and inspiration. The bond we formed with the children was incredible, reminding us of the transformative power of compassion, empathy, and inclusivity. Their energy and zest for life serve as a reminder that every child, regardless of their background, deserves an equal chance to thrive and succeed. We firmly believe that businesses have a vital role in shaping a better world, and our commitment to social responsibility remains steadfast. We will continue seeking opportunities to uplift and empower those in need because, together, we can make a lasting impact on many lives."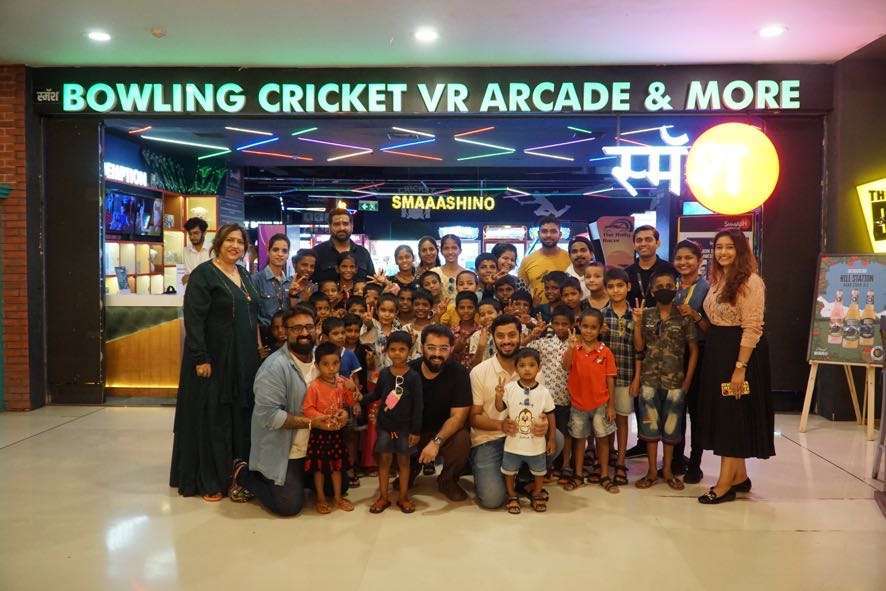 Khushiyaan Foundation has been actively working towards the betterment of underprivileged children, focusing on their education, healthcare, and overall development. This collaboration with Smaaash opens doors for the children to experience a whole new world of entertainment, promoting recreation as an essential part of their growth.
Dr. Chinu Kwatra, Khushiyaan Foundation founder said: "We are immensely grateful to Smaaash Fun Gateway Arena Private Limited for their support and generosity. I am thankful to Miss Archi Solanki and Mr. Avanish Agarwal for bringing this great opportunity for our children to indulge in amusing activities that will not only bring them joy but also enhance their overall well-being. The exposure at Smaaash will undoubtedly leave a lasting impact on their lives, and we are thrilled to witness the smiles on their faces as they explore the incredible offerings at the facility. Once again my sincere thanks to Smaaash for fulfilling this tiny dream of our children "
The association exemplifies the power of collective efforts in creating positive change in society. By providing deprived children with access to quality entertainment experiences, this partnership aims to promote holistic growth, happiness, and a sense of belonging.

About Smaaash Fun Gateway Arena Private Limited
Launched in 2012, SMAAASH is one of India's acclaimed gaming and entertainment centers that blends sports, virtual reality, music and dining into an immersive, evolved, interactive and innovative social experience for family, friends and children alike. Helmed by its creative ideator, Shripal Morakhia, Smaaash Fun Gateway Arena Private Limited is renowned in the field of sports simulation technology and proprietary gamification technologies such as a unique twilight bowling zone, motor racing and bike racing simulators and go-karting tracks (in Mumbai & Pune). Being a virtual reality-led entertainment gaming center – vastly credited to its in-house research and production capabilities, head-mounted displays are used to produce games such as Walk the Plank, Finger Coaster, Cockpit 360, etc.
Smaaash Fun Gateway Arena Private Limited implores the child in you to joyously revel in an unmatched range of activities ranging from highly interactive sports simulators to many more thrilling and recreational attractions. Redefining sports entertainment and customer engagement with ground-breaking entertainment ideas and novel dining concepts, Smaaash Fun Gateway Arena Private Limited has something for everyone, anyone of any age making it a perfect destination for "kids" of all ages. With its current presence in large metros and mini-metros like Mumbai, Pune, Delhi NCR, Gurgaon, Noida, Chandigarh, Ludhiana, Jalandhar, Hyderabad, Bhubaneswar, Jaipur, Raipur, Gwalior, Vijayawada, Madurai, Mangalore, Kanpur; many more upcoming properties across Pan India. Smaaash Fun Gateway Arena Private Limited is also touted as one of India's entertainment powerhouses present in 21 cities with 30 centers in total.
This year educate yourself and develop your career with EasyShiksha