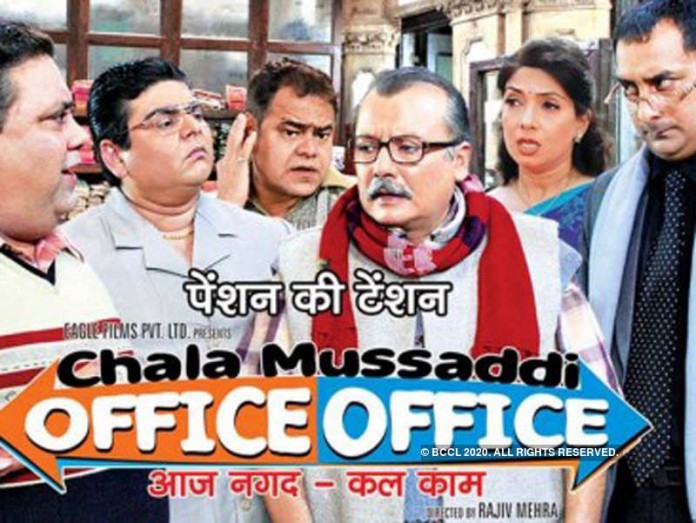 Get ready for a journey filled with madness, laughter and non-stop entertainment as Sony SAB is all set to bring the timeless classic TV series 'Office Office' back to your television screens.
Yes, you read it right! Pankaj Kapur as Mussaddi Lal Tripathi aka the common man and the office staff Asawari Joshi as Usha Madam, Sanjay Mishra as Shukla, DevenBhojani as Patel, ManojPahwa as Bhatia, Hemant Pandey as Pandey Ji and Eva Grover as Tina are coming back to entertain you with an office culture like nowhere else! These loveable office workers will be seen lighting up television screens once again from April 13 from Monday to Friday at 6 PM and 10:30 PM only on Sony SAB.
Considered as one of India's most iconic shows – a comedy for all generations, Office Office revolves around Mussadilal and his struggle to with bureaucratic hurdlesto get his work done from an office filled with employees all having annoying yet entertaining and unique characteristics.
Originally aired in 2001, the show presented a fresh take on comedy with immaculately crafted episodic storiesand an array of various characters that continue to be highly relatable years later as well. The roles for each character had been written perfectly along with their trademark 'takiyakalams' such as Usha Madam's 'WohiToh' and Patel Ji's 'Do baatein'.
ManojPahwa essaying the role of Bhatia said,"It's a good feeling that when you have worked so hard for a show, which also performed really well in its time, is now returning on Sony SAB for the audience to enjoy. People who have loved the show previously will be able to reminisce the memories and those who haven't seen it but only heard about it, will be able to see it. Those were some really great days and it was a lovely experience shooting for this show, with such an amazing bunch of actors. I had a really good rapport with the entire team and I've specially learnt a lot from Pankaj Kapur sir, who was our senior. The entire team had such a good bond that we used to look forward to go on sets and have fun while shooting. It's a great memory."
Hemant Pandey essaying the role of Pandey Ji said, "My happiness knows no bounds that the show which is so close to my heart will be back on Sony SAB. The timing of Office Office making a comeback is perfect as during this testing time the families can come together and watch a show that only brings happiness. Like my colleague Patel ji used to say, 'ab toh do baateinhogi' – this show will make people nostalgic and also make younger audience experience comedy like never before.I have beautiful memories attached to the show and even I cannot wait to watch Office Office again. The show earned immense love and support back then and even today the story is so relevant and relatable. Office Officecreated classic comedy which can never grow old and I look forward to reliving my old memories through the show."
DevenBhojani essaying the role of Patel said, "I am ecstatic as two of my shows, Bhakharwadi and Office Office will now be airing on the same channel, Sony SAB. It's a great feeling that Office Office is coming back. We had done it during 2001 – 2002. And after almost 2 decades, it would go on air again. The show is still relatable the way it was then. How a common man suffers and struggles when he needs to get something important done amidst the offices of corrupt people. In the period of lockdown, when the whole world is going through tension, pain and sadness, re-run of OFFICE OFFICE will divert their minds and bring smiles to their faces. I myself am looking forward for such a show."
Asawari Joshi essaying the role of Usha Madam said,"After two decades we are coming back for the viewers of Sony SAB. We are going through a tough and challenging time right now and to make this phase much easier for everyone and to spread happiness, Office Office is coming your way. It seems unreal that it has been over 20 long years since we started shooting for this show. All the immensely talented artists of Office Office were mainly from the theatre background and I believe magic happens when theater artists come together on a project. All the characters have received so much love from the viewers for their uniqueness. We all are back again to entertainment the fans and viewers of Office Office only on Sony SAB.
For information related to technology, visit HawksCode and EasyShiksha