To observe World Youth Skills day on July 15; Tata Power Skill Development Institute announces to train 5000 youth in green jobs
Offers courses in future-ready clean energy technologies like solar PV rooftop, EV charging, and Home Automation at its training centers in Mumbai, Kutch, Dhanbad, and Jamshedpur
National , 15th July, 2022: Tata Power Skill Development Institute ( TPSDI) , a state-of-the-art skill enhancement institute in the power sector, is expanding its training initiatives to equip youth with skills for green energy jobs. To mark the World Youth Skills TPSDI is rolling out skill development courses in Solar Photovoltaic for Electric Vehicle Charging, Installation and Maintenance of Rooftop Solar Photovoltaic, Installation of Smart Meters, and Home Automation to promote smart and efficient energy related expertise across its six training centers in India at Shahad ,Trombay, and Vidyavihar in Mumbai; Maithon – Dhanbad; Mundra – Kutch; and Jojobera – Jamshedpur. The institute has planned to train around 3000 youth in green energy jobs in FY 23 and will scale up the numbers around 5000 by 2025.
TPSDI has so far trained 1.4 lakh people across all its courses both in conventional and renewable energy technology. In the last financial year, the institute trained over 45000 of whom around 2,500 were certified in green job-related skills.
According to recent studies conducted by the Council on Energy, Environment, and Water (CEEW), Natural Resources Defence Council, and Skill Council for Green Jobs, the sector has the potential to generate 10 lakh jobs by 2030. That is nearly ten times the current workforce in the existing green energy space. It stated that small-scale renewable energy projects would generate the majority of the new jobs, as compared to utility or large-scale projects. TPSDI's new courses prepare trainees with the skills needed to take advantage of this expected spurt in green jobs. These new green energy skill courses will emphasise on hands-on training and pay special attention to safe working practices and will also be aligned to the National Skills Qualification Framework (NSQF).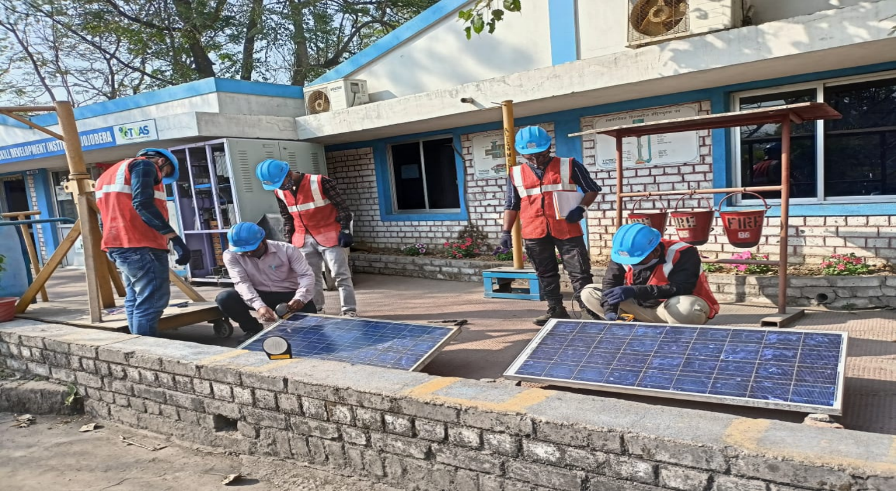 "India is making significant strides toward achieving its clean energy goals and creating a 500 GW renewable energy portfolio by 2030. The Indian power industry is about to undergo a green transformation, and Tata Power, being one of the pioneers in the clean energy and tech space, is all set to drive this change through TPSDI by enabling an ecosystem that includes focused training for youth in green and smart energy technologies like roof top solar, EV charging, home automation, battery storage and smart metering." said Tata Power Spokesperson.
Going forward, the institute also plans to introduce courses in artificial intelligence, machine learning, and energy consulting.
ALSO READ: Sitare University to provide free world class Computer Science undergraduate education
About TPSDI :
The Tata Power Skill Development Institute (TPSDI) is an endeavour of Tata Power to empower youth and others with employable skills, especially in the power and allied sectors, and to address the skill gap challenge faced by the Indian Power Sector in the clean energy space. The Institute provides modular training and certification across a wide range of employable skills. TPSDI was launched on February 9, 2015 as part of Tata Power's Centenary Year celebrations. The Institute has set up six training hubs in three locations in the country, leveraging the facilities of Tata Power and its JV/Subsidiaries: Shahad, Trombay, Vidyavihar in Mumbai, Maharashtra; Maithon-Dhanbad, Jharkhand ;Mundra-Kutch, Gujarat; Jojobera-Jamshedpur, Jharkhand. TPSDI also runs programs in collaboration with TPDDL-CENPEID, Delhi. The Institute's unique training approach is designed to deliver skills with speed, scale, and standards. The employability-centric courses range from 2 to 12 weeks in duration and follow the TPSDI Competency Framework, which is congruous with the National Skill Quality Framework (NSQF). The TPSDI Competency Framework allows participants to swiftly pick up readily deployable skills and continue upgrading their skills at convenient intervals over a period of time. Training at TPSDI ensures the holistic development of trainees. In addition to technical skills, training at TPSDI also focuses on other dimensions of skill building, such as industry orientation, and work ethics, and places special emphasis on safety, health, and the environment (SHE) considering the sector's specific needs. The training consists of both knowledge and hands-on skills. The Institute consciously works towards providing greater access to its courses to the members of disadvantaged sections of society and those in the below-poverty-line (BPL) category.
Visit EasyShiksha for skill development