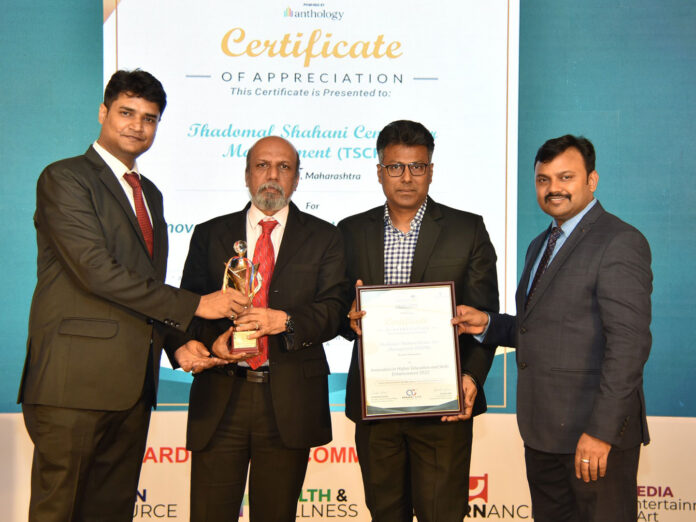 ● Institute bestowed with Innovation in Higher Education and Skills Enhancement Award 2022 at ArdorComm's Higher Education and EdTech Conclave 2022
● The award recognized the impact of TSCFM's Responsive Learning Model, an innovative method of evaluating students' soft skills and domain knowledge
Mumbai, June 1, 2022: Thadomal Shahani Centre for Management (TSCFM), part of The Shahani Group of Institutions, has been recognized for its innovative Responsive Learning System, a method of student evaluation that assesses their soft skills as well as domain knowledge, and produces key benchmarks which facilitate matching students with the right jobs for their capabilities. The Responsive Learning System is highly collaborative and allows students to control their own development path, with continuous support from TSCFM's seasoned experts and counsellors.
A key challenge that has been reported from across the globe is that white-collar employers are not satisfied with the employability of fresh college graduates. One of the primary reasons for this is the lack of a common employability framework and no commonly accepted standards, which prevents education providers from adequately equipping their students with the right set of skills required for the available jobs. Thadomal Shahani Centre for Management's Responsive Learning System has several key features due to which it has proved highly effective in bridging this gap and meeting the expectations of organizations in terms of talent.
READ: Theta & Vega to introduce surveying/mapping/Long endurance heavy payload drones
The Responsive Learning System includes Ask.Benchmarks, an assessment framework that evaluates students for the six most important employability traits – professional work ethos (attitude), proactiveness (attitude), the ability for teamwork (attitude), written and verbal communication (skill), critical thinking (skill), and industry knowledge (knowledge). Students are assessed at the beginning of each of Thadomal Shahani Centre for Management's Certificate, Diploma, PG Diploma, and Degree programmes, on a 10-point scale, to determine their current level of employability. These scores are compared against the Ask.Benchmark trait scores students need in order to secure entry-level employment in various industries and to align clear career goals with each student.
Students studying for Thadomal Shahani Centre for Management's online and hybrid programmes have access to a range of smartphone apps – Ask.CAREERS Course Apps (MBA, BFSI, Digital Marketing and others), Business English App, Employability Assessment App, and Interview Prep App – to help them manage their learning, and their progress is tracked each semester via Ask.Benchmarks. As students achieve various employability levels, they are awarded badges that motivate them to keep persevering. Individual counselors also provide continuous guidance to help them achieve their goals. During placement, Thadomal Shahani Centre for Management facilitates recruitment interviews keeping in mind the organizations that the students wish to work with. Recruiters are provided with the aspirants' Ask.Benchmark scores, enabling them to better understand the true quality of the candidates, thereby ensuring that each student is matched with the job that is right for them.
visit EasyShiksha for skill development
Discussing the uniqueness of the Responsive Learning System, Dr. Akhil Shahani, Managing Director – Thadomal Shahani Centre For Management and Shahani Group, and CEO – Ask.Careers, commented, "In today's dynamic world where skill requirements are evolving rapidly, a challenge still exists in creating bespoke learning environments that empower students to take charge of their own learning and develop the right skills necessary to secure the job of their dreams. During my Doctorate in Education, where I developed my thesis in the area of student employability, I also realized that there was a dearth of clear benchmarks, in terms of skill requirements, that would allow institutions to standardize student evaluations and ensure there is no mismatch between employer needs and student abilities. Through our Responsive Learning System, we have achieved great success in overcoming this constraint with our students, and successfully placed 8000+ of them with leading companies. The success of our endeavour has been validated by TSCFM being conferred with the Innovation in Higher Education and Skills Enhancement Award 2022."
Important Announcement – EasyShiksha has now started Online Internship Program "Ab India Sikhega Ghar Se"
Thadomal Shahani Centre for Management offers a variety of courses designed to increase students' employability according to the prevailing industry requirements. These courses include a 3-in-1 Management Program; Global MBA from Anglia Ruskin University, Cambridge (UK); BBA from Anglia Ruskin University, Cambridge (UK); PG Diploma in Banking, Financial Services, and Insurance; 4-in-1 Professional Diploma in Banking, Financial Services, and Insurance; MBA for Executives from Anglia Ruskin University, Cambridge (UK); Professional Diploma in Digital Marketing; Professional Diploma in Photography and Certificate in Business English.
About The Shahani Group:
Drawing upon its legacy of over a hundred years in the Indian education sector, the Shahani Group devotes itself to enhancing the careers of lakhs of students via its academic initiatives aimed at providing them with employment in diverse industry sectors. Helmed by Maya Shahani and Dr. Akhil Shahani, the Shahani Group is now in its fourth generation and encompasses a new generation of institutions in areas of management, media, banking, real estate, digital marketing, and more. Along with praiseworthy initiatives such as ask.CAREERS, Thadomal Shahani Centre For Management, Thadomal Shahani Centre For Media & Communication, and Ask Talent Services, the Shahani clan is a part of the HSNC Board which runs over 24 iconic colleges in Mumbai, such as Thadomal Shahani Engineering College, HR College, KC College, and National College, among others.
The Shahani Group has been widely recognized for its work in the educational sector, receiving a bevy of awards, including the CFBP Jamnalal Bajaj Award for Ethical Business Practices, the Clinton Global Initiative Award, and the CII Education Excellence Award. Operational in four cities, the Group also has an educational technology division and job placement division under its banner and runs several CSR initiatives aimed at providing education and healthcare for the under-privileged.