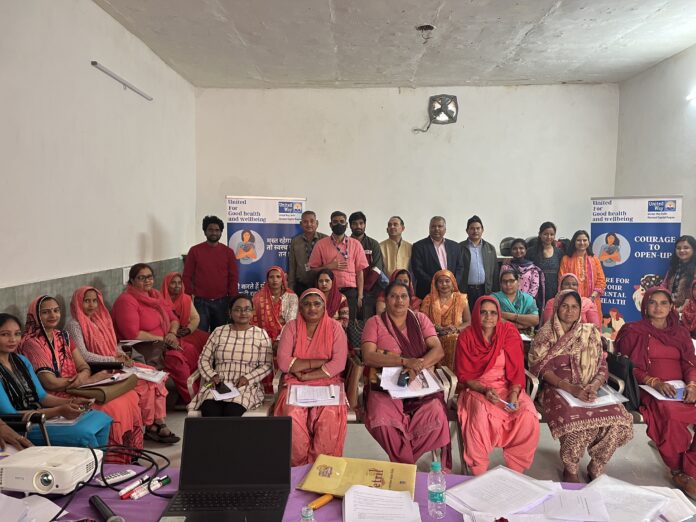 Successfully Conducts 3 Days Mental Health Awareness
Gurugram, Sohna 2nd March 2023: United Way Delhi, a non-profit organisation, has conducted a three-day mental health awareness program for frontline workers in Village Sohna from 27th February to 1st March 2023. The training program was organised under the Mental Health Pilot Initiative for Women of Rural Community at the Civil Hospital in Sohna, from 10:00 am to 5:00 pm.
The program was facilitated by Dr. Sanjeev Kumar, MBBS, MS MCH GB Pant Hospital, and director of Global Mediclinic, with the support of many co-facilitators from Global Mediclinic and United Way Delhi. A total of 29 frontline workers from Village Sohna and 16 from United Way Delhi participated in the program.
Talking about the training program Sachin Gowalkar, CEO – United Way Delhi said, "The COVID-19 pandemic has brought to light the importance of mental health and wellbeing as a critical issue affecting societies worldwide. Despite the social stigma attached to the subject, mental health problems have worsened due to a lack of awareness, access to quality care and support groups, and early screening and specialised care services, especially in rural areas."
Lauding the significant efforts of the government Gowalkar added – "The government has already taken steps to tackle these challenges, and the United Way of Delhi has launched the "Svasti" program in Sohna, Haryana to improve mental wellbeing for women and vulnerable groups in rural areas. The program aims to increase access to mental health services. A baseline has been established, and the first round of capacity building for 29 frontline workers (from February 27th to March 1st, 2023) has been completed with the support of the Health and WCD Department. The intervention aims to address sensitization and capacity gaps to enable early screening of the population. We are also assisting the District Administration in upgrading the resource centre for mental wellbeing at Civil Hospital, Sohna. There are several more interventions planned."
The training program covered various topics, including understanding mental health and disorders, special focus on women, knowledge of National Mental Health Programme-DMHP, severe and common mental disorders, mental health first aid, positive mental health and mental wellbeing, and community-based system promotion.
Also Read: iSchoolConnect Study Abroad Fest – Experience the world's leading Study Abroad AI
The program aimed to equip frontline workers, including ANM, Asha Workers, and Anganwadi Workers, with the knowledge and skills required to identify and respond to mental health issues among rural communities effectively. The SMO from Civil Hospital joined the training program and expressed appreciation for the collaboration between United Way Delhi and Dr. Sanjeev Global Mediclinic. During the training, the SMO shared various examples of mental health patients and encouraged everyone to participate in this social cause. The participants also applauded the training and expressed their gratitude to United Way Delhi and Dr. Sanjeev Kumar for organising such a beneficial program.
This year Educate yourself and develop your career with EasyShiksha