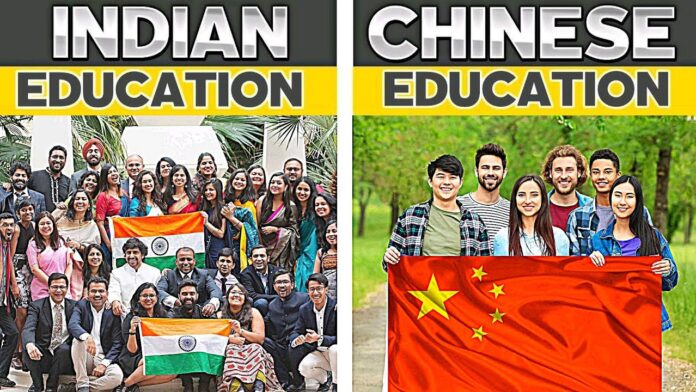 In China's steady economic and industrial growth, its well-envisioned and effectively managed education system works as a key propeller. In 2019, there were 38 Chinese universities in Quacquarelli Symonds (QS) top 500 list, against 06 Indian institutions. Besides, China fared better than India in terms of gross enrolment ratios in higher education and research output, too. Now, India must have to draw benefits from the demographic dividend that China has already experienced through a progressive education system. 
Humble beginning
The world's two most populated countries, China and India, began their developmental journeys in the early 1950s. At that time, their socioeconomic conditions were almost similar and both were new to adapt to modern education. Until the dawn of the 21st century, there was no big gap between the educational statuses of these two neighbouring countries, but in the last two decades, China outpaced India and becomes an example to many developing nations of Asia and Africa. In contrast, reforms and policies introduced in India's education system in the last 20 years have yet to encounter the desired impact largely due to the scarcity of resources.
Fortunately, India still has another twenty years to enjoy the demographic dividend. But, the benefits can only be ensured in a world-class education system. Truly, there is no harm in treating the rival as a role model, if resources are limited and goals are bigger. There is a pressing need to promote a culture and environment of skill development at all levels in India's unpragmatic education system. This is the area where a lot can be emulated from the dragons. Following a clear roadmap, they strengthened their primary and secondary education systems first and then invested massively in higher education institutions. Support of the corporate sector and philanthropic donations by HNIs have further substantiated the funding issues. 


Lessons to learn
China has made tremendous efforts to revamp its education system and emphasises immensely on academic researches. Despite the large scale involvement of its Government in all the major areas of the economy, China's education sector was blessed with a substantial degree of autonomy. And, with the passage of time, China emerged as the world's leading contender in producing academic talent and promoting research works in the public as well as private institutions.
But, India couldn't maintain the pace that it achieved in the 1950s and 60s with the establishment of institutes like IITs, IIMs, and Bhabha Atomic Research Centre. On the other hand, even small countries such as Singapore and Hong Kong, which are influenced by Chinese policies are performing better than India in both elementary and higher education.
Scope for improvement
It is an undeniable fact that money matters the most. However, India's education budget often falls short in pursuing its ambitious plans. But, other world-class universities, including their Chinese counterparts, have better financial outlays. To overcome this limitation, there is an urgent need to sensitise corporates about the long-term benefits of philanthropic initiatives. Moreover, as education is a highly lucrative business in the EdTeach era, Centre and state governments should approach industrialists to scale up public-private partnerships in this domain.   
Top Programming Languages Courses
More Courses With Certification
Proven remedies
Every citizen has the right to fulfil his dream about quality education. Amidst the pandemic, a majority of students in rural India could not take the online due to inconsistent internet services and lack of connected devices. India Inc should come forward in this direction and must help the government in its flagship programmes such as Digital India, Skill India, PM e-VIDYA programme, and Digitally Accessible Information System (DAISY). 
ALSO READ Dream of Separate Telangana
All the major stakeholders in the system must have to understand that people's improved access to education will ultimately create better professional opportunities, the key to inclusive development in the region. Hence, it can be easily summarised that whether it is the matter of resource improvisation, the establishment of quality educational institutions, or promoting a culture of research and innovations, public-private partnership is not just the demand, but the need of the time. 
Enroll From Here