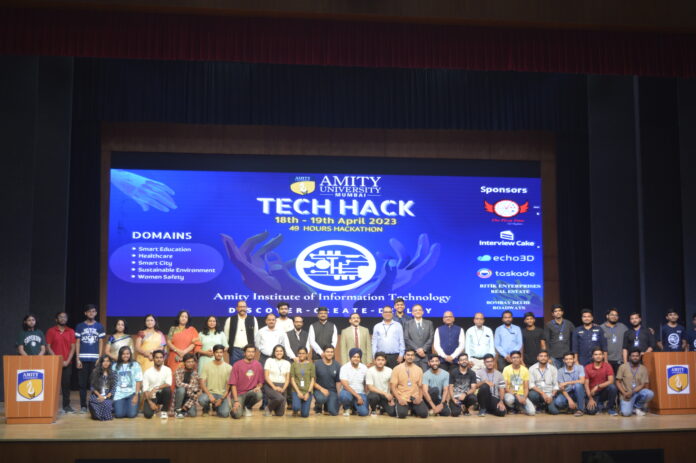 The Tech-Hack, a 49-hour hackathon event organised by the Amity Institute of Information Technology (AIIT), will be held at Amity University, Maharashtra, from April 17–19, 2023. The hackathon focused on the five domains of women's safety, smart education, health care, smart cities, and sustainable development. A total of 54 participants from 13 teams participated in the Tech-Hack event. Mr. K. Manoj Kumar Patra, IT Manager at Koch Industries, was the Guest of Honour of the event, and Mr. Prashant Pakhale, Lead Software Engineer from S&P Global Services, was the chief guest. Speaking at the inauguration ceremony, both guests addressed the problem-solving approach in IT projects.
ALSO READ: Flipkart announces 'Super Cooling Days' for customers with offers from brands across various cooling appliances
Speaking on the occasion, Prof. (Dr) A. W. Santhosh Kumar, Vice Chancellor, Amity University Mumbai, said, "Nowadays, every institute has launched a hackathon, but here at Amity University, we are offering more complex problem-solving tasks, the solutions to which would help the society improve the quality of life. This hackathon will help students think outside the box and stay ahead of the curve, and it will also develop students' understanding of the world around them."
Datta Meghe College of Engineering's team AFKS won the competition, which was awarded with a prize of Rs. 10,000, a Certificate of Appreciation, life-time access to the Taskade software, and one-month access to the software services

offered by Echo3D and Interviewcake. The team members of the first prize, Mr. Faizan Potrick, Mr. Karandeep Singh Sandhu, Mr. Aditya Rai, and Mr. Sarthak Deshmukh, developed an application providing a solution to a problem statement on women's safety.
The Second Prize winner, Team Eternity Coders from Anjuman Islam Kalsekar Technical Campus, Navi Mumbai, was awarded with the prize money of Rs. 5,000, a Certificate of Appreciation, life-time access to the Taskade Software, and one month's access to the software services offered by Echo3D and Interviewcake. The winner of the second prize, Mr. Daniyal Dolare, Hamza Khalid Baig, Daunak Sufiyan, and Kazi Uzair, developed an application covering the Smart Education domain addressing a solution for students with disabilities and special needs.
This year Educate yourself and develop your career with EasyShiksha.