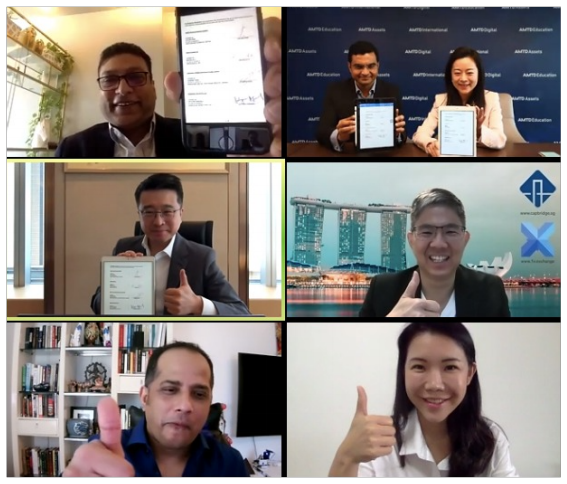 AMTD Group, AMTD Digital (collectively "AMTD") and GlobalLinker signed a Strategic Collaboration Agreement today. The virtual signing ceremony was witnessed by Sopnendu Mohanty, Chief FinTech Officer, Monetary Authority of Singapore (MAS). The strategic partnership aims at providing comprehensive solutions to enable and empower SMEs to help the long-term development and competitiveness of SMEs, , including by contributing to the Business Sans Borders (BSB) initiative under the framework set by the MAS.
AMTD has built a multi-dimensional and cross-sector SpiderNet ecosystem that is continuously expanding to connect and promote collaboration between its partners, including shareholders, clients, government bodies, and industry associations, etc. GlobalLinker, through its unique solution for global business networking for SMEs & Startups, is creating a global community of Small & Medium Enterprises and is committed to making SME businesses simpler, more profitable and enjoyable. GlobalLinker is one of the technology partners of the MAS' BSB initiative.

Important Announcement – EasyShiksha has now started Online Internship Program "Ab India Sikhega Ghar Se"

Together, AMTD and GlobalLinker will endeavor to add to this growing SME community and contribute to BSB's AI-driven global solutions hub to foster SME digitalization. BSB is established by the MAS, and is a "meta-hub" or connector of several SME-centric platforms. By connecting these different platforms, BSB helps SMEs to access a much larger ecosystem of buyers, sellers, logistics service providers, financing, and digital solution providers more seamlessly. BSB utilises artificial intelligence (AI) to enable SMEs to discover prices and sales opportunities in a larger global marketplace, access various supply chains, and easily source and utilise relevant digital and financial solutions. In late 2019, MAS announced the successful completion of the BSB Phase One Proof-of- Concept (POC).
GlobalLinker will officially join and become a permanent and core member of the AMTD SpiderNet ecosystem, while AMTD will join GlobalLinker's SME network. The two parties will work together to facilitate the digitalization of SMEs in Asia, help accelerate their global expansion, with Singapore as the strategic hub to showcase the power of the partnership. Through its proprietary SpiderNet ecosystem, AMTD will connect SMEs on GlobalLinker's platform to AMTD's global resources and network.
AMTD will become the preferred financial services partner of GlobalLinker, as well as for SMEs on GlobalLinker's platform. AMTD will bring its ecosystem partners and subsidiaries such as but not limited to AMTD Digital, AMTD International, AMTD Risk Solutions, PolicyPal, CapBridge, FOMO Pay, Airstar Bank (one of the 8 virtual banks in Hong Kong, a joint-venture between AMTD and Xiaomi Corporation) and Singa Bank (subject to the approval of MAS for a digital wholesale bank license whereby AMTD is the lead and largest shareholder), to empower GlobalLinker and SMEs on the GlobalLinker platform.
Mr. Calvin Choi, AMTDs Chairman and CEO comments, "The strategic partnership between AMTD and GlobalLinker would leverage on AMTD's strong foundation in the Greater Bay Area and connectivity with the global markets, and further enable SMEs to connect outside of Southeast Asia. AMTD Digital and our ecosystem partners' one-stop digital offering will help SMEs to accelerate their digitalization, provide them with full lifecycle solutions, empower their globalization, and contribute to Business Sans Borders."
Top Software Engineering Courses
Mr. Sameer Vakil, Co-Founder and CEO of GlobalLinker said, "At GlobalLinker, we are deeply committed to offering SMEs collective efficiencies and economies by building a global community. We have always believed in the power of partnership to build an SME ecosystem which can provide SMEs such efficiencies and economies in a more comprehensive manner. Our strategic partnership with AMTD, we will bring an entire ecosystem of like-minded companies and capabilities from AMTD & SpiderNet to GlobalLinker SMEs and likewise, will offer the best of GlobalLinker to all the SMEs within the AMTD ecosystem. This combined power will allow us both to better serve the business growth ambitions of SMEs, who are undoubtedly, the pillars of every economy."
Mr. Mohanty, extended his congratulations to AMTD and GlobalLinker. He said that BSB aims to ignite a sea change in the way SMEs around the world can easily connect digitally with each other. He welcomes AMTD and GlobalLinker's persistent efforts to empower SMEs and look forward to see the strategic alliance to contribute to the Phase Two Pilot of BSB, starting first in Singapore, to assist SMEs in their real transactions.
AMTD has significant strategic layouts in Singapore to empower local entrepreneurs and community: Singapore is AMTD Digital's headquarters and AMTD Group's regional headquarters. AMTD, as a founding partner, is committed to providing long-term support to the Singapore FinTech Festival, which is the world's largest of its kind. AMTD is the first corporate founding member of the ASEAN Financial Innovation Network (AFIN), for which our chairman Calvin Choi was invited to serve as its board member. In April 2020, AMTD partnered with AFIN to establish the S$50 million AMTD ASEAN- Solidarity Fund. In May 2020, AMTD, MAS, Singapore FinTech Association (SFA) announced the launch of a S$6 million MAS-SFA-AMTD FinTech Solidarity Grant to support Singapore-based FinTech firms amid the challenging business climate caused by the COVID-19 pandemic. AMTD is leading a consortium comprising of Xiaomi Corporation, Funding Societies and SP Group and has submitted an application for the Digital Wholesale Bank License in Singapore.
Important Announcement – EasyShiksha has now started Online Internship Program "Ab India Sikhega Ghar Se" during this lockdown.
To consummate its one-stop digital financial solutions to Asian SMEs and consumers, AMTD Digital has recently announced several landmark transactions in Singapore's FinTech space through its unique "fusion-in" programme, including the acquisitions of the controlling stakes in (i) PolicyPal, Singapore's InsurTech pioneer and first graduate of MAS' FinTech Sandbox; (ii) CapBridge Financial, Singapore's first regulated securities exchange for digital assets and private companies and Singapore's leading integrated private market ecosystem platform; and (iii) FOMO Pay, the one-stop QR code and digital payment solution provider in Southeast Asia. These acquisitions reflect AMTD's fusion-in strategy by integrating innovative companies into its unique SpiderNet ecosystem, and its ambition to continue to build out its one-stop cross-market intelligent digital financial services platform. AMTD will continue to bring its capital markets expertise and extensive connections with global new economy companies to Southeast Asia, and empower more entrepreneurs in their innovation and development, and finally interconnect with the global markets.
About AMTD Group
AMTD Group, parent company of AMTD Digital and AMTD International, is a leading comprehensive financial services conglomerate, with businesses in investment banking, asset management, digital financial solutions; and non-financial services areas including strategic investments, real estate and education.
AMTD International (NYSE: HKIB; SGX: HKB), a subsidiary of AMTD Group, is the largest independent investment bank in Asia and one of Asia's largest independent asset management companies, and has been a leading investor in FinTech and new economy sectors. AMTD International successfully listed on the New York Stock Exchange in 2019, representing the first Hong Kong headquartered financial institution listed on NYSE. On April 8, 2020, AMTD International completed its successful listing on SGX-ST, which marks a series of historical milestones, including:
The first company ever to be dual listed on NYSE and SGX
The first company featuring dual-class shares (DCS) listed on SGX
The largest financial institution headquartered in China and Hong Kong listed on SGX as measured by market capitalisation
The first Hong Kong financial institution listed on SGX
The largest company in terms of market capitalisation listed in Singapore year to date; and
The first company to conduct a digital listing ceremony in Singapore.
AMTD Digital, the digital solutions arm of AMTD Group headquartered in Singapore, covering digital financial services, digital media marketing and data intelligence, digital connectors and ecosystem, and digital investments. AMTD Digital aims to build a one-stop, comprehensive, cross-market, and innovative digital financial services platform.
About GlobalLinker
GlobalLinker is an AI powered platform 'Building a Global Community of Digitized SMEs'. It is a unique Business Networking solution dedicated to serve SMEs with the purpose to make 'the business growth of SMEs globally, simpler, more profitable and enjoyable'. GlobalLinker has built a global community of over 300,000 SMEs from over 150 countries by Co-Branding with Financial Institutions, Corporations, Trade Associations and Governments to bring SMEs to a common platform. SMEs can access a range of solutions to build their Digital Presence (Digital Profile, e-Store, Product Catalog, Order & Inventory Management, Company Intranet, HRMS, etc.); Network & Collaborate (create new business connections and a rolodex of SME connections, using GlobalLinker's patented technology, join relevant SME groups & events); have Up-to-Date Knowledge with curated business articles, news, discussions, events & webinars; access a range of Offers & Deals pre-negotiated for them using the 'Collective Purchasing Power' of SMEs on the Platform.
Empower your team. Lead the industry
Get a subscription to a library of online courses and digital learning tools for your organization with EasyShiksha
Request Now
GlobalLinker has 10 Co-Branded programs in partnership with:
Leading corporations – Mastercard, HSBC, ICICI Bank, Union Bank of Philippines, Siam Commercial Bank, Thailand; ; leading Telcom company – Vodafone Idea
Prominent Trade Associations – Retailer's Association of India (RAI), Bombay Industries Association and
Government Organizations – Telangana State in India and Federation of India Export Organizations (FIEO)
The over 300,000 SMEs on GlobalLinker have made more than a million business connections and are finding the benefits of being part of a single and growing business community. GlobalLinker is also one of the founding member and Technology Partner of the MAS' Business Sans Borders (BSB) initiative.
For more information related to technology, visit HawksCode and EasyShiksha
ALSO READ: wileynxt-launches-new-programs-iim-lucknow
Get Course: intermittent-fasting