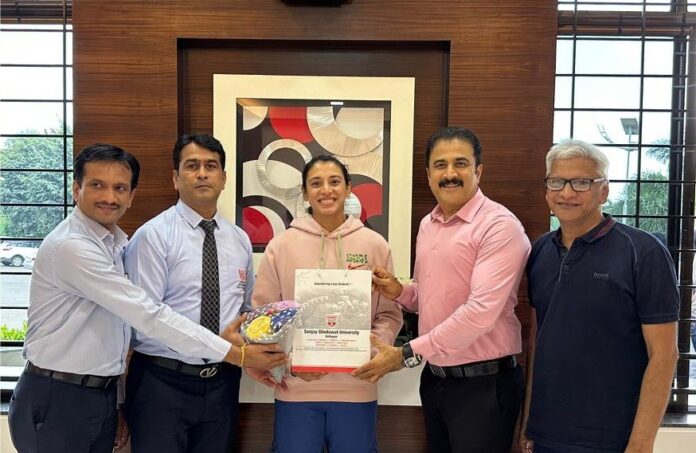 Kolhapur:-Smriti Mandhana, the vice-captain of Indian Women's cricket has enrolled for B. Com graduation in Sanjay Ghodawat University. Sanjay Ghodawat, founder and chairman of Sanjay Ghodawat Group said "It is our pleasure that a reputed sports star has enrolled for a graduation course. We have always supported sporting activities and ensured that sportspersons fared well in academics too.
Sanjay Ghodawat University (SGU), the education vertical of SGG was established as a State Private University in the year 2017. Previously it was Sanjay Ghodawat Institutes formed in the year 2009. The Institute has received NAAC A grade, its programs are accredited by NBA and after this, the natural progression was the evolvement of SGU.
ALSO READ: SVKM's Mastermind Career Fair 2023: Your One-Stop Destination for a Successful Career!
Sanjay Ghodawat Educational campus offers world-class teaching-learning facilities to students right from Kindergarten to PhD. The 165 acres' Educational campus houses Sanjay Ghodawat University offering UG, PG, and PhD courses in Technology, Pharmacy, Architecture, Science, Liberal Arts, Computer Applications, Management, and Commerce. The Educational Campus also houses the Sanjay Ghodawat Polytechnic offering a diploma in Engineering. The International School on the campus affords 3 curricula to students CBSE, IGCSE, and IB. It caters to around 4500 students.
The Sanjay Ghodawat IIT & Medical Academy prepares students to crack competitive exams like JEE Main, Advance, CET, NEET, etc. It has branches in Atigre, Kolhapur, Sangli, Solapur, Beed, Nanded, Karad, Pune, Belgaum and Latur. It has consistently helped students to crack the competitive exams by enabling many to get admitted in IITs, NITs, AIIMS, and other reputed engineering and medical colleges. The campus also has Sanjay Ghodawat Junior Colleges for Science and Commerce. The Campus caters to 18000 students currently. 

After visiting SGU campus Smriti Mandhana said I have taken admission at the university as it is equipped with all sporting facilities. "I felt a positive vibe after arriving on Sanjay Ghodawat University campus. The university has all the sporting facilities Indeed. Therefore, it naturally becomes my first and the only choice for completing my education,"
Sanjay Ghodawat University is well known for its world – class campus with all facility. Recently, Ashvarya Jadhav an under-18 who played in Junior Wimbledon, tennis star also enrolled in the university.
About Sanjay Ghodawat Group
Sanjay Ghodawat Group (SGG) is a prominent Indian business conglomerate that has a presence in various high-value business verticals. Aviation, Consumer Products, Education, Energy, Mining, Realty, Retail, and Textiles are some of its key business domains. SGG was founded in 1993 and since then it has witnessed impressive growth under the splendid stewardship of its Founder and Chairman- Mr. Sanjay Ghodawat. It has a strong base of millions of customers globally, an employee strength of over 10,000, and a student base of over 16,000. SGG is moving ahead with great vigour and bringing significant changes in people's lives with its wide range of high-quality products and services.
This year Educate yourself and develop your career with EasyShiksha