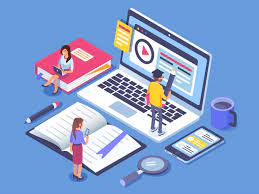 One of the most rapidly growing industries globally is the Edtech sector with more than 1,782 EdTech start-ups founded in India alone. The industry reaching its highest peak is now witnessing the phase of nearly 2000 mass layoffs by many startups. Currently, the edtech industry has a combination of players who are devastated with lay-offs and the others who are strategizing to scale up by choosing an omnichannel model and are seeing growth.
Here is a list of 5 edtech players that have been growing upward despite the industry layoffs :
Imarticus Learning:  Imarticus Learning is India's leading professional education firm which is famed for its industry-first approach to bridging the gap between employment and academia. Working in alliance with world-renowned organizations and industry experts, the institute offers its learners professional certifications and job placement opportunities that sculpt the workforce of the future. Their mission is to upgrade the quality of human skill capital so as to meet current and emerging employment demands. Imarticus Learning has tapped into cities like Patna, Kolkata, Dehradun and others with their offline branches allowing the students to have a physical presence locally to connect with prospective learners and provide an offline touchpoint to support and offer guidance to learners on suitable courses. Imarticus Learning, is one of the edtech startups which has been growing in every aspect, be it partnerships, course launches, hiring, opening offlines branches, etc.
READ: IIUSA in association with phd chamber
PW (Physics Wallah): Founded in 2016, PW, the brainchild of Alakh Pandey and Prateek Maheshwar, strives to ensure that money should not be an obstacle in the path of achieving one's dreams. It prepares students for engineering and medical entrance examinations by affordably providing them with guidance from distinguished teachers. Physics wallah specializes in giving comprehensive lectures and sessions on YouTube, the PW app, and the website for students aspiring for NEET, JEE Mains. Having commenced operation as a YouTube channel by Alakh Pandey in 2014, Physics Wallah has grown rapidly since its inception. During the pandemic in 2020, Alakh joined hands with Prateek Maheshwari to work on a technology solution for students by launching the PW app. The company currently boasts over 62 lakh subscribers on YouTube, with an impressive rating on its app.
visit EasyShiksha for skill development course
CIVILSDAILY: The Delhi-based company is India's largest in-person government exam mentoring platform. Civilsdaily is on a mission to change the way aspirants prepare for government exams by optimizing their entire preparation journey – from the start to the end. The company pioneers the concept of 1-1 mentorship via a dedicated team of mentors and leverages AI/ML to power its study material and assessments. Having close to 1 million app downloads with a rating of 4.7 and 2M monthly visits make it a favorite among students and toppers. Recommended by All India Rank 1, Civilsdaily is the most innovative platform covering all aspects of the IAS UPSC exam. Features include relevant current affairs from prominent newspapers aligned with the demands of the exam.Civilsdaily is indeed a good platform to study for UPSC preparation. Just like covering many topics is necessary for the preparation, loading oneself with so much information from many resources is also not a useful strategy.
Coursera: Coursera is an online learning platform that offers massive open online courses (MOOC), specializations, and degrees. Coursera works with universities and other organizations to offer online courses, specializations, and degrees in a variety of subjects, such as engineering, data science, machine learning, mathematics, business, computer science, digital marketing, humanities, medicine, biology, social sciences, and others.
Simplilearn: Simplilearn is the world's leading certification training provider. This platform provides online training in disciplines such as Cyber Security, Cloud Computing, Project Management, Digital Marketing, and Data Science among others, where technologies and best practices are changing rapidly and demand for qualified candidates significantly exceeds supply.