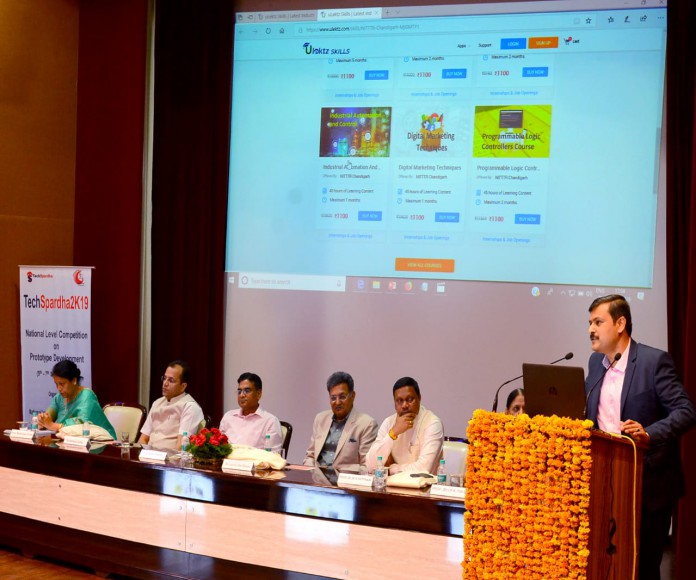 Ulektz, Ties-Up with NITTTR Chandigarh, Ministry Of Human Resource Development
Chennai, 25th, 2019: uLektz, a SaaS based EdTech start-up launched Online skill courses on Emerging Technologies in collaboration with NITTTR Chandigarh, Ministry of Human Resource Development, Government of India to train 100,000 faculties and higher education students across India on industry required latest skills with certifications.
The Online Skills Courses of NITTTR and uLektz was launched by Shri. Laxmi Narayan Gupta IAS, Technical Member – National Company Law Tribunal (NCLT) in the presence of Shri. Dr. Ashwani Johar, Member – India Russia Bilateral Council of NITI Ayog, Shri. Jagdish Rai Singal, Chairman BoGs – NITTTR Chandigarh and Professor. S.S. Patnaik, Director – NITTTR Chandigarh on the 52nd Annual Day Celebrations of NITTTR Chandigarh.
National Institute of Technical Teachers Training and Research, Chandigarh, Ministry of Human Resource Development, Government of India knowing the need for developing the skill sets for lecturers and students to upgrade their knowledge and to equip themselves in this ever changing world, requisite for the current job market and to make more students employable. The academic programmes will meet the demands of the industry and keep pace with global advancements in the industry. uLektz constantly looking to develop skill sets for the student and lecturers community is looking for investors to come forward and help in improving the quality of education for the nation.



Top Software Engineering Courses



Speaking during the occasion Dr. S.S Pattnaik, Director – NITTTR Chandigarh "NITTTR Chandigarh has trained about 25000 teachers across India through Contact Mode and ICT Mode between April 2018 and March 2019. With the launch of these online skill courses in partnership with uLektz, we aim to train 100,000 teachers and students of higher education."
"The partnership with NITTTR Chandigarh is the next step taken by uLektz to provide quality education to help student's community and faculties. This partnership will enable us to offer our lakhs of registered students and teachers with the online skill courses in emerging areas that are certified by NITTTR Chandigarh, Ministry of Human Resource Development, Govt of India." Said Sadiq Sait M.S, Founder & CEO – uLektz
This tie-up between uLektz and NITTR Chandigarh, Ministry of Human Resource Development, Government of India will help students who wish to learn emerging new trends in the industry. Today, ulektz makes it possible to obtain skill certification online at student's convenience.
About NITTTR:
In realization of the need for training better quality technicians to meet the large scale industrialization of the country, the ministry of Human Resource Development (the then Ministry of Education), Government of India established four Regional Technical Teachers' Training Institutes at Bhopal, Chandigarh, Chennai and Kolkata in 1967.The Institute is registered under the Societies Registration Act, 1860 and is managed by a Board of Governors. The institute started with long term teachers' training programmes for polytechnic teachers in 1967 and was also entrusted with the responsibility of promoting curriculum development work for the states in the region. The institute established a Media Centre in 1981 for preparing print & non-print instructional materials.
The institute also set up the department of Rural Development and the department of Entrepreneurship Development to assist polytechnics in directing their efforts towards training manpower and disseminating information in these areas. All the programmes, being offered for teachers of technical institutions and their administrators, professionals from industry and general candidates, are duly approved by AICTE and affiliated to Panjab University, Chandigarh. Since June 2001, this institute has been conducting short term courses in various subjects for faculty of Engineering Colleges in addition to organizing AICTE sponsored Induction Training Programmes.
About uLektz:
uLektz Learning Solutions Private Limited (uLektz) is a Chennai based EdTech SaaS start-up, founded in August 2016 by Sadiq Sait and Ratnakumar Bikkani, EdTech professionals with over a decade of experience in working with various colleges, universities and ministries of education worldwide. uLektz is a first-of-its-kind SaaS platform designed to be the operating system for higher education. It helps connect students, educators and all other stakeholders of higher education, and provides them a suite of apps ranging from Learning Management System, Educational ERP and Social Learning Platform to Marketplace of apps offering digital resources and services for education, skill development and careers. Uektz has partnered with many institutions and online skill course providers including Udemy, Institute of Chartered Accountants of India, Million Lights – Microsoft Partner, Digiterati, etc., to promote and deliver their online skill courses, conduct online proctored examinations and issue e-Certificates to the successful candidates. uLektz is recognized and certified as The Most Innovative Startup by the Department of Industrial Policy and Promotion (DIPP), Ministry of Commerce and Industry, Government of India. The company is also certified according to international standards ISO 9001:2015 for Quality Management System and ISO 27001:2013 for Information Security Management System.
Top Networking Online Courses
More Courses With Certification
Empower your team. Lead the industry
Get a subscription to a library of online courses and digital learning tools for your organization with EasyShiksha
Request Now
ALSO READ: Celebrate-navaratri-festival-in-your-own-way-with-helo
Get Course:  Learn-SQL-Tutorial-for-Beginners