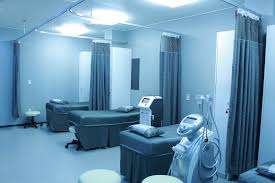 Chennai: Fortis Hospital Vadapalani is committed and focused on providing the best of clinical services for patients and in lieu of the same has installed Indocyanine Green with Endoscopic near infra-red vision camera at the hospital to delineate biliary anatomy i.e., bile ducts, gallbladder, and associated structures, in a patient. This technology allows surgeons to view biliary anatomy – that helps to process the food into usable form of energy for the body – with precision and clarity, making it easier to identify and remove the damaged parts. The newly installed technology provides 3D view of anatomy for better visualization and improves accuracy and safety of the procedure.
The newly installed technology has been used to treat a 63-year-old female patient who was presented to Dr. Sugi Subramaniam, HPB & Liver Transplant Surgeon at Fortis Hospital Vadapalani with acute gall bladder inflammation due to gallstones. Dr. Sugi and his team used Indocyanine Green with Endoscopic Near infra-red vision camera laparoscopic technology to remove the gall bladder. This minimally invasive procedure resulted in a shorter recovery period and a lower risk of complications, and the patient was discharged from the hospital within 24 hours. The surgery's success enhanced confidence among patients about the state-of-the-art infrastructure and skilled experts at the hospital.
ALSO READ: Merck Foundation Chief Executive Officer (CEO) shares the partnership journey with Democratic Republic of the Congo First Lady 2020 to 2023 – Train healthcare providers, support Infertile Women & Girl Education
Mr. Venkata Phanidhar Nelluri, SBU Head, Fortis Hospital, Chennaisaid, "The recent advancements in medical technology have broadened the treatment and therapy options in the healthcare sector. This is especially true for health conditions that are difficult to diagnose and treat. A combination of technology, knowledge and experience is necessary to ensure that the patient receives the most effective treatment. Therefore, it is essential to stay up to date with the latest advancements in the field. Fortis unwavering commitment towards transforming the healthcare landscape of the region is evident in the newly installed Indocyanine Green with an endoscopic near-infrared vision camera. With this cutting-edge state-of-the-art technology, more patients will benefit from our services.
About Fortis Hospital, Vadapalani
Fortis Hospital, Vadapalani is the second facility within Chennai from the country's fastest growing healthcare group – Fortis Healthcare and centrally located in the bustling epicentre of Arcot Road, Vadapalani. The 250 bedded Quaternary

care super specialty hospital hosts a 24×7 Emergency Centre with Ambulance Services, Centre of Excellence in Cardiac, Gastro, Renal, Neuro, Trauma & Orthopedics Care. We are the largest multi organ transplant centre in Chennai which includes heart, lung, liver, kidney, small bowel, and pancreas.
About Fortis Healthcare Limited
Fortis Healthcare Limited – an IHH Healthcare Berhad Company – is a leading integrated healthcare services provider in India. It is one of the largest healthcare organizations in the country with 27 healthcare facilities, 4,300 operational beds and 400 diagnostics centers (including JVs). Fortis is present in India, United Arab Emirates (UAE), Nepal & Sri Lanka. The Company is listed on the BSE Ltd and National Stock Exchange (NSE) of India. It draws strength from its partnership with global major and parent company – IHH, to build upon its culture of world-class patient care and superlative clinical excellence. Fortis employs ~23,000 people (including SRL) who share its vision of becoming the world's most trusted healthcare network. Fortis offers a full spectrum of integrated healthcare services ranging from clinics to quaternary care facilities and a wide range of ancillary services.
This year educate yourself and develop your career with EasyShiksha