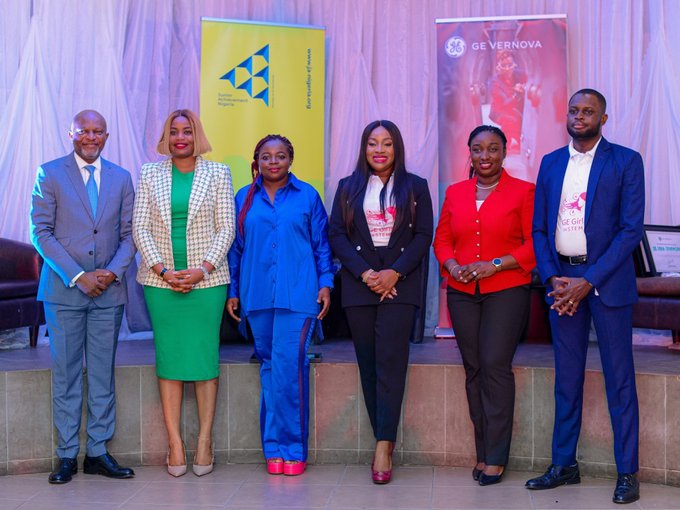 The event in Port Harcourt, Rivers State, Nigeria, was held in commemoration of the International Day for Women in Engineering, and featured educative panel discussions on leadership
Access Multimedia Content
PORT HARCOURT, Nigeria, June 27, 2023/– GE Vernova's Gas Power business and Junior Achievement Nigeria (JAN) recently hosted a 'Girls in STEM' event to inspire 100 secondary school girls and bridge the gender gap in Science, Technology, Engineering, and Mathematics (STEM) careers to prepare the next generation of women engineers and innovators. The event in Port Harcourt, Rivers State, Nigeria, was held in commemoration of the International Day for Women in Engineering, and featured educative panel discussions on leadership, exploring different STEM careers and mentorship.

The aim of the Girls in STEM program is to encourage girls to choose careers in STEM, expose them to a network of female role models and organize experiential and discovery sessions to provide an immersive experience into potential careers they can explore in STEM. The program was organized in collaboration with GE Vernova's Gas Power customers; Nigeria National Petroleum Company (NNPC) Exploration & Production Limited, First Independent Power Limited (FIPL) and TransAfam Power Limited (Transafam). The participants who were drawn from five schools across the city of Port Harcourt, visited the power plants to experience potential careers in STEM.   
ALSO READ: Fortis Hospital Vadapalani installs new Indocyanine Green with Endoscopic near infra-red vision camera technology to perform safer Laparoscopic Cholecystectomy

According to UNESCO's Institute of Statistics (UIS) data (https://apo-opa.info/44iHKGO), less than 30% of the world's researchers are women with low representation in the public, private and academic sectors. Speaking at the event, Kenneth Oyakhire, Services Executive for GE Vernova's Gas Power business in Sub-Saharan Africa, said, "It is important to delve beyond surface-level issues and identify the underlying factors that discourage girls from pursuing careers in STEM. We are dedicated to showcasing a wide range of opportunities available through our Girls in STEM initiatives, therefore paving the way for a future of high-quality careers in engineering, manufacturing, IT, and product management roles."  

Foluso Gbadamosi, Executive Director of Junior Achievement Nigeria, emphasized the significance of commemorating this day, stating that there is no better time than now to expose young girls to the possibilities of a career in STEM. She highlighted the importance of equipping them with the right mindset and showcasing the opportunities available to pursue their dreams. Gbadamosi stressed the benefits of stimulating their interest and launching their STEM careers, not only for their economic future but also for building thriving communities.

She also underscored Junior Achievement Nigeria's commitment to the United Nations Sustainable Development Goals, particularly in the areas of quality education, gender equality, reduced inequalities, and partnership for the goals. Gbadamosi expressed appreciation for GE Vernova's Gas Power business for its commitment towards the STEM program.  
One of the beneficiaries of the corporate social responsibility activity thanked GE Vernova's Gas Power business and JAN for giving girls the necessary exposure to guide them through their career choices. "The Girls in STEM programme has opened my eyes to see that nothing should stop me as a girl from pursuing a career in STEM. Seeing and hearing from successful women professionals in the male-dominated careers has encouraged us to explore opportunities in STEM, believing that we can be successful," she added.

GE Vernova's Gas Power business believes that the commercial imperative, coupled with the ongoing challenges of recruiting and retaining top female talent in STEM jobs, means organizations must make continued, real investment in closing the gender gap. Gas Power business at GE Vernova will also continue to benchmark, explore, and implement employee programs and benefits that foster a fair and inclusive culture where all employees can thrive.
About Gas Power at GE Vernova:
Gas Power at GE Vernova is a world leader in natural gas power technology, services, and solutions. Through relentless innovation and continuous collaboration with our customers, we are providing more advanced, cleaner, and efficient power that people depend on today and building the energy technologies of the future. With the world's largest installed base of gas turbines and more than 670 million operating hours across GE's installed fleet, we offer advanced technology and a level of experience that's unmatched in the industry to build, operate, and maintain leading gas power plants.
GE Vernova is a dynamic accelerator comprised of our Power, Renewable Energy, Digital and Energy Financial Services businesses, focused on supporting customers' transformations during the global energy transition.
About Junior Achievement Nigeria:
Junior Achievement Nigeria (JAN) is a member of Junior Achievement Worldwide (JAWW), the world's largest and fastest-growing non-profit economic education organization with a 120-country network. Since its inception in 1999, JAN has reached over one million students in over 20,000 classrooms in all 36 states across the country and the FCT through over 5000 volunteers. As part of a global network, JAN can leverage resources and expertise to deliver localized cutting-edge experiential programmes built on JAWW's four pillars of Work Readiness, Entrepreneurship, Financial literacy, and Digital Literacy, to in-and-out-of-school youths, ages 5 to 27, free of charge.
This year educate yourself and develop your career with EasyShiksha