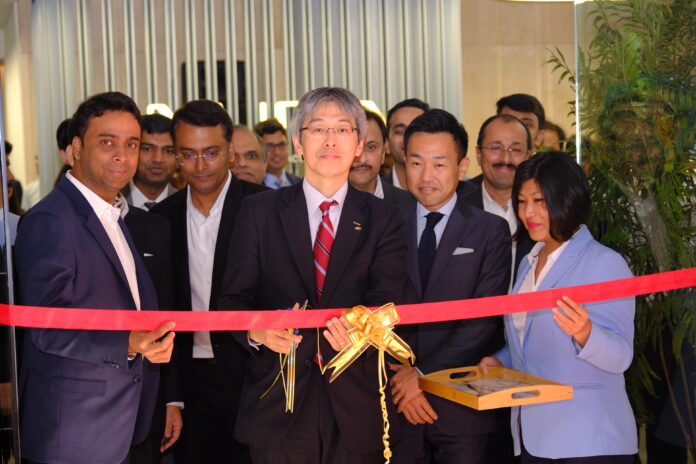 Bengaluru, 18th January 2023: FUJIFILM India, a leader in medical imaging technology announced the inauguration of its flagship health screening center "NURA" which focuses on early detection of cancer and other lifestyle diseases. "NURA" is a collaboration between FUJIFILM India and Dr Kutty's Healthcare, an institution with deep roots in healthcare space.
– Expanding health screening service business in India
– Using AI technology that assists advanced imaging for early detection of cancer and lifestyle diseases
FUJIFILM India, opened its first NURA health screening center in Bengaluru, followed by Gurugram and now Mumbai to launch its health screening service business in India. The NURA center is equipped with Fujifilm's various medical devices capable of providing high-definition images including CT scan and mammography system. The medical IT systems of NURA centers are based on AI technology that are designed to support doctors, to carry out screening and tests for cancer and lifestyle diseases. Considering the needs of the financial capital of India that is driven by speed, efficiency, and accuracy, NURA centers accomplish the procedure of complete body screening in 120 minutes followed by a meeting with specialist doctor who explain the results of the screening.
The five-year survival rate among cancer patients in India is said to be around 30 percent as opposed to 70 percent in Japan*. It is considered that one of the factors behind the low survival rate in India is the low proliferation of health screening services, imposing practical difficulty in achieving early detection and early treatment of cancer. It is this experience from Japan that Fujifilm brings to India and aims to revolutionize the landscape of early cancer detection and improving the life-expectancy of people in India.
Speaking on the opening of NURA health screening center in Mumbai, Mr. Koji Wada, Managing Director, Fujifilm India said, "Our top priority has always been to ensure the highest health standards in every region where we operate. We have a special connection with Mumbai and fulfilling our promise of the world-class Fujifilm NURA center was most awaited. Our effort with this center is to provide a central location to the whole of Mumbai so that it is easily accessible to all. I am sure that this state-of-the-art facility will support to strengthen the early disease detection landscape of Mumbai and its adjoining areas. With support from corporates and individuals, we will be able to fight serious illness by diagnosing them at early stages and increasing the life-expectancy to a larger extent"
Located at Worli in Mumbai, NURA health screening center will tap into insights gained through health screening services. For example, users will be able to check screening results any time on their smartphones. There will also be a workflow that uses a wrist band with a QR code to manage the progress of each visitor to shorten waiting time for individual tests.
Elaborating the need for health screening, Dr. Tausif Ahmed Thangalvadi, Medical Director, NURA, said, "As the complexities in lifestyle have increased, we have become complacent towards our health and wellbeing. It is important that health screening should be a regular part of everyone's life as there are so many diseases that can be treated when diagnosed at the right time. With the state-of-the-art facilities and technologically advanced equipment manufactured by Fujifilm, we aim at providing the best services and initiate a change in the habits of people in the country."
Fujifilm's health screening service business in India became recognized under the Supply Chain Resilience Projects in the Indo-Pacific region promoted by the Japanese Ministry of Economy, Trade and Industry, receiving high acclaim as an initiative that uses digital technology to contribute to solving social issues in emerging economies. The project involves building data coordination infrastructure based on blockchain technology to verify an AI-based mechanism for analyzing screening data collected from the three NURA centres to provide feedback to NURA users.
FUJIFILM India will continue to develop and provide various products and services that meet the needs of medical sites to contribute to advancing global health and maintaining and promoting people's health.
Also Read: Students of Jetking Infotrain Predict Future of Technology: The World Around Us
About FUJIFILM India:
Fujifilm established in 1934 has believed in Innovation and the creation of new values through leading edge and proprietary technologies. Fujifilm, as a firm believer in innovation, continues to work hard to provide consumers with the best products and services. Beginning as Japan's pioneering photographic film maker, Fujifilm has leveraged its imaging and information technology to become a global presence known for innovation in healthcare, graphic arts, optical devices, highly functional materials and other high-tech areas. Fujifilm is continuously working towards early detection of disease and generating awareness among the general public by conducting awareness programs, for promoting TB and Cancer screening.
This year Educate yourself and develop your skills with EasyShiksha