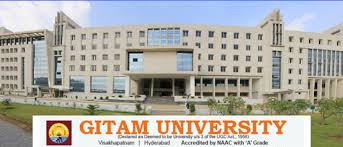 Bengaluru, August 18,2022: Commencing a new academic adventure, the prestigious GITAM (Deemed to be) University is welcoming the new batch of its students with an exciting line-up of orientation and induction activities. In 2022, the university has taken in a diverse group from all parts of the country, enrolled across its Visakhapatnam, Bengaluru and Hyderabad campuses.
The orientation sessions also involved Vice Chancellor Dr. Dayananda Siddavattam, President M Sri Bharat, and Deans speaking to the students, as well as eminent guests.
To ensure a smooth transition from school to college life, GITAM University is holding an immersive and multifarious programme for new students, starting the second week of August. Hostellers and day scholars are encouraged to register, settle in, and acclimatize to the new ambiance.
In addition to facilitated visits to areas of study and recreation, freshers are also exposed to campus life, social clubs, extracurricular activities, and sports during the initial days. They also took part in department orientations in their respective faculties and campuses.
GITAM University is dedicated to making its students skilled and empathetic professionals passionate about their pursuits and changemakers ready for tomorrow's challenges.
ALSO READ : Emeritus Welcomes Higher Ed Leader Mike Malefakis as President of University Partnerships to Expand and Deepen Strategic Partnerships with World-Class Universities
About GITAM (Gandhi Institute of Technology and Management)
GITAM was founded in 1980 by an inspired group of eminent intellectuals and industrialists of Andhra Pradesh led by Dr M. V. V. S. Murthi, former Member of Parliament and popular philanthropist. Located in Visakhapatnam, Andhra Pradesh, it also has campuses in Hyderabad and Bengaluru. Collectively, the three campuses have 19 institutions under their wing. Over the years, GITAM has taken part in many social activities and has also produced many renowned personalities.
Visit EasyShiksha for skill development courses.