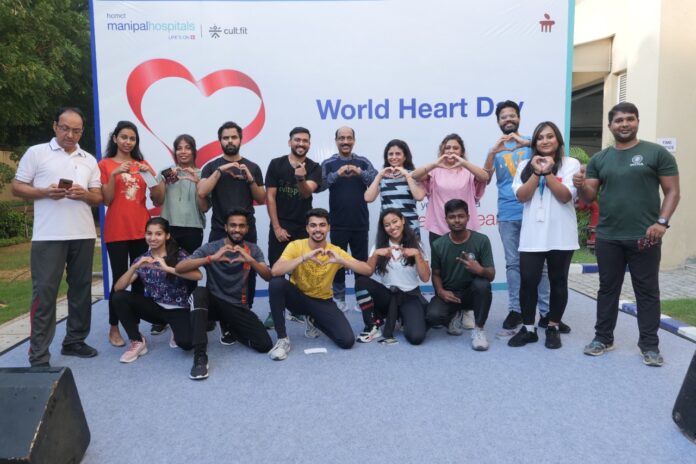 Delhi NCR | 29th September 2022: On the occasion of World Heart Day, Dwarka based HCMCT Manipal Hospitals has posted heart-shaped stickers on over signals around South-West Delhi along with creative messages across the streets on the significance of heart health. Through this initiative, HCMCT Manipal Hospitals wants to encourage people to take a pause and understand the importance of heart health. This was followed by a dance fitness session in the hospital in collaboration with the health and fitness platform, Cult.Fit, in which over 150 people from the hospital and the local community took part.
Speaking on the importance of heart health, Dr. Yugal Kishore Mishra, Chief of Clinical Services, Head of Cardiac Sciences and Chief Cardiovascular Surgeon, HCMCT Manipal Hospitals, Dwarka said, "Today, people are living a fast-paced lifestyle and have forgotten to take care of their health. Cases of heart attack among young people are on the rise, and people still ignore the fact that living a bad lifestyle can have an adverse impact on heart health. Heart attacks are no longer just a health concern for the elderly; even the youngest of people are suffering from this fatal condition today. This is mainly because of the increased prevalence of bad lifestyle behaviours like smoking, alcohol drinking, unhealthy diets, and sedentary lifestyles. With this initiative, HCMCT Manipal Hospitals urges people to take a pause and focus on their heart health for a healthy life. We also salute the traffic police for supporting us in conveying this message to the people."
Shri SK Singh, DCP, Road Safety, Delhi Police said, "This is a great initiative by HCMCT Manipal Hospitals, Dwarka to encourage people to understand the importance of staying healthy. A lot of people may not seek timely treatment for heart problems because they overlook symptoms such as chest pain, shortness of breath, excessive heartbeat, and arm weakness. Heart problems must be treated as a priority. We are glad to be a part of this initiative to help people better understand and care for their heart health. I thank the hospital for such an initiative. After all, it is a matter of the heart, and we must not take it lightly. "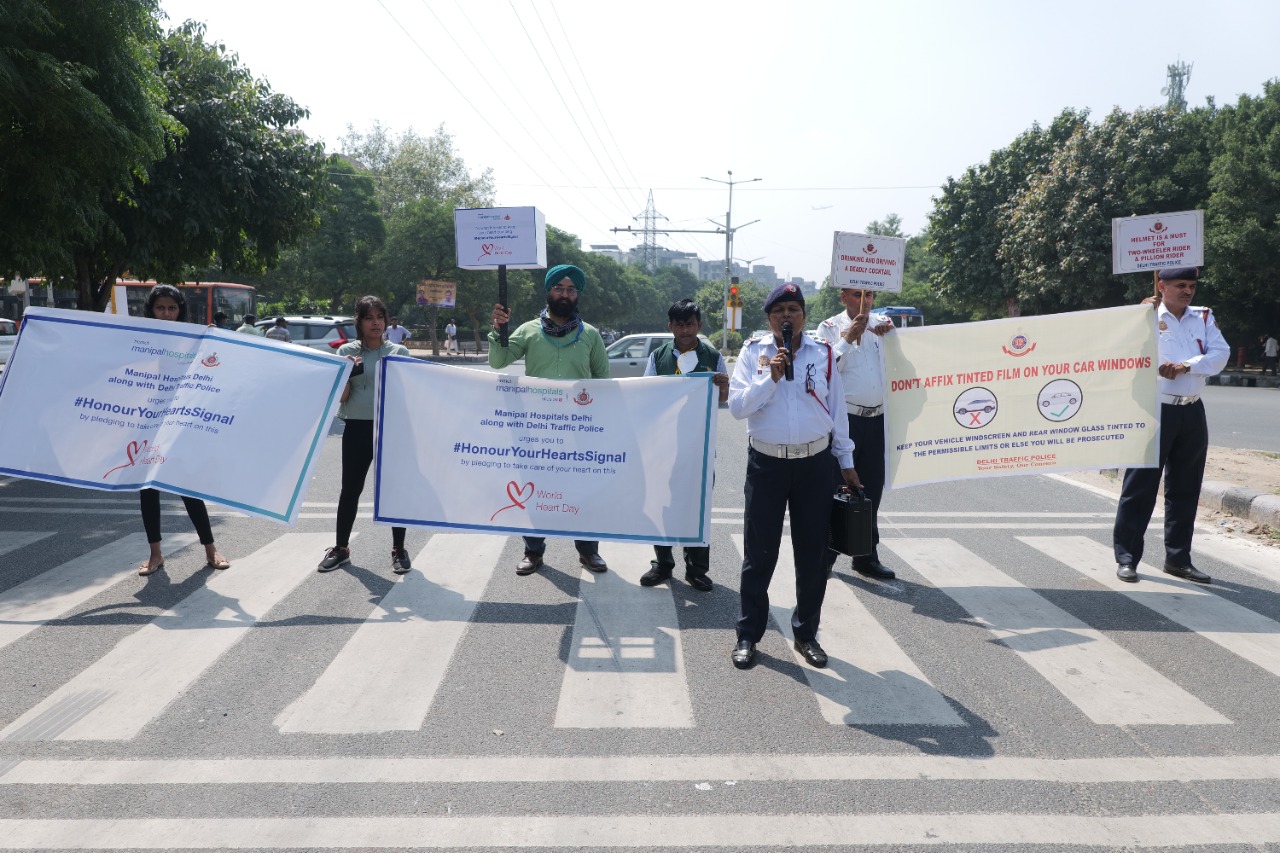 The dance session hosted by HCMCT Manipal Hospitals, Dwarka, was a huge success among the participants today. Such physical activities are essential for improving heart health. Exercise at a moderate to intense level promotes cardiovascular function and keeps the heart healthy. People must engage in some form of physical activity, like running, jogging, swimming, aerobic exercise, dancing, or any physical activity that causes sweating and raises the heart rate. Physical activity of moderate intensity can even lessen a person's risk of heart disease by reducing blood pressure and cholesterol levels and burning unnecessary body fat." said Shwetambari Shetty, Fitness Expert, Cult.Fit.
Also Read: Number of Ireland-bound Indian students grown by 20x in last two decades- Fateh Education
About Manipal Hospitals
As a pioneer in healthcare, Manipal Hospitals is India's second-largest multi-specialty healthcare provider treating over 4 million patients annually. With its recent acquisition of a 100% stake in Columbia Asia Hospitals in India, the integrated organization today has an enhanced pan-India footprint with 28 hospitals across 14 cities with 7,000+ beds with a talented pool of 4,000+ doctors and 10,000+ employees. Its focus is to develop an affordable, high-quality healthcare framework through its multispecialty and tertiary care delivery spectrum and further extend it to out-of-hospital care. Manipal Hospitals provides comprehensive curative and preventive care for a multitude of patients from around the globe.
Visit EasyShiksha for skill development courses