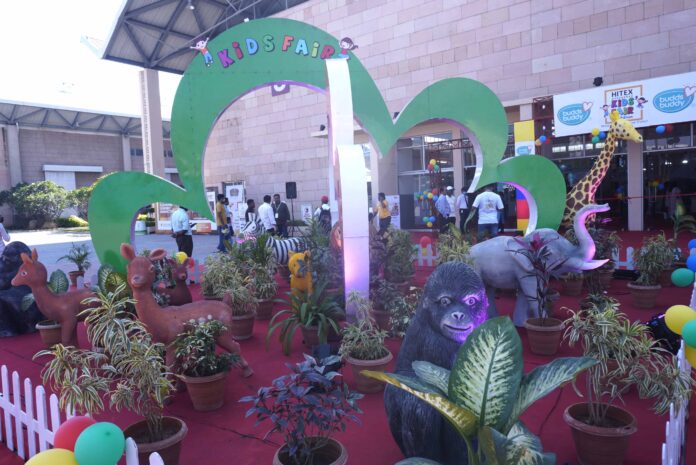 Hyderabad, December 23, 2022….. Hitex is organising the 15th edition of Hyderabad Kids' Fair-2022 with a focus on futuristic subjects of learning for kids as well as parents. The expo was formally inaugurated on Friday by cutting a ribbon by 12 Meru International School Kids. Mr TG Srikanth, Business Head of Hitex; later Mr Krishna Sighakolli, Founder of First Care India inaugurated it by lighting the lamp.
Before inaugurating, the 14 kids sang and danced 'maths me rule nahi, sirf jadu. Maths Se dosti kariye(maths is magic. There are no rules. Just be friends with Maths), which attracted everybody. 
Mr TG Srikanth said the expo is focusing on four elements for kids' growth–personal, educational, extra-curricular and nutritional requirements.
The 15th edition of the Hyderabad Kids Fair has 100 plus exhibitors.
Is a child prodigy born or made? They can be made too, says an expert Jashanpreet Kaur of My Sishu and says it is possible because of Garbh sanskar, an ancient Indian means to impart values, virtues and sanskar in the unborn baby in the womb during the period of pregnancy.  The child is not a prodigy born but you can make one, she adds. We believe in extraordinary intelligence in everybody. We believe in Garbh Sanskar, which helps to make kids intelligent while in the womb, said Jashanpreet Kaur of My Sishu. She talked about Conscious Parenting which is the new culture. You can design your babies. You can have your dream babies. Parents can reproduce organic babies, she added. My Sishu offers training and services in these concepts
Also Read: STEMNIVAL – A Unique Educative Carnival marks Christmas Celebrations at Deeksha
Meena Murugappan who embarked on a novel educational initiative called Be a Farmer said that they have a two-acre Farm School in the city outskirts where they teach school children how to be a farmer. The ten weeks, Sunday-only program teaches kids soil preparation, sowing, plant care and harvest. In the end, they take home their harvest. It is a gentle way to introduce kids' nature, and connect them to sustainable solutions. Similarly, they have how to green your workplace for corporates, gated communities and others. Hundreds of students have been availing of their farming training.
The show features a novel and first of its kind of product like the plastic-free feeding bottle BuddsBuddy, which is said to be the world's first plastic-free functional bottle.
Another exhibitor, Merlinwand is on a mission to divert children from eBooks and audiobooks to published books.
Ms Archana Pai from Meru International school said that they ensure learning is engaging. The school is going to introduce Financial Literacy and entrepreneurship into their curriculum as these are some of the most sought-after life skills that need to be taught from early childhood, she said.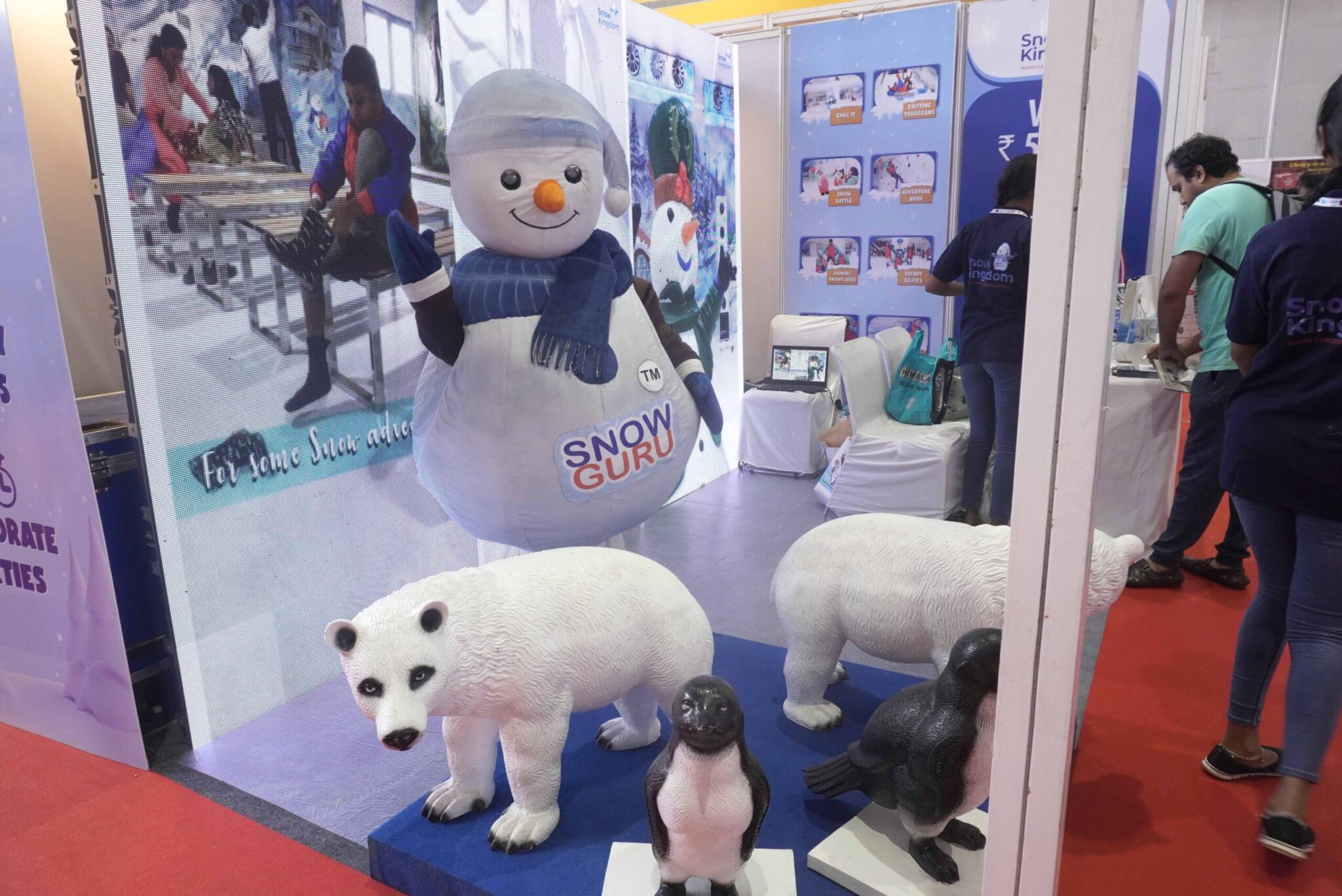 Kids' Run is a very important part of the Kids Expo. It is a fun activity meant to promote running among children. While several events and initiatives cater to adults, we felt the absence of such initiatives for children, that is why this, said Mr. Arun Kumar, Secretary of Hyderabad Runners. Children need to start their fitness journey young, and with these motivations, the Hyderabad Kids Run was born. This is a non-competitive event centred around creating a fun running experience for kids from two years to 12 years, he added z it will be held tomorrow.
It will be an evening run, a kid-friendly time rather than the usual morning run. The entry is open to kids as young as two years. Depending on the age, children are accompanied by one parent in the run, and most of the time, they finish far ahead of their parents. And Srikanth was quick to add "we are mindful of the fact that young children should not run long distances, so the run categories include a 1K, 2K and 4K run. At the end of the run, all kids get a finisher medal and a specialized healthy refreshment box' said Mr. Srikanth TG. And it will be held on 24th December
Ms. Poonam Dedhia from Magic Logic Academy spoke about Maths and Phobia. Why is there only one Shakuntala. There are many kids with such potential. We will explore, she added.
Magic Logic Academy powered by the Indian Cube Association is organising Hyderabad Cube Championship. 300 kids registered for the same, she shared.
Over 25000 footfalls are expected in all three days.
Do Science created informal learning spaces for kids where there was a cycle in which kids can Kudal to produce energy. There was another science experiment. Chair Nails when seated on it will not prick or pierce into the body because of equal distribution of weight.
DoScience designs, fabricates and installs a range of hands-on science models and kinetic wind sculptures for open spaces. These models not only enhance the surroundings but also enrich the neighbourhoods.
ZuZu displayed a special app for those who want to do extra-curricular activities. Ameya Games displayed Brain Yoga. DGMusika showcased a self-learning keyboard. IIM Alumni displayed kids' friendly wooden toys. The exhibition has a lot of kids' activities. 
Visit EasyShiksha for skill development courses