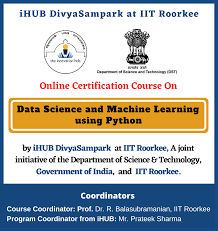 The Certificate program in Data Science and Machine Learning (ML) is the beginning of a potentially long-term partnership between Imarticus Learning and iHUB Divya Sampark @ IIT Roorkee.
Imarticus Learning, India's front-running professional education firm, has added yet another program to its vast course portfolio in association with iHUB DivyaSampark @ IIT Roorkee. The two institutions have partnered to launch a Certificate program in Data Science and Machine Learning (ML). Designed to make aspirants and professionals industry-ready, the course enables them to leverage Data Science and ML for effective decision-making.
Important Announcement – EasyShiksha has now started Online Internship Program "Ab India Sikhega Ghar Se"
The course will be delivered through live, instructor-led sessions by an accomplished faculty from esteemed institutions like IIT Roorkee, IIT Guwahati, and IIT Ropar and experts from the data science industry. The program will allow learners to build a strong foundation in Data Science and specialize in ML with Python for data-driven decision-making. Through the course, learners will be able to provide meaningful data insights and help drive business growth.
Both institutions are looking forward to forming a long-term partnership to develop and provide high-quality professional education programs.
READ: 2022-A year of hope, change and transition
Coordinated by Prof. R Balasubramanian, a top academician in Data Science and ML, the program certificate will be collectively issued by iHUB DivyaSampark @ IIT Roorkee, Department of Science and Technology, and Imarticus Learning under The National Mission on Interdisciplinary Cyber-Physical Systems (NM-ICPS). iHUB DivyaSampark will also offer a platform for Data Science and ML enthusiasts and learners to pitch their start-up ideas and gain funding support. There is a campus immersion module at the end of the course where the students will meet at the iHUB DivyaSampark Greater Noida campus for faculty interactions and peer-peer networking. 
ALSO READ: easyshiksha.com
Prof Sudeb Dasgupta, Project Director of iHUB DivyaSampark speaks about the partnership, "We're delighted to partner with Imarticus Learning, one of the leaders in Edtech. We've strived to bring foremost education to our learners and provide them guidance for research and innovation. iHUB DivyaSampark @ IIT Roorkee fosters research innovation towards product/technology development in the areas of Healthcare, Industry 4.0 and Smart Cities. Through this association with Imarticus, we're taking a step ahead in that direction. We bring iHUB DivyaSampark's expertise in building outstanding programs with IITs and Imarticus' technical expertise to deliver an outstanding learning experience through a holistic approach. Together, we envision creating a skilled workforce for innovation and digital growth."

Mr Manish Anand, Chief Executive Officer of iHUB DivyaSampark quoted, "We are very excited about this partnership with Imarticus Learning. Skill development is one of the mandates of the National Mission on Interdisciplinary Cyber-Physical System (NM-ICPS) as it will prepare India for Industry 4.0 and Society 5.0. I am very sure that this partnership between iHUB DivyaSampark, a Technology Innovation Hub at IIT Roorkee will help India in achieving skill development-related goals in new-age technologies like AI/ML and ultimately achieve the bigger goal of Aatmanirbhar Bharat and Digital India."
Mr Nikhil Barshikar, Founder and MD of Imarticus Learning, said, "Data Science and Machine Learning are some of the fastest-growing careers offering countless prospects. The demand for skilled professionals in these segments has grown astronomically, making it imperative for them to upskill and qualify themselves to build strong, lucrative careers. Our certificate program in Data Science and Machine Learning will shape them into knowledgeable professionals who can apply the concepts they learn to solve real-world problems. We are excited to collaborate with iHUB DivyaSampark @ IIT Roorkee and believe that the course will enable learners to gain crucial insights into multiple topics."
The 5-month program will commence on 30th June 2022, with classes scheduled on the weekends. Upon successful completion of the course, learners can explore careers as Data Analysts, Data Managers, Data Scientists, Business Analysts, Business Intelligence Experts, and Data Analytics Consultants.
About iHUB DivyaSampark:
iHUB DivyaSampark a section 8 company (Non-Government Organization) is a Technology Innovation Hub, at IIT Roorkee and is set up under the National Mission on Interdisciplinary Cyber-Physical Systems (NM-ICPS), initiated by the Department of Science & Technology (DST) to build innovative solutions, to train manpower and encourage entrepreneurship for the world's current challenges like affordable health care, Industry 4.0 and sustainable smart cities.
It is being coordinated by a high-level inter-ministerial coordination committee headed by Niti Aayog CEO, DST Secretary, Secretary, MeitY, Secretary, D/o Heavy Industry, Secretary, D/o Health Research and Central Line Ministries/Departments are members of this committee.
iHUB DivyaSampark aims to enable an innovative ecosystem in new-age technologies like AI, ML, Drones, Robots, data analytics (often called CPS technologies) and become the source for the next generation of digital technologies, products and services by promoting, enhancing core competencies, capacity building, manpower training to provide solutions for national strategic sectors and becoming a key contributor to Digital India.
About Imarticus Learning
India's leading professional education firm, Imarticus Learning, provides professional development courses in financial services, machine learning, artificial intelligence, cyber security and analytics. Its mission is to bridge the industry-academia gap by focusing on real-world knowledge, reskilling and delivering holistic learning experiences. It is the only institute in India that incorporates a variety of delivery methodologies such as classroom-based, online and combined. These are managed by a fully integrated state-of-the-art learning management and governance system. So far, it has educated 1 lakh+ individuals globally through its certification, pro-degree and postgraduate programs offered in association with leading and renowned organizations in the financial services and analytics domain. Imarticus has also emerged as the preferred sourcing, training, and skill development partner for over 120 firms, such as HDFC Bank, BNP Paribas, Goldman Sachs, Morgan Stanley, Aditya Birla, KPMG and Accenture among many others.