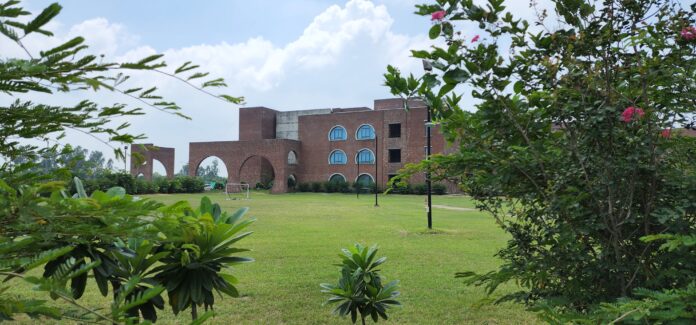 This year marks the 6th edition of the event that celebrates start-ups and envisions and explores trends in the world of entrepreneurship
The Summit is scheduled from 24th February 2023 to 26th February 2023
The two-day event will feature a series of panel discussions, keynote speeches, and workshops
There will be 100 plus startups, 20 plus investors, INC 5Cr plus Funding Opportunities, 30 plus VCs & Entrepreneur Talks, 10,000 plus Visitors, 2000 plus B School Students
23rd February 2023, Kashipur: IIM Kashipur is all set to organize Uttishtha, The Annual Entrepreneurship Summit 2023 on 24th to 26th February 2023 where there will be more than 100 startups, more than 20 investors meet sessions, INR 5 Cr plus funding opportunities, 30 plus VCs and Entrepreneurs Talks, more than 10,000 visitors, and 2000 plus B-school students. The event is aimed at bringing together business leaders, entrepreneurs, investors, innovators, and industry experts to foster entrepreneurial spirits, explore new ideas, exchange insights, and form long-lasting connections.

Uttishtha, the annual Entrepreneurship Summit of IIM Kashipur, is a platform for knowledge sharing and industry-academia interaction with an aim to provide a platform for entrepreneurs to interact with industry stalwarts, learn from their experiences, and get an insight into the business world.
Commenting on this Entrepreneurship Summit Prof. Kulbhushan Balooni, Director, IIM Kashipur said, "We are thrilled to host Uttishtha, The Annual Entrepreneurship Summit 2023 at IIM Kashipur. This summit is an opportunity for students and budding entrepreneurs to learn from experienced professionals, explore emerging trends, and network with peers. The summit aims to provide a platform to discuss and debate the latest challenges and opportunities in the field of entrepreneurship. We hope that the event will inspire and motivate participants to pursue their entrepreneurial dreams and make a positive impact on society."
Prof. Safal Batra, Director, FIED said, "In this sixth edition of the Annual Entrepreneurship summit, Uttishtha we will strive to instill a combination of passion, perseverance, and a willingness to take risks and empower these qualities in entrepreneurs. Thus, such entrepreneurs will create value in society. The event will showcase of diverse product portfolio from local businesses, investor meetings, invigorating speaker sessions, and ideas to solve real-world business problems; in all, it will be the road ahead for the startup ecosystem of Uttarakhand."
The three-day event will feature a series of panel discussions, keynote speeches, and workshops. Eminent industry leaders from various sectors and investors such as Arvind Mediratta, MD and CEO, Metro Cash and Carry; Sachin K Shereon, Management Consultant; Rajesh Sawhney, Founder, and CEO, GSF Accelerator; Praveen Sinha, Managing Director, PinCap; Anand Pathak, Founder, FITSOL supply chain solutions; and many more will share their experiences and insights.
About IIM Kashipur:
Founded in 2011, the Indian Institute of Management Kashipur fosters management research and education to develop leaders who can positively influence society in a rapidly changing environment. It is among the elite leagues of IIMs in the country. IIM Kashipur has secured 23rd in NIRF 2022 rankings and 12th in Outlook-ICARE 2022 India's Top Government MBA Colleges.
The flagship programmes of the institute are Masters of Business Administration (MBA) and Masters of Business Administration (Analytics). It is also the first management institute in the country to offer Executive MBA(Analytics) and MBA(Analytics) programmes. The institute strives to create and disseminate knowledge by engaging in applied and interdisciplinary research and practices in emerging management areas. It develops scholars and corporate leaders who are inclusive, skilled, morally upright, and capable of critical thought, innovation, and entrepreneurship.
IIM Kashipur has established a long-lasting relationship with prominent B-schools worldwide, including ESDES Business School, ALBA Graduate Business School, Solbridge International School of Business, and the Autonomous University of Madrid, in its pursuit of increasing global outreach. The Institute has also established three Centres of Excellence- Design Innovation Centre (DIC), Center of Excellence in Public Policy and Government (CoEPPG), and Foundation for Innovation & Entrepreneurship Development (FIED), to utilize the institute's knowledge resources to encourage innovation and entrepreneurialism.
Also Read: With the launch of Accreda, Keybridge Global Education lays down the marker for its Edtech 2.0 vision
The 200-acre campus is situated in the serene town of Kashipur, just 25 kilometers away from Jim Corbett National Park. The campus, nestled in the Himalayas, offers spectacular natural beauty that enhances the academic experience. The institute is situated in a region with one of the highest concentrations of industries in the country. Over 180 businesses have established their operations in the area, providing frequent and value-added industry interactions to the students. The institute aims to provide continuous learning and increasing opportunities for every bright mind that chooses to shape their future in this educational organization.
This year Educate yourself and develop your careers with EasyShiksha