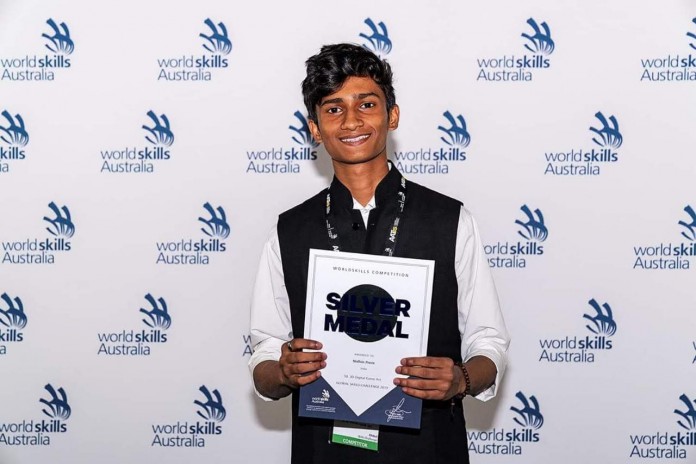 Nidhin Prem from Lakshya Digital wins in 3D Digital Game Art category at Global Skill Challenge held in Melbourne, Australia
New Delhi, 02nd May 2019: India made its presence felt at a prestigious global skill competition with Nidhin Prem from India bagging a silver medal in 3D Digital Game Art category at Global Skills Challenge, Melbourne, Australia.
The 2019 Global Skills Challenge, among the biggest international skills excellence competition was recently held in Melbourne, Australia with 500 participants from 16 different countries, taking part in 24 different skill competitions.
The Indian team covered a long journey to compete at this international platform in Australia and brought home two silver and two bronze medals. The 2019 edition of Global Skills Challenge in 3D Digital Game Art category received participants from seven countries that included Singapore, China, Russia, Korea, Hongkong, Australia and India. Ying Ying Tan from Singapore bagged the first position followed by Nidhin from India and Dingjun He from China was the second runner up in the 3D Digital Game Art category.
22-year old Nidhin joined Lakshya Digital, India's No.1 game art company and a pioneer in the Game Art outsourcing as a Trainee Artist in Oct'18 to train for the 45th World Skills International Championship to be held in Russia in August. He received training in 3D Digital Game Art under some of the best talent in the field. With a good grasp on concept art, Nidhin's hunger to learn and continuously enhance his skills is what sets him apart. Lakshya Digital has been a great training ground for game artists looking to learn and create cutting edge art for global games
Lakshya Digital is the industry partner for the 3D Digital Game Art category and is responsible for selection and training of candidates with support from Media & Entertainment Skill Council and National Skill Development Corporation for World Skills Competitions.
Speaking about this accomplishment Nidhin Prem said, "It is an honour and a privilege to represent and then win for my country. My training period at Lakshya Digital burnished my skills in 3D Game Art and I would like to thank all those who helped me along the way. I am now completely focused and training hard at Lakshya with an eye on competing and winning in the upcoming World Skills Competition to be held in Russia in August."
Speaking on the win Manvendra Shukul, CEO Lakshya Digital said "We are delighted that Nidhin has made the country proud by bagging a silver medal in 3D Digital Game Art at a leading global competition. We are excited to have played a role in training him to compete with the best in the world. At Lakshya, we have been training many exceptionally talented young people and wins in such prestigious global platforms go a long way in bringing world attention on the huge talent pool in our country. India is today well positioned to dominate in global gaming industry."
About Lakshya Digital
Lakshya has been a pioneer in the Game Art outsourcing business since its inception in 2004. With a team size of almost 500 people Lakshya has grown into India's number one provider of game art and animation services to the global games industry. Apart from studios in Gurgaon and Pune, Lakshya also has a studio in Seattle, USA and are exploring options of opening studios in other parts of India– with the aim of becoming the number one provider of the Games Art services globally. Lakshya Digital has worked with some of the biggest game developers in the world. Art and graphics for some of the biggest games titles globally have been created right here in Lakshya's studios in Gurgaon and Pune. Some of the recent titles that Lakshya has worked on include Kingdom Hearts 3 from Square Enix, Déraciné from From Software, Sea of Thieves from Rare Studios, Just Cause III from Avalanche Studios. Lakshya is a part of Dublin-headquartered Keywords Studios.
——————————————————————————————————————————————-
Sign up / Register with EasyShiksha or Download the app and get free online education account. Get latest Jobs Notification & Current Affairs. You can access more than 50 free online courses, various computer and SSC Bank Railway test series and find your career options. You can Sign up with Facebook