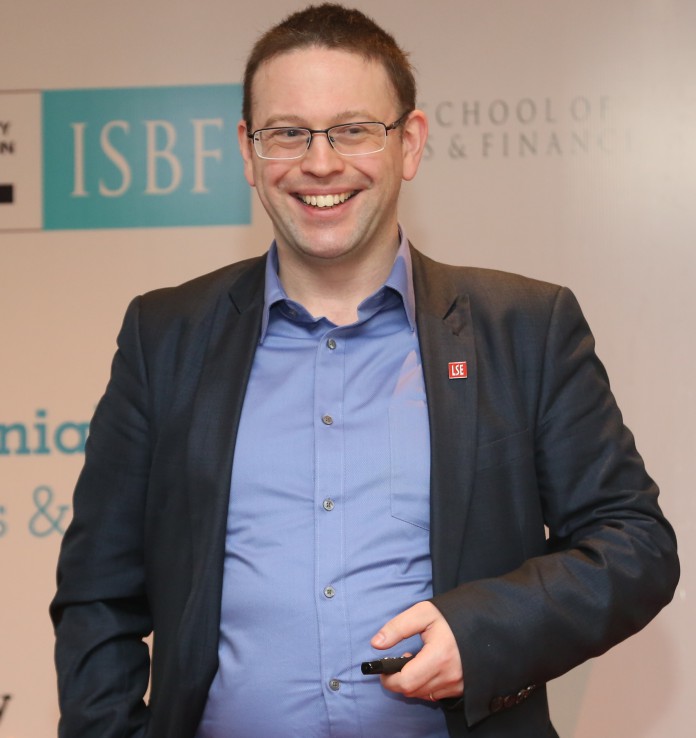 ~Dr. James Abdey visits ISBF to teach Data Science courses~
New Delhi, October 11, 2019: Building upon their thriving relationship and continuous exchange of ideas, The London School of Economics (LSE) and the Indian School of Business and Finance (ISBF) have come together to bring the benefit of LSE's pedagogy to Indian students, with Dr. James Abdey, Associate Academic Director for University of London Programmes at LSE, visiting India to conduct lectures and teacher training sessions on Data Science such as Business Analytics and Machine Learning. 
ISBF, established in 2006 in New Delhi, teaches LSE's curricula and programmes in Economics, Management, Finance and Data Science to students in India. ISBF is one of LSE's top five Teaching Institutions in the world on account of its students' successful track record at the LSE examinations based on which their degree is awarded by University of London. 
Over a two-day visit on October 11 and October 12, Dr. Abdey, one of the pioneers of Data Science programmes at LSE, will teach Econometrics, Business Analytics and Statistics to undergraduate as well as postgraduate students. Dr. Abdey has always been vocal about creating future-proof graduates and the importance of upskilling in the 21st century, and his lectures on these new-age subjects are evidence of his endeavour to propagate the world-class curriculum of LSE to create pragmatic leaders capable of solving society's problems 
Along with delivering lectures, the visit will also see Dr. Abdey conduct several consultations and training sessions with the ISBF faculty group, especially professors teaching Data Science course here. A Visiting Lecturer at ISBF for the academic session 2019-20, Dr. Abdey has been an integral part of the ISBF and LSE relationship over the last several years and his sessions will take forward ISBF students' exposure to LSE's world-class pedagogy.
Top Software Engineering Courses
The visit is yet another illustration of the need for, and benefits of, international collaboration in the space of higher education to give Indian students access to high-quality research and curricula, aside from providing teachers with the resources and training needed to create skilful graduates. 
Commenting on the forthcoming visit, Dr. James Abdey said, "I am delighted to be back at ISBF, in the slightly different capacity of a teacher or lecturer this time around. I have interacted with ISBF students on several occasions in the past too, and have been impressed by their curiosity and sharpness. Ergo, I am looking forward to teaching them, and also to interacting again with the talented and committed faculty group at ISBF in order to take our collaboration further."
Speaking about the visit, Dr. Jitin Chadha, Founder & Director, ISBF, said "I have had the opportunity to see Dr. Abdey lecture previously, and therefore know that he is a remarkable and highly effective teacher. As he is part of LSE's senior academic leadership, his visit is yet another demonstration of LSE's commitment to supporting the cause of providing students all over the world access to their top-ranked curriculum. We deeply value our collaboration with LSE, and are very glad that Dr. Abdey will be teaching our students over the next couple of days and also the rest of the year."
About Indian School of Business & Finance (ISBF)
ISBF was founded with the vision of delivering world‐class education in India. Its undergraduate and postgraduate programmes – in the areas of Economics, Finance, Accounting, Business and Management – all receive academic direction from LSE, and students receive a University of London degree upon graduating. They are taught by an expert and highly qualified group of faculty members at ISBF, and also see deep engagement from LSE academicians, who train ISBF's teachers as well as lecture students, apart from setting and grading the final examinations of ISBF students.
Today, ISBF is one of LSE's top 5 Teaching Institutions in the world, and also enjoys Affiliate Centre status from the University of London, which is the highest recognition accorded to Teaching Institutions by the university. This ensures that ISBF students receive rigorous, application-oriented and global education, which is relevant to local needs. Many of them transfer to foreign universities in the second year of undergraduate study, go on to prestigious institutions for higher study, or secure placements in India or overseas with leading multinational corporations.
For further information, you can visit – https://www.isbf.edu.in/
Top Networking Online Courses
More Courses With Certification
Empower your team. Lead the industry
Get a subscription to a library of online courses and digital learning tools for your organization with EasyShiksha
Request Now
ALSO READ:  M3M-foundation-extends-support-to-the-society-under-the-we-care-campaign
Get Course: Introduction-to-Power-BI