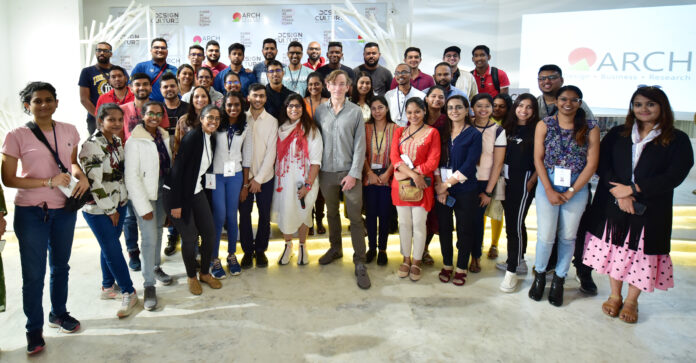 Jaipur, 16th Nov 2022: Under the initiative 'Know India' by the Ministry of External Affairs, 40 International delegates from over 14 countries visited ARCH College of Design and Business to learn about the design and handcrafts practiced in India. The delegates from countries like Austria, Fiji, Guyana, Israel, Malaysia, Mauritius, Myanmar, New Zealand, Portugal, Reunion Island (France), South Africa, Sri Lanka, Suriname, Trinidad and Tobago visited ARCH College of Design and Business.
The Ministry of External Affairs, Under the Government of India, organizes the 'Know India' initiative with the objective of familiarizing the Indian Diaspora Youth within the age group of 18 to 30 years, with the achievements and developments made by the country and bringing them closer to the land of their ancestors. The program provides a unique opportunity for students and young professionals of Indian origin to visit India and share their views, experiences, and expectations and unravel contemporary India. They were here in India for 21days/20 nights where they will be in Delhi for the first and last phase and in Agra in the second phase and then in Northern Rajasthan in the 3rd phase and so on.
ARCH College of Design and Business had organized campus tour, workshops and interactive sessions with students. ARCH students guided the delegates all through the campus and explained the design work done by students of different departments like Product, Jewellery, Interior, Fashion & Graphics. ARCH also has a unique name for their classroom in Hindi which brings new learning for people who came from different origins.
ARCH College of Design and business organized different workshops for these international Delegates to participate in. Delegates actively participated in the thewa, Investing in Casting & modeling, block printing, natural dyeing, jewellery enameling, and hand weaving. Delegates were amazed to see the student's work. During the conversation with the students, delegates were amazed to know that students in are India working on different projects and using a variety of materials for designing the prototype and product.
Later delegates had an interactive session with Mr. Manan Surana, Assistant Director, HR & Operations, ARCH College of Design and Business where he told about the international and national partnerships, collaborations, memberships, and projects in the field of design and also about various forms and reforms in design education in India and how ARCH is actively working over with the initiative of the Government of India to establish critical thinking in the young individuals by rooting them up in the very beginning with the Design Culture Initiatives.
Ms. Archana Surana, Founder & Director, ARCH College of Design and Business had words with the delegates and shared her experience of being a 1st generation entrepreneur. She also spoke about how design plays an important role and can be a major reason behind an individual's connection to their motherland. She also highlighted the creative aspect in every field and how every field is interconnected to design. She spoke to every individual during the session and asked about their takeaways from the trip and session. During the session, Shalom Bar Linor from Israel shared that their country is technically advanced and has design as a mainstream subject in higher education. Yeama Singh from Guyana shared her opinion that there are no certified higher graduation opportunities in the field of design and looked towards having design education for the student of Guyana in India.  
Also Read: Quotes around World Youth Skills Day 2022
About Arch College of Design and Business
ARCH was set up in the year 2000, under the aegis of the ARCH Educational Society to impart globally and industrially relevant, education in Design. Through the 22 years of its existence, Arch has grown into a strong community of 7000+ professionals, alumni, students, teaching faculty and support staff, from all over the world—Sweden, Japan, Spain, UK, USA, Canada, Nepal, Iran, Korea, Kuwait, Dubai, Colombia, Brazil, etc. The design academy offers a wide range of industry oriented courses of international standards with university certification. Experienced faculty members are involved in the development of curriculum, to ensure that these courses offer the right combination of practical and theoretical skills, with the latest techniques, processes and thinking supported by an understanding of the socio-cultural context and industry needs. In 2010, Arch launched AIEED – the All India Entrance Examination for Design. It is a one of its kind exam, which has been online since 2011, and can be taken by students and design study aspirants from any part of India and the world.
Visit EasyShiksha for skill development