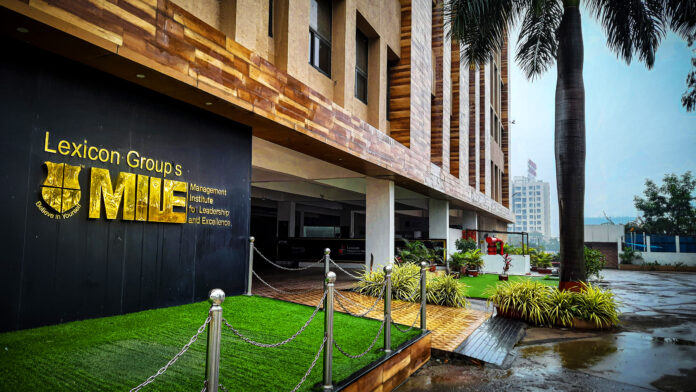 Pune, July 22nd, 2022: The start of a new academic journey brings with it its own set of apprehensions and challenges. No matter the age, a new beginning is always exciting but at the same time slightly nerve-wracking. To ease this transition for its new students, the Lexicon Management Institute of Leadership Excellence [ Lexicon MILE ] organized a 2 Week induction prior to the start of the academic sessions.
Over 23 Speaker and Accomplished Leaders from across the world and varied backgrounds worked with the students during the 2 Week program to kick off their 2-year journey in Believing in Themselves and Setting them up for Success. Speakers flew in from United Kingdom, Italy, UAE and across India to add to the student journey.
The key area of focus for the speakers was to set the tone for the student journey, give them a perspective to the life ahead and a fantastic opportunity to network. The International Speakers Andrew Thompson, Academic Head – University of South Wales, UK connected on the importance of globalisation and how 'Culture' is the key to success for any organization. Stefano Pelle, Founder, and Director of SP Associates Management Consultants connected the dots between Leadership, Networking, Business and Golf and Sameer Soni and Nitin Kalra from the UAE emphasized upon 'bringing out the best in oneself' and 'Brand Development and Licensing' respectively.
From session on how one's memory can be enhanced by Guinness Book Record Holder P Mahadevan to Leadership insights on Taking Risks by Mr. Sakaar Anand, India Head and Head of HR at BMC Software the students got great access and learnings. All the speakers added their perspective with the interactions between Ashwani Chaloo, CEO at Kshitij Management Consultant and Craig Wedge, Founder & Managing Director of Reserve Wines Pvt Ltd and the students bought out interesting conversations with a background on financial ethics, personal ethics and honesty.
Through a very personalised one on one interaction with students Mr. Pankaj Sharma, President – The Lexicon Group of Institutes and Chairman & MD, Pune Mirror, Civic Mirror & MultiFit introduced the importance of values and then followed it up with a deep dive into Learning Strategies and how one can leverage more than 8 tools to enhance the learning journey.
The understanding of various leadership traits, emotional and spiritual intelligence were thoroughly enjoyed. The program was also graced by His Eminence The 8th Chokyang Palga Rinpoche was all about finding the inner peace and leveraging that for one's success. He was supported by Dr. Ruhee Shekhar who bought out the importance of yoga and chakra healing to help students chart out a plan on how to connect with themselves. The program is very unique as companies come in to pick up students within the first week and based on the potential and program that Lexicon MILE delivers in setting up the students as Leaders and Entrepreneurs. 8 Students got placement offer from Searchbourne Consulting in their first week of joining the course.
Also Read: Mphasis Limited Gross revenue grew 26.8% YoY in Q1 FY 2023
"The key for me is to ensure that students get aligned and understand the journey they are about to embark upon. At Lexicon MILE it is both critical and important to us that other than academics we focus on the value set up and system, ethics, integrity, commitment and most importantly the mindset of 'believing in themselves'. A lot of effort and time goes into working with the students to set themselves up for success and their integration into the Lexicon Family culturally. The induction is also a great opportunity for the students to network and enhance their social net worth' says Nasir Shaikh, Group CEO – The Lexicon Group of Institutes, MultiFit and EduCrack.
All in all, the induction was a success as the students got to learn from and connect with professors outside the classroom. Real-life experiences and being prepared for real-life obstacles are something Lexicon MILE instils in every student, and this induction worked as a great way to prepare them to embark upon a new journey full of adventure and endless learning opportunities.
Visit EasyShiksha for skill development.