Amidst the nationwide lockdown, M3M Foundation the philanthropic arm of M3M Group has extended support to 5000 daily wage earners and construction workers. The relief work is being carried out in Gurugram under its iMPower program.
Roop Bansal, Trustee, M3M Foundation said, "We appreciate the government's decision for a complete lockdown to tackle the present situation. However, due to the suspension of railways, many construction workers and laborers could not go back to their homes, therefore, we are supporting each of them with basic needs."
Through this initiative, M3M Foundation is providing rice, pulses, vegetables, clean drinking water, and milk for toddlers and growing children. Apart from this, they will also be providing soaps for personal use, washing clothes and handwash. Fumigation and sanitization of the camps are also being undertaken.
"Most of the laborers and daily wage earners are not in a position to purchase food items for more than five days at a go. The motive of this effort is to help them through the period of lockdown by providing necessary food items. This initiative would further encourage others to come forward and join us in this noble endeavor," added Mr. Bansal.
Keeping in view the safety of all, M3M Foundation will be providing these items to the volunteers of the iMPower program. They will further distribute the same to all the families in the camps of construction workers. This is being undertaken with proper precautions including wearing masks and gloves, use of sanitizers, etc. The volunteers will also be spreading awareness of social distancing and hand hygiene.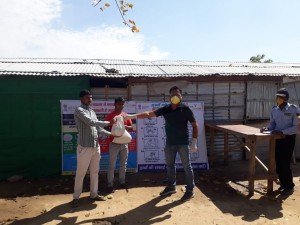 Dr. Payal Kanodia, Trustee, M3M Foundation said, "Our initiative is being undertaken in a bid to provide relief to more than 5000 daily wage earners and construction workers who are the worst hit in all aspects due to this pandemic. Therefore, we will be fulfilling the daily needs of all the laborers until the lockdown is over."
One of the beneficiaries Rambriksh Sahni said, "We are thankful to M3M Foundation for helping our families during this difficult time. Basic food is of utmost importance and by providing this they have made our lives easier. We trust that this difficult time will pass smoothly from M3M Foundation's support to us."
For information related to technology, visit HawksCode and EasyShiksha