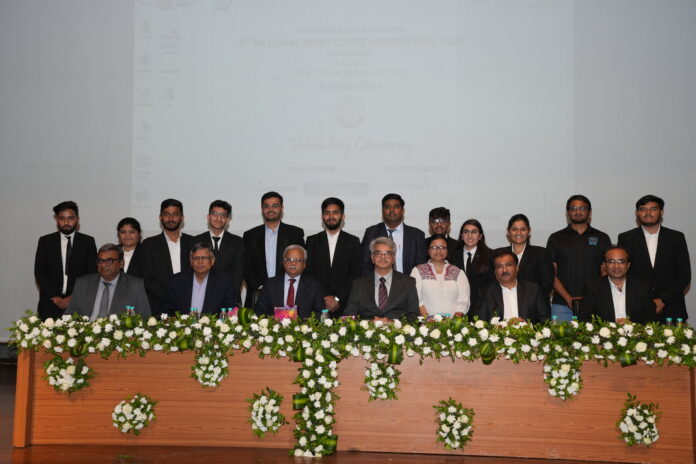 New Delhi, April 2023: The Faculty of Law at Marwadi University (MU) recently concluded the three-day National Moot Court Competition, which witnessed enthusiastic participation from 90 first-year bonafide law students from 30 universities across India. In its third edition now, the moot court competition was won by Faculty of Law, University of Lucknow. It was organized in association with Abhay Bhardwaj and Associates, in memory of Late Abhay Bharadwaj, a tall figure in the field of law today.
ALSO READ: FunctionUp Launches Data Science program for Professionals to Crack/ Bag US Remote Jobs
The moot proposition this year had young law students making a case involving COVID-19 vaccine manufacture and supply. While COVID-19 had devastating effects on the world economy, the race for manufacturers in the pharmaceutical sector was something that has not been seen in a long time. This year the proposition emphasized the problems of the supply chain that they faced. The competition aimed to educate and motivate law students at the pan-India level about contemporary legal issues and push them toward honing their knowledge and skills in the field of law.
The winners took home a cash prize of 40,000 and a trophy and while the runners-up took home 20,000 and a trophy. Cash prizes were also awarded to Best Speaker (Petitioner), Best Speaker (Respondent), Best Memorial and Best Researcher. The competition consisted of Preliminary Rounds, Quarter-Final Rounds, Semi-Final Rounds, and the Final Round. The Final Round was judged by renowned senior members of India's legal and judicial fraternity including Mr. Justice Ashish Jitendra Desai, Acting Chief Justice, High Court of Gujarat as Chief Guest, Mr. Justice Ashutosh Shastri, Judge, High Court of Gujarat as Guest of Honour. In his valedictory speech, Mr Desai expressed Marwadi University to

be a torchbearer of the fundamental values that lay the cornerstone of the judicial system. "Such competitions must be encouraged as students get to know the real rush of being a lawyer. It makes sure that the student doesn't miss out on the practical aspect of the field. Such application and practice of mooting skills would help them in their journey to become lawyers and as lawyers. It is a commendable effort by the team." he added.
Restricted to first-year bonafide law students enrolled in the 5-year integrated programme and 3 years LLB programme, it aimed to inspire, promote and inculcate drafting and writing techniques, orating skills, and high-focus research acumen in budding Indian lawyers. Some of the participating universities include NALSAR University Hyderabad, Chanakya National Law University, Dharmashastra National Law University, Tamil Nadu Dr.Ambedkar Law University, Symbiosis Law, Christ Deemed to be University, Delhi NCR, Vellore Institute of Technology Chennai, University of Lucknow and Manipal Law School, MAHE Bengaluru Campus and many others across the country.
Dr Rhishikesh Dave, Dean, Faculty of Law, Marwadi University, overwhelmed by the response for the 3rd NMCC accentuated the importance of Mooting as a skill in his Vote of Thanks. He emphasized the rare opportunity for students being heard and witnessed by the Acting Chief Justice of High Court of Gujarat.
This year Educate yourself and develop your career with EasyShiksha