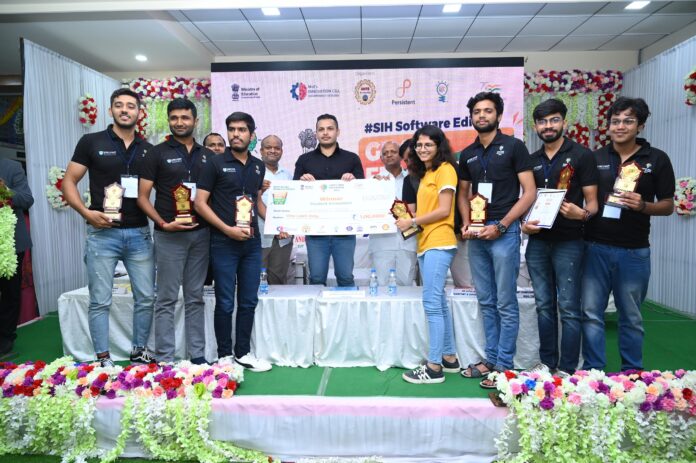 New Delhi, September 7th, 2022: A team of six students from Marwadi University (MU) — the youngest institution to be recognized as a Centre of Excellence (CoE) by the Government of Gujarat — has won the grand finale of the Smart India Hackathon (SIH) 2022 under the Software Edition, held at G.Pullaiah College of Engineering and Technology, Kurnool, Andhra Pradesh. The team devised a blockchain-enabled solution pertaining to the contact details of stakeholders in India's news industry.
The team devised an innovative solution to a problem statement given by the Policy Planning Cell, Ministry of Information & Broadcasting under the Blockchain & Cyber Security theme. They proposed a solution for the identification of India-based news websites and YouTube-based news channels. The team developed a full stack website that can identify and fetch contact details of any Indian news website or channel, which includes social media accounts like Instagram, Facebook, Twitter, YouTube links, email ID, phone numbers and addresses— all on a real-time basis.
"The students used advanced technology such as Reactjs, Angular js, Nodejs, Mongodb, and Python to devise the solution. It has real-time applications in job search and recruitment, marketing, advocacy, and citizen journalism. We are thankful to the Education Ministry for the opportunity to innovate and present on the national level," said Prof. Kishan Makadiya, the team's mentor.
ALSO READ : MRG School organises a blood donation camp in collaboration with Rotary Club
The winning team at MU, called Witchcraft comprised of students from the Computer Engineering (Artificial Engineering) and Bachelor's in Computer Application (BCA) courses, from Marwadi University bagged a INR 1,00,000 prize. The members are Kiran Sethumadhavan, Teesha Kshatriya, Neel Dholakia, Akshaj Pillai, Deepak Tailor, and Vatsal Ved.
The recently-concluded SIH 2022 is a national initiative by the Ministry of Education, MOE's Innovation Cell and AICTE to provide students a platform to solve pressing problems faced by the government and inculcate a culture of product innovation and problem-solving. It was virtually addressed by Prime Minister Narendra Modi, who termed SIH as a carrier of India's yuva-shakti (youth power). Students from schools and colleges across India worked on problem statements from the fields including Smart Automation, Heritage, Healthtech, Agriculture, Smart vehicles, Robotics, Clean and Green Technology, and Renewable Energy, among others.
The hackathon comes at a time when job postings for cryptocurrency, blockchain, have grown 804% between April 2020 to April 2022. Another report points to nearly 3.5 million global cyber security job opportunities globally in 2021 — a figure that is expected to stay the same until 2025.
"We are delighted to hear about the recent win of Marwadi University students in Kurnool. Competitions such as Smart India Hackathon prepare students to innovate and excel, and supplement MU's vision for continuous research, innovation, and application of classroom knowledge into the real world," added Prof. (Dr) Sandeep Sancheti, Provost (Vice-Chancellor), Marwadi University.
Visit EasyShiksha for skill development courses.