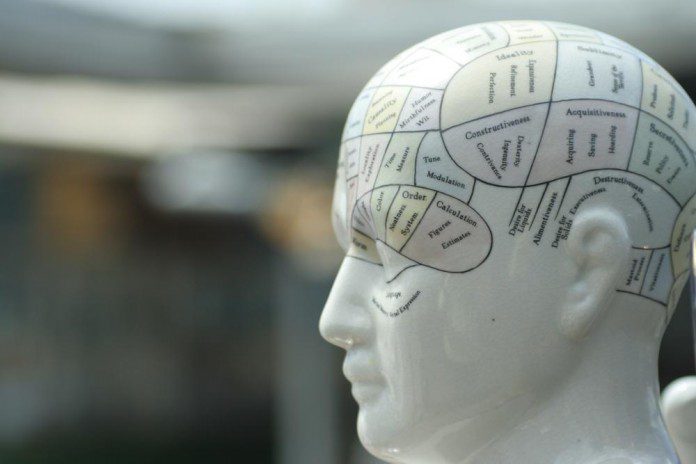 New Research from DDI Looks at Different Undergraduate- and Graduate-level Degrees and How They Translate into Leader Skills and Performance
Mumbai April 27, 2016—The Master of Business Administration (MBA) has become the most popular degree among graduate students with hundreds of thousands of students graduating each year, according to the latest figures from the U.S. Department of Education. The cost for these degrees can be up to $100,000 or more at top universities and companies pay a premium for those who have them—on average, about 36 percent more than a candidate with a bachelor's-level business degree with a similar level of experience. But there is limited research on how these degrees translate into leadership skills. The question remains, do MBA graduates make the best leaders?

Important Announcement – EasyShiksha has now started Online Internship Program "Ab India Sikhega Ghar Se"

The scientists at Development Dimensions International (DDI), a global leadership development consultancy, examined how educational degrees translate into leadership skills in a new report, High-Resolution Leadership. The research is based on 15,000 leaders across 300 companies and 18 countries who participated in assessment center evaluations over the last nine years. The research found that when it comes to the full range of leadership skills required in today's complex business environment, an MBA may not always be the best choice, according to lead author Evan Sinar, Ph.D., DDI's Chief Scientist and Director, Center for Analytics and Behavioral Research. "MBA degrees did indeed make better managers," said Sinar. "Unfortunately, the same couldn't be said for their impact on stronger leadership."
Top Software Engineering Courses
DDI's research compared the performance of undergraduate business degrees and MBA degree holders against eight leader skills: financial acumen, business savvy, compelling communication, driving execution, driving for results, entrepreneurship, influence and inspiring excellence. These two groups diverged on several key leader skills. Specifically, though MBA graduates consistently outperformed business degree undergraduates in financial acumen, business savvy and strategic decision making, they fell short comparatively in their coaching, results orientation and visionary leadership skills.
"While management skills are consistently higher for MBA graduates, we were surprised to find there are several skills that are lower," Sinar said. "These are significant shortcomings when you consider the cost of the investment," he added.
"The research demonstrates that MBA students need more well-rounded background and experiences to learn the important interaction and inspirational skills they will need to truly excel as leaders," said Sinar. "These skills are developable with sustained focus, but can't be learned in an academic classroom. Skills practice with employees, expert coaching/mentoring and abundant on-the-job application opportunities are critical to make these challenging skills stick," he said.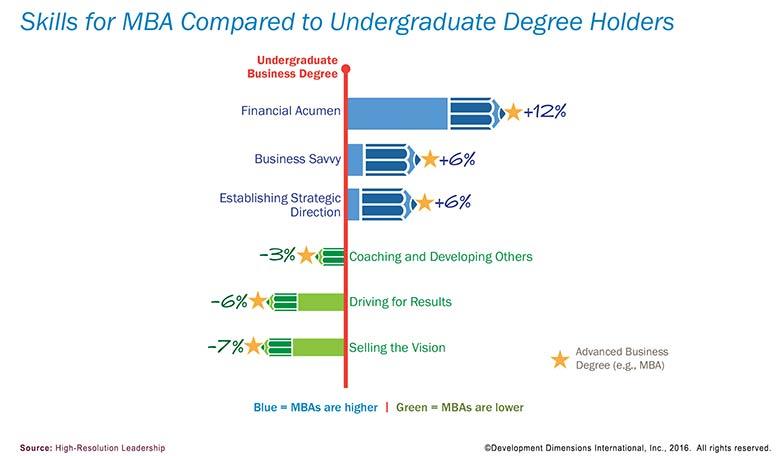 Which undergraduate degrees produce the best leaders ?
Educational degrees are closely linked to leadership capabilities and compensation levels for more than a decade into a professional's career. So, whether a job candidate is looking for a first job or moving up into the leadership ranks, hiring managers and recruiters will make assumptions about candidates based on educational degrees.
According to Sinar, educational degrees both inform and mislead potential employers about leadership skills at the same time. Business degrees are the most common among all senior leaders and, when tested against eight key leadership competencies, outperformed other degrees on five of eight key leadership skill areas. Humanities graduates also outperformed other degrees through strengths not only in interpersonal competencies, but also in results orientation and entrepreneurship. Engineering graduates face a heavy disadvantage—they were near the bottom in leadership proficiency in six of the eight assessed competencies. Natural science, social science and IT were near average.
"Our advice for graduates with degrees that are missing key leadership skills is to supplement coursework with hands-on opportunities through targeted learning programs and developmental assignments," said Sinar. "A job candidate with the skills that his/her degree counterparts lack will have to recognize that assumptions may be made about his/her lack of leadership skills. For them, it will be particularly important to find ways to demonstrate these capabilities to overcome hiring biases—and to differentiate yourself from others holding the same degree, to gain an advantage in the job hunt."
Balance Technical Expertise and Interpersonal Skills
For aspiring leaders, it's important to strike a balance between the critical technical expertise that most undergraduate degrees provide, with an awareness of common skill gaps that, if left unchecked, will limit overall leadership effectiveness and career mobility. Many degree programs put a heavier focus on developing graduates' technical abilities, and much less emphasis on interpersonal and leadership skills. Though some degree programs fill this gap with group projects and informal leadership opportunities, it's often up to the student to plan for and seek out these opportunities. Engineering, law, IT, and natural sciences graduates are particularly likely to fall behind their peers from other degree backgrounds in leadership skills. This isn't always a problem when graduates start out at a new job as an individual contributor, but can hold them back when they want to move into a management position. It's also a way to set a candidate apart from the pack of other graduates in the field, if they have put the time and effort into gaining the skills others lack.
Sinar's advice: "Get as much information as you can—using your career planning office if you're still in school, or working with your HR department once you're in a job—to know your leadership-related strengths and weaknesses and invest in development opportunities to give you the skills you'll need and plenty of time to practice them before you need them."
About DDI's High-Resolution Leadership
DDI's new High-Resolution Leadership report provides both a telescopic and microscopic lens on what drives great leadership performance, and, ultimately, business performance. This report is unprecedented for a combination of reasons. First, the data is based on real behaviors observed in DDI's assessment centers during "day in a life" leadership simulations. Second, the research represents more than a decade of details from more than 15,000 candidates being considered for leadership roles ranging from frontline to the C-suite, representing over 300 organizations across 20 industries in 18 countries. The 18 findings in the High-Resolution Leadership report draw a very clear picture of what makes a great leader, what leadership skills predict better business metrics, and which personal attributes and skill patterns influence leader success as they move higher. Read the full report and 18 individual findings.
About Development Dimensions International
DDI is a global human resources consultancy specializing in leadership assessment and development.  We help companies transform the way they hire, promote and develop their leaders at every organizational level. Clients include half of the Fortune 500 and multinationals doing business across a vast array of industries from Berlin to Bangalore. We serve clients from 42 offices.
Empower your team. Lead the industry
Get a subscription to a library of online courses and digital learning tools for your organization with EasyShiksha
Request Now
ALSO READ: dr koshy selected holden medal
Get Course: Managerial Computing Tutorial