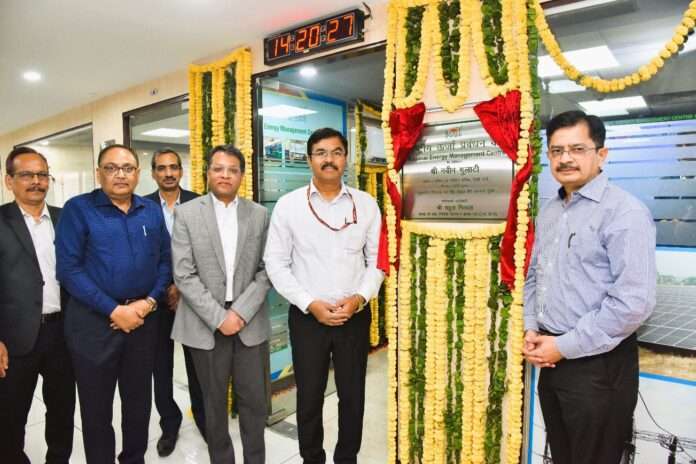 New Delhi, May 13, 2023: REMC Ltd, a subsidiary of RITES Ltd., has set up a National Energy Management Centre (NEMC) at its office. Shri Naveen Gulati, Member Traction & Rolling Stock, Railway Board, today inaugurated the state-of-the-art NEMC in the presence of Shri Rahul Mithal, CMD RITES & Chairman REMC Ltd, and Additional Member, Traction, Railway Board. Shri Gulati appreciated the efforts of REMC Ltd. for the installation and commissioning of NEMC. He emphasised the importance of NEMC for the overall power utilisation by various Zonal Railways.
ALSO READ: ADNAAN SHAIKH'S JOURNEY FROM A CONTENT CREATOR TO OWNING HIS GYM AND BRAND 07 FITNESS.
The National Energy Management Centre being inaugurated by Shri Naveen Gulati, Member Traction & Rolling Stock, Railway Board, (right) at REMC Ltd office in New Delhi
The NEMC will be pivotal for energy data collection from the 17 State Energy Management Centres (SEMCs) operating across the Railways. Highlighting features of the NEMC, Shri Ajay Kumar Singhal, Chief Executive Officer, REMC Ltd, stated that the centre has been developed for monitoring and managing procured energy for the Railways at a national level.
Other features of the NEMC are:
v Single Window Service to Indian Railways
v Optimised Scheduling & Forecasting
v Integration of Generation profiles of Generators of Conventional/Renewable Power
v Advising Real Time Schedule, Declared Capacity Revision and Exchange Power
v Optimisation of Un-Requisition Surplus Power to Indian Railways
Shri V.P. Singh, Addl. Member Traction, Railway Board; Shri Manish Gupta, ED, Railway Board; Shri B.P. Nayak, Director (Finance), RITES; and Shri A.K. Singh, Director (Projects), RITES, were among the dignitaries present on the occasion.

About REMC Ltd
REMC Ltd. is a subsidiary of RITES Limited with 51% stake and the rest 49% is held by Indian Railways. It is in the business of Power Management and Power Generation. It is mandated to handle entire power procurement under open access for the Indian Railways, besides handling renewable energy and energy-efficiency projects.
About RITES
RITES Limited is a Miniratna (Category – I) Schedule 'A' Public Sector Enterprise and a leading player in the transport consultancy and engineering sector in India, having diversified services and geographical reach. The company has experience spanning 49 years and has undertaken projects in over 55 countries across Asia, Africa, South America, and Middle East region.
This year educate yourself and develop your career with EasyShiksha