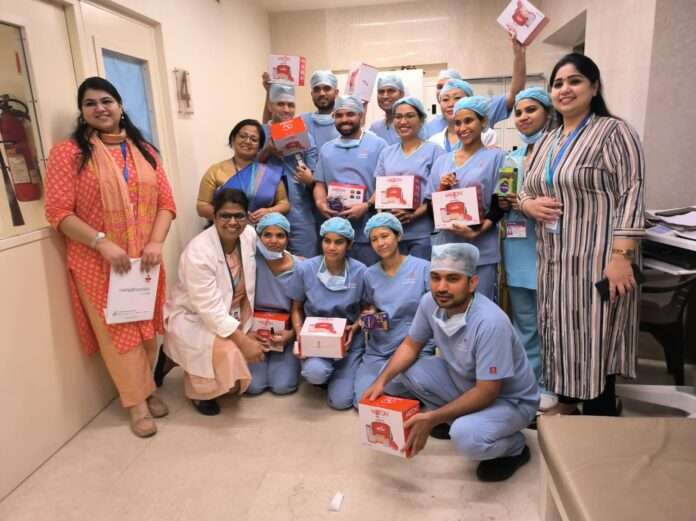 Dwarka, 12 May 2023: Nurses play an indispensable role in the operations of hospitals all around the world. They are the backbone of health systems and contribute to compassion, knowledge, and untiring dedication to patient care. From the time a patient enters the hospital until they are discharged, nurses are present at every stage, providing round-the-clock assistance, giving treatments, keeping track of vital signs, and giving patients and their families emotional support. In addition to having medical knowledge, they also need to be qualified in effective communication, pay special attention to detail and navigate a challenging healthcare environment.
ALSO READ: REMC Ltd sets up National Energy Management Centre
HCMCT Manipal Hospitals, Dwarka celebrates Nurses Day with a joy-filled day of activities, including a fashion show and singing competition, to honor hardworking nurses. The management appreciated the resilience under stress and compassionate patient care driven by the nurses of the hospital. This celebration is a heartfelt token of appreciation for their invaluable contributions to the healthcare industry.
Speaking on the observance of International Nurses Day, Mr. Raman Bhaskar, Hospital Director, HCMCT Manipal Hospitals, Dwarka said. "The significance of nurses in the healthcare sector cannot be overstated, as they have been at the forefront of providing care and support to patients during both common and difficult times. Their unwavering commitment and hard work have saved countless lives and brought comfort to patients and their loved ones. Nurses are the pillars of medical care, and we owe them a debt of gratitude for their selfless dedication and tireless efforts. We stand in awe of their contributions and thank them for their service."

About Manipal Hospitals
As a pioneer in healthcare, Manipal Hospitals is among the top healthcare providers in India serving over 4.5 million patients annually. Its focus is to develop an affordable, high quality healthcare framework through its multispecialty and tertiary care delivery spectrum and further extend it to out of hospital care. With the completion of acquisition of 100% shareholding in Columbia Asia Hospitals Private Limited and Vikram Hospital (Bengaluru) Private Limited, the integrated network today has a pan-India footprint of 29 hospitals across 16 cities with 8,300+ beds, and a talented pool of 4,000 doctors and an employee strength of over 12,000.
Manipal Hospitals provides comprehensive curative and preventive care for a multitude of patients from around the globe. Manipal Hospitals is NABH, AAHRPP accredited and most of the hospitals in its network are NABL, ER, Blood Bank accredited and recognized for Nursing Excellence. Manipal Hospitals has also been recognised the most respected and patient recommended hospital in India through various consumer surveys.
This year educate yourself and develop your career with EasyShiksha