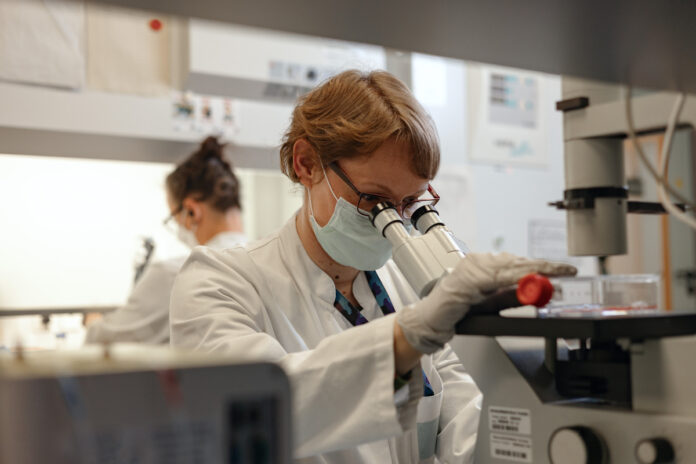 DKMS supports Promising young scientists' research in advancing blood cancer therapy
August 3, 2023 – On August 1, 2023, the application period for the DKMS John Hansen Research Grant 2024 began. The DKMS Stiftung Leben Spenden supports up to four outstanding research projects in the field of stem cell transplantation or cell therapy each year. The grant is aimed at young scientists who have obtained a doctoral degree (PhD, MD or equivalent achievements) no more than 10 years ago. The grant amounts to €240,000 each and will be paid out over a period of three years. The application deadline is November 30, 2023.
DKMS is primarily known as the world's largest stem cell donor center, with more than 11.5 million registered potential stem cell donors. However, the non-profit organization is also deeply involved in the medical and scientific field. "Every year, more than 1.2 million people around the world are diagnosed with blood cancer and, though a stem cell transplant can save the lives of many of them, not all patients are permanently cured afterwards," explains Professor Dr. Marcel van den Brink, Chairman of the DKMS Medical Council. "Still, relapses and severe complications, most notably graft-versus-host disease, pose major challenges to medicine and science. We want to contribute to the continuous improvement of stem cell transplantation and other cellular therapies." To this end, DKMS runs its own research projects and is committed to ensuring excellent research for the future. "It is a matter close to our heart and the DKMS John Hansen Research Grant enables talented young scientists to work on their promising projects for the benefit of patients worldwide."  
Important Announcement – EasyShiksha has now started Online Internship Program "Ab India Sikhega Ghar Se"
All information on the application modalities, as well as further details on the John Hansen Research Grant, are available on the DKMS Professionals' Platform. If you have any questions, interested parties are also welcome to contact DKMS by email: grant@dkms.org.
DKMS – much more than a stem cell donor center
To date, DKMS has already given more than 105,000 blood cancer patients a second chance at life. In addition, the non-profit organization operates its own research unit in Dresden. With the DKMS Life Science Lab, it has the most powerful HLA typing laboratory in the world. DKMS research teams work on many different scientific studies around the topic of stem cell transplantation. One particularly successful example is the first DKMS clinical trial with practice-changing results. As a result of the trial, more patients worldwide may have access to transplantation in the future. If you would like to find out more about the scientific commitment of the non-profit organization, you will find detailed information on the DKMS Professionals' Platform.
John A. Hansen – outstanding physician with a big heart
John A. Hansen, after whom the grant is named, was an outstanding oncologist and distinguished immunogeneticist at the renowned Fred Hutchinson Cancer Research Center in Seattle. With his excellent achievements in the field of hematopoietic stem cell transplantation, this dedicated and empathetic physician made a significant contribution to increasing the efficacy and safety of blood stem cell and bone marrow transplantations – and thus helped in giving countless patients a second chance at life. As a long-standing member of the board of the DKMS Stiftung Leben Spenden and a member of the DKMS Medical Council, he was deeply connected to the DKMS family.
ALSO READ: How AI Interactive Presentation Tools are Revolutionising the Education Landscape?
About DKMS

DKMS is an international non-profit organization dedicated to saving the lives of patients with blood cancer and blood disorders. Founded in Germany in 1991 by Dr. Peter Harf, DKMS and the organization's over 1,000 employees have since relentlessly pursued the aim of giving as many patients as possible a second chance at life. With over 11.5 million registered donors, DKMS has succeeded in doing this more than 105,000 times to date by providing blood stem cell donations to those in need. This accomplishment has led to DKMS becoming the global leader in the facilitation of unrelated blood stem cell transplants. The organization has offices in Germany, the US, Poland, the UK, Chile and South Africa. In India, DKMS has founded the joint venture DKMS-BMST together with the Bangalore Medical Services Trust. International expansion and collaboration are key to helping patients worldwide because, like the organization itself, blood cancer knows no borders. DKMS is also heavily involved in the fields of medicine and science, with its own research unit focused on continually improving the survival and recovery rate of patients. In its high-performance laboratory, the DKMS Life Science Lab, the organization sets worldwide standards in the typing of potential blood stem cell donors.
About DKMS BMST Foundation India
DKMS BMST Foundation India is a non-profit organization dedicated to the fight against blood cancer and other blood disorders, such as thalassemia and aplastic anemia. They aim to improve the situation of patients suffering from blood cancer and other blood disorders in India and throughout the world, by raising awareness about blood stem cell transplantation and registering potential blood stem cell donors. DKMS-BMST is a joint venture of two reputed non-profit organizations: BMST (Bangalore Medical Services Trust) and DKMS, one of the world's largest international blood stem cell donor centers.
This year Educate yourself and develop your career with EasyShiksha.