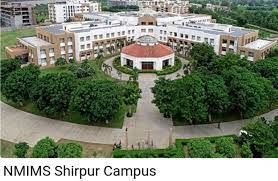 Shirpur, 7th Sept, 2022: School of Agricultural Sciences and Technology (SAST), Shirpur, the first school of Agriculture under SVKM's NMIMS, has started admissions for a four-year professional undergraduate degree B.Sc. (Hons.)Agriculture, program to provide holistic education in agriculture and allied sectors.
Agriculture contributes to 17% of GDP and employs about 54% of the population in rural areas. Providing specialized training and skill sets will benefit the students to serve this sector. Through a focused approach, the School aims to prepare agricultural graduates to undertake responsible jobs, entrepreneurship and agricultural scientists and thereby promote sustainable farm profitability and livelihood security to the rural population depending directly or indirectly on agriculture. In Rural Agriculture Work Experience programme, the students gain first hand insight into the issues impacting farm sustainability and provide viable solutions.
The programme is designed as per ICAR recommended syllabus so that the students' learning is in line with the national curriculum. The School will be going for ICAR accreditation shortly and hence provide equal opportunity to the students on a par with other colleges.  The syllabus balances equally between theory and practicals and all practical sessions are held in fully equipped laboratories or in the farm.  The students will also be exposed to various research institutes and are oriented towards agri-business perspective. The students will understand the rural setting of agriculture and allied sectors; the socio-economic conditions of the farmers and issues especially with regard to various pests, diseases, and physiological problems faced by the crops and animals. By organizing interactive outreach activities under the guidance of the faculty, the students are endowed with enhanced communication skills and make use of various knowledge management tools. The 2-month long industry internship provides an opportunity to closely observe the day-to-day functioning of an industry and acquire entrepreneurial skills.
ALSO READ : JAIN Design School becomes the Official Partner for the Bengaluru Design Festival
Eligibility Criteria:
Students seeking admission for the B.Sc. (Hons.) program must have:
● Passed Higher Secondary Examination (HSC) or 10+2 from either state boards, ISE or CBSE.
● Minimum 50% aggregate with physics, chemistry and biology or equivalent program
Dr. Suseelendra Desai, Dean, School of Agricultural Sciences and Technology said, "The School of Agricultural Sciences and Technology is a wonderful place to learn. With a vast 117 acres of farm land and well equipped laboratories, we aim to be a globally recognised institution for agricultural education, research and outreach activities. A well-trained agricultural graduate with needed skill sets will be a national asset and can contribute to the overall development of the rural economy and fabric. Under the dynamic leadership of Shri Amrish Bhai Patel, a passionate agriculture enthusiast, a full-fledged five-storied School complex will be ready by next academic year at the farm to provide state-of-the-art amenities for promotion of agricultural education. We are in discussion with the reputed international universities to provide value-added education to the students."
SAST was established during 2019-20 at MPTP, Shirpur campus to meet the demands of the predominantly agriculture-driven economy of this region. With its faculty representing length-and-breadth of the Country, the School intends to provide an exposure to the national agricultural scenario which is unique to this school. The SAST syllabus is in line with the ICAR recommended syllabus and thus providing equal opportunity to the students in line with other agricultural colleges of the Country. It aims to be an internationally recognized institution that excels in Agricultural Education, Research and Extension, producing self-motivated socially responsible graduates. The aim of the school is to make a difference through an integrated and multi-disciplinary pedagogy to teach agriculture and allied sciences for creating Leaders and Agripreneurship.
Established in 1981, NMIMS is today recognised as a globally reputed university with strong industry linkages. It offers multiple disciplines across eight campuses that consist of 17 specialised schools, more than 17,000 full-time students, and 800+ full-time faculty members, ten faculty members with Fulbright Scholarship and Humboldt International Scholarship for post-doctoral researchers. The Shri Vile Parle Kelavani Mandal (SVKM) laid the foundation stone of this esteemed university, with the aim to cater to the rising demand of management institutes in the country. It is known for its consistent academic quality and research-focused approach towards holistic education. SVKM's NMIMS has been granted Category-I University status by Graded Autonomy Regulation 2018 by MHRD/UGC, and NMIMS Mumbai Campus is NAAC accredited with A+ (CGPA of 3.59.)
Visit EasyShiksha for skill development courses.