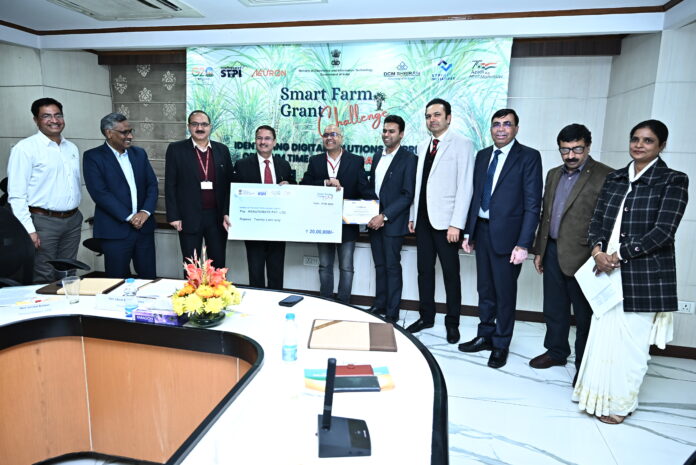 Aligning with MeitY and STPI's vision for promoting innovation beyond tier I cities, two of the four selected startups belong to the Tier II/III cities of India
New Delhi, February 6, 2023: Software Technology Parks of India (STPI), an autonomous Society of Ministry of Electronics & IT (MeitY), Government of India (GoI), has awarded the 4 winning startups with Product Development Grants of Rs. 20 Lakhs each for qualifying the second stage of the Smart Farm Grant Challenge (SFGC) Program.
The award ceremony was held at Electronics Niketan, Ministry of Electronics and IT (MeitY) in New Delhi and saw the presence of Sh. Alkesh Kumar Sharma, Secretary, MeitY, GoI; Sh. Bhuvnesh Kumar, Additional Secretary, MeitY, GoI; Sh. Akash Tripathi, Joint Secretary, MeitY, GoI and Sh. Arvind Kumar, Director General, STPI.
Shri Roshan Lal Tamak, Executive Director of DCM Sriram, and other senior representatives from Ministry, STPI & Industry also attended the event.
SFGC was initiated with the goal of creating cutting-edge approaches for sugarcane harvesting and received an impressive response in the form of 474 submissions. The challenge aimed to predict the optimum time for harvest, estimate sugar content, identify mature plots, and provide insights in an easily interpretable format.
An expert Jury had pre-screened 108 applications and shortlisted 25 start-ups for pitch presentation. Subsequently, 10 start-ups were recommended for a prototype grant of Rs. 5 Lakh each in September 2022. After 3 months of rapid development and validation, the top 4 start-ups have been selected by the Jury for product development grant of Rs. 20 Lakhs each.
"When it comes to agriculture, a farmer is the most difficult entity. They live with the uncertainty of the weather. With the products of these startups, we are hoping that it will increase the efficacy of the produce and ensure that the right kind of moisture is present in the soil. It's a matter of great pride that now academia is participating in creating a whole new ecosystem of end-to-end solutions," said Sh. Alkesh Kumar Sharma, Secretary, MeitY, GoI.
"The challenge aims to provide a digital solution for optimum sugarcane harvest. The SFGC program was launched on May 9, 2022. The first stage was the ideation stage and in it, we distributed ₹5 lakhs each to 10 shortlisted startups so that they can develop products for optimum sugarcane harvest. Out of them, 4 were shortlisted today by jury and were given ₹20 lakhs each in the second stage of product development grant ceremony," said Sh, Arvind Kumar, DG, STPI.
Sh. Bhuvnesh Kumar, Additional Secretary, MeitY, GoI, said, "The growth in the agriculture sector has been tremendous and with the advent of technology, many new innovations have come up. Through this challenge, we are scouting many such technological interventions  so that we can attain good recovery for the sugarcane crop and the sugar which is produced from the sugarcane turns out to be optimum."
"After the Green Revolution, agricultural production has certainly ramped up in India, but now it has reached a plateau. So, now we need some new initiatives and new technological interventions so that we can grow our current production. So, this particular grant challenge will ramp up our sugarcane production. Sugarcane is a water-intensive crop, so the right use of water could be another strong statement for us in the sector," said Shri Akash Tripathi, Joint Secretary, MeitY, GoI.
Amongst the 4 winners — AGAutomate Private Limited, GB Pant University of Agriculture & University, AGMitra Technologies Private Limited and Satyukt Analytics Private Limited — each will develop a product over next 6 months and eventually one of them will be declared final winner. The final winner will receive INR 50 Lakh in the first year and INR 10 lakhs per year for the next two years towards the operation and maintenance of the solution.
The winning solution will be deployed in a 100-acre plot area for use by the Government of India, state government entities, and sugar mills for a period of three years. The winning startup will provide dissemination advisory to farmers for the next two years.
With programs like SFGC, MeitY and STPI are charting a new course for innovation and entrepreneurship in the country which does not limit itself to Tier-I / Metro locations. Today's felicitation is a testimony to that fact given that two of the four selected teams come from Tier II/III cities. 
Also Read: The University of Birmingham Dubai invites applications for MSc Health Data Science
This year Educate yourself and develop your skills with EasyShiksha