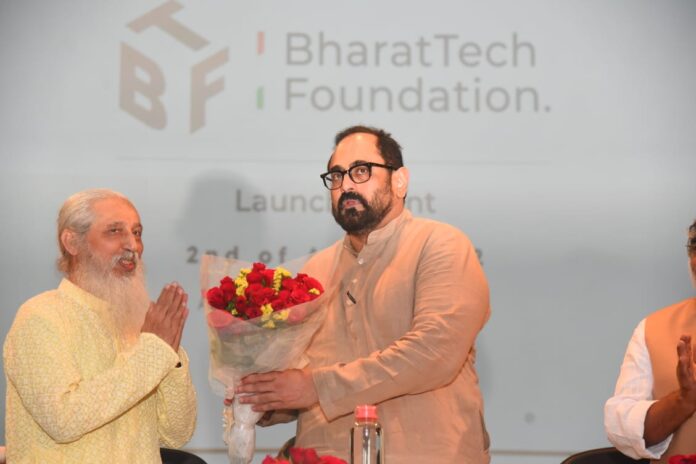 New Delhi, April 2: The Hon. Minister of State for Electronics & IT, Skill Development and Entrepreneurship Shri Rajeev Chandrasekhar today launched the portal for AICTE's Training and Learning Academy (ATAL Academy) for redesigned Faculty Development Programmes (FDPs) for the session 2022-23 and Bharat Tech Foundation.
Considering futuristic skill set such as complex problem-solving, critical thinking, creativity, people management, teamwork and collaboration, emotional intelligence, judgement and decision-making, service orientation, negotiation, project management and cognitive flexibility, AICTE's ATAL Academy has redesigned comprehensive and rigorous two weeks experiential ATAL FDPs/ Continuous Professional Development Programmes (CPDP).
Bharat Tech Foundation is a platform developed with the objective to emphatically influence the social transformation of India by bringing together Indian engineers across the globe, through knowledge transfer and dissemination of technology, with the belief to achieve the dream of a self-reliant Bharat.
Launching the program, Shri Chandrasekhar said: "As we move ahead there is one undisputable truth that India's moment in terms of relevance and sustainability in the world has arrived. And the next 10 years as our Hon. The Prime Minister says it would be 'India's Techade'. The rationale behind this was when in 2014 the Prime Minister launched 'Digital India' program there were three objectives. The first was transformation of citizens' lives using technology, empowerment of citizens, and thereby improving governance and democracy. The second one was how we can improve our digital economy and expand opportunities for employment and entrepreneurship. The third was, which is important in today's context, that India should be a leader in creating global technological capabilities. India moves from being a consumer of technology to a creator of intellectual properties and technologies."
During the event Hon. Minister Shri Chandrasekhar awarded Prof. Anil D Sahasrabudhe, Chairman, AICTE, and Prof. TG Sitaram, Director, IIT, Guwahati with honorary membership of Bharat Tech Foundation. The keynote address was delivered by Shri Sridhar Vembu, CEO of ZOHO, and President of Bharat Tech Foundation. Shri Chandrasekhar announced that Narayanan R will be the Director General of Bharat Tech Foundation. A.Jayakumar former Secretary General of VIBHA presented the vision and mission of Bharat Tech Foundation.
Lauding the importance of the two initiatives, Shri Chandrasekhar added: "These two initiatives are great – Bharat Tech Foundation and ATAL Academy. If we must be set part in the world of technology to show India's leadership all engineers and visionaries will have to come together and give a strategic clarity so that that from electrical designs to semi-conductors, medical electronics to consumer electronics, agriculture to civil engineering technology and next generation technologies, all should take place or be conceptualized in India. AICTE will be the force multiplier of this journey in India."
In his keynote address, Shri Vembu said: "I am very passionate about us being technology self-reliant as a nation. We produce 25% of the world's engineers. And with our given population base, talent pool, our youth demographics, all of it dictates that we must become the No.1 nation in every field of human effort. And it is very much possible. Indian engineers are taking technological leadership all over the world. But their contributions are required for development of villages and remote areas. Bharat Tech foundation will play a catalytic role in connecting engineers spread globally with their roots in India and contribute"
An elated, Prof. Sahasrabudhe said: "Today is an auspicious day since is also a New Year Day in many parts of the country. Therefore, launching of these two ideas on this day is very important for the AICTE. Bharat Tech Foundation is a foundation that gets India's all technocrats here or abroad and how we connect with them and help India and the remotest villages. If technology doesn't percolate their (remote areas) then we will not have a true Atmanirbhar Bharat. The second one is the ATAL Academy. Over the last three years, we have trained an enormous number of faculty members in emerging technologies like AI, Augmented Reality, blockchain, robotics and etc. The most significant part was when COVOD hit us, we did not stop, we were not deterred We continued with our FDOP programmes and got much better results in terms of getting experts from all over the world across different time zones. We are now having two-week programme. The first week will be an online programme and one week of face-to-face programmes."
ATAL Academy collaborated and invited experts from various leading corporates such as armIndia, Cadence Design Systems, Adobe, Ford Motors, Google, Amazon, Metaverse, Tata Energy, LinkedIn, TCS, Wipro, Infosys, etc. and launched 'TechSaksham' program with Microsoft and SAP. ATAL Academy has been recognized and conferred awards by the World Book of Records– London, Asia
The Bharat Tech Foundation accentuates information exchange and tech distribution, aided and guided by the country's esteemed technocrats and engineers brought together on a unified platform. With the objective of creating a new technologically affluent Bharat empowered by values, ethos and culture, the organization aims at making India the leading engineering destination dedicated to creating a sustainable world.
Also read https://news.easyshiksha.com/film-actress-bhagyashree-felicitated-leaders-of-rajasthan/
Visit the link for online internship with certification https://easyshiksha.com/online_courses/internship