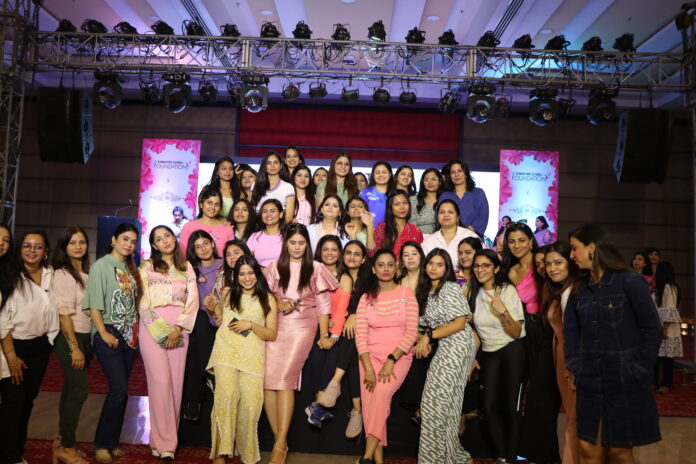 May 13, Gurugram: Prominent real estate company Signature Global celebrated Mother's Day on 13th May at the V-Club in Gurugram. As a celebration of unconditional love, warmth and resilience the stellar event by Signature Global was themed around Fitness, Skill development and Fashion for over 100 plus women workforce at Signature Global, who were treated to a day of learning, empowerment, and recognition. The event was graced by the top management of Signature Global India, and saw the Board of Directors extend their greetings to all the employees of the firm.
ALSO READ: Fortis Malar Hospital forms a grand human chain to celebrate International Nurses Day
The event was organized by Signature Global's team along with Mrs. India Legacy a renowned national pageant brand. The Mother's Day celebrations also included special events where enthusiastic ladies participated in Zumba session by renowned Fitness Expert and Dance Choreographer, followed by a Soft Skill and Corporate Etiquette session by a certified coach. The events were aimed at helping the women employees at Signature Global to enhance their professional and personal image. The participants also received training in ramp walk and body posture, which would help them exude confidence and elegance in their personal and professional lives.
The day concluded with an exciting ramp walk competition judged by prominent ramp walk coaches, which saw the women staff showcase their modeling skills and grace on the ramp. A total of 6 winners were selected from the Ramp Walk competition. These winners get an opportunity to walk the ramp on the prestigious stage of Mrs. India Legacy as the 'Women Ambassadors of Signature global'. This was a significant recognition for the winners, and a testament to the company's commitment to celebrating and empowering women.
Mr. Pradeep Aggarwal, Founder & Chairman, Signature Global (India) Ltd, speaking about the event, stated, "Like every year, this year too we celebrated Mother's Day to honor and appreciate the working mothers who are a part of the

Signature Global family. At Signature Global, we believe in inclusivity, and acknowledge the contribution of mothers who balance their work and home life seamlessly. This event was a small gesture from our end to show our gratitude and appreciation towards these wonderful women."
Signature Global's Mother's Day celebration was a fitting tribute to the working mothers who form an integral part of the company's workforce. The celebration was a resounding success, and the participants expressed their appreciation and gratitude towards Signature Global for organizing such a wonderful event.
This year educate yourself and develop your career with EasyShiksha