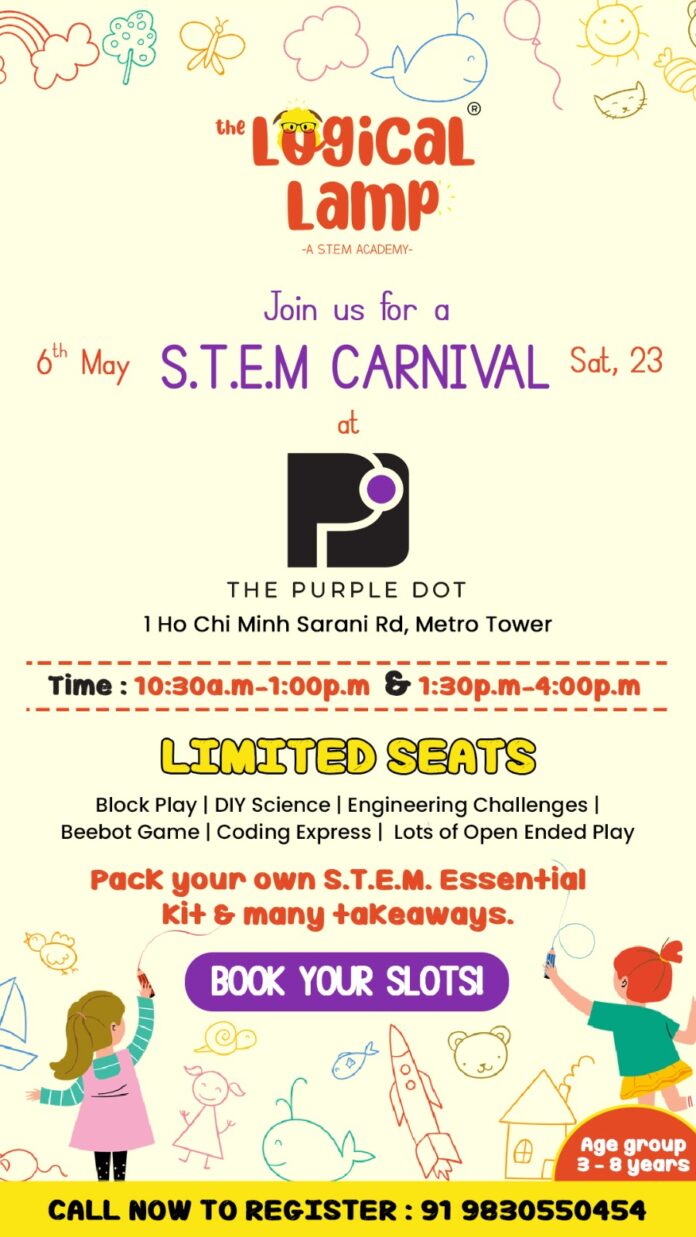 The Logical Lamp, Kolkata's premier tech academy, is excited to announce their upcoming, S.T.E.M Carnival, a one-of-a-kind workshop designed to inspire and educate young minds in the fields of Science, Technology, Engineering, and Mathematics (STEM).
ALSO READ: SHATTERING GENDER STEREOTYPES, SAMANTHA RUTH PRABHU SAYS, 'RISE UP, BABY!' WITH PEPSI®
The STEM Carnival is the ultimate solution for children who love to learn and want to explore the world of STEM in a fun and interactive way. The program is designed to activate children's curiosity and foster critical thinking skills through practical, hands-on instruction. The curriculum covers a wide range of topics, including 3D Building, Robotics, Coding, and DIY Science Experiments. The Logical Lamp's STEM Carnival will feature a range of exciting activities, including Block Play, Engineering Challenges, DIY Science Experiments, Robotics Games, and Coding Express. The workshop is the perfect opportunity for children to engage with STEM concepts in a fun, safe, and supportive environment.
At the workshop, children will have the opportunity to learn from experienced instructors who are passionate about STEM education. They will be encouraged to ask questions, experiment, and explore, as they build a strong foundation in STEM subjects that will serve them well throughout their academic and professional careers. The Logical Lamp's STEM Carnival is a must-attend event for any parent who wants to give their child a head start in the world of STEM. Whether your child is a budding engineer, a future computer programmer, or a curious scientist, they will find something to love at the STEM Carnival.
Don't miss out on this exciting opportunity to inspire and educate your child. Register now for The Logical Lamp's STEM Carnival and help your child become a proficient and confident STEM learner!

About The Logical Lamp:
The Logical Lamp is the first STEM (Science Technology Engineering and Maths, now Art is also a part of stem) based academy in Kolkata. The institution, accredited by stem academy of USA, focusing on hands-on learning with real world application that helps developing a variety of skill sets including creativity and problem solving. They are introducing stem with the age group of 3-8 year olds because stem education in early childhood allows children to begin to learn and retain knowledge base that they can build on as they get older. Establishing these concepts at an early age (infancy to 3rd grade), when young minds are most malleable, establishes lifelong thinking skills. Founder Surbhi Bagla, a certified STEM instructor, dedicated and passionate educator who is committed to helping children learn and grow.
This year educate yourself and develop your career with EasyShiksha